Professor Sola Fosudo is a consummate actor, dramatist, theatre director, scholar, critic and the Head of Department of Theatre Arts and Music at the Lagos State University, Ojo, Lagos. Fosudo is a versatile artiste, who has registered his mark creditably on stage and screen. While his exploits on stage speak louder, the prolific actor has equally made his mark in Nollywood having featured in so many chartbusters. In this interview by BODE  ADEWUMI, he speaks about his acting activities as well as his calling as a university lecturer. Excerpts:
 What have you been up to in the last few years?
I don't know what you really mean by what I have been up to, but I guessed you want to make enquiries about my creative activities in the last few years.
First and foremost, you need to know that I'm a University teacher and it's a full time job here. So, anything I'm doing on the side can only be as time permits. More so, now, that I've risen to the rank of a Professor, I have become busier, not only with academic work, but also administrative assignments.
Court restrains Oluwo from presiding over Eid prayers, Jum'at service
Having said that, I have not totally jettisoned creative and performative activities. In the last three years, I have featured in two major English movies – Arbitration, directed by Niyi Akinmolayan (2016) and The Bling Lagosians by Bolanle Austen-Peters (2019). Apart from this, I created and produced a 52-episode TV Drama entitled, Stepping Up sponsored by First City Monument Bank (FCMB), which showed on selected TV stations across the country in 2017/2018.
I was also in Forbidden, a Telenovella, which showed on Africa Magic Showcase on DSTV (2018). In addition, I must have been involved in at least about four to five Yoruba movies between 2016 and now. At least, I can remember Dedegbo by Kunle Afod (2017) Iyanu by Okiki Afolayan (2018) and Efunsetan Aniwura (2019), yet to be released.
Don't also forget that my creative engagement extends beyond the film, because the temptation is for some people to think that theatre is all about Nollywood acting. That is not correct at all. I'm also fully involved in theatrical stage productions and these are even far more engaging in terms of professional fulfillment, pedagogical opportunities in the training of our students and the provision of alternative entertainment on the Live Stage apart from the cinemas.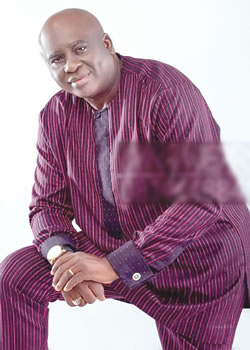 And so, in 2017, I directed a stage play –Spirit of Lagos written by Professor Akinwunmi Ishola, which was performed both at the Lagos State University for that year's convocation ceremonies and also at the National Theatre as part of the Lagos @ 50 events. In 2018, I directed Professor Femi Osofisan's One Legend, Many Seasons, which was performed at Terra Kulture, Victoria Island to celebrate the 10th Anniversary of my Foundation – Blessed Fruit Foundation for Widows and Orphans and also to mark my 60th birthday. And this year, I co-ordinated the production of Paul Ugbede's Our Son the Minister produced by Bikiya Graham-Doughlas and sponsored by Union Bank. So, you see a lot is happening in the creative arena beyond Nollywood, which seems to be the interest and main attraction for entertainment journalism.
I asked that question because not much has been heard from you concerning your activities in Nollywood?
Again, like I said, it's not only about acting. There are other levels of theatrical engagements. But, the answer is that there is time for everything. So, it's about time management. But let us thank God for the gift of life and health, without which one may not be able to successfully juggle. But, I must also admit that it's not been particularly easy, given the horrible and deplorable state of our roads and other social infrastructure.
Imagine, if I'm being expected on location at Lekki and I set out from Satellite Town where I live or from Ojo, where I work, much precious time is usually wasted in terrible traffic. The environment is not friendly at all to our creative trade.
What is your view of the industry nowadays, especially when compared to the olden days?
The industry has come a long way. Things are really looking up for the practitioners. Now, I am particularly happy about the return to Cinemas, as against the initial practice of producing, dubbing into tapes and CD's and selling for home viewing. That was banal, very trite and unprofessional. But with movies going to cinemas now, the bar is going to be raised.
Productions can no longer be rushed through locations in a few days; content, in terms of story and scripting are becoming more tangible, all the elements of production are now more carefully and professionally deployed. That is what is happening, and it spells a good omen for the development of the industry.
What we need to address urgently is the training of more filmmakers and technical personnel to produce the required manpower to take the industry to the next level.
What and where do you expect improvements and do you agree with those who are saying the chase after money is the bane of the industry?
The bane of the industry is lack of professionalism, non-availability of film infrastructure and piracy. The desire to make money and recoup investment in a business is not a negative thing, but I agree that filmmakers should ensure that their movies have more substance in terms of storyline and also of high technical quality.
And what do you think the government can do to help the industry grow further?
Government should provide more funding opportunities, so that the private sector can be attracted to also invest. Government should establish an Arts Endowment Agency and fund it.
Government should interface with the guilds and associations and establish a Regulatory Council to standardise practice. Government should create film infrastructure – e.g. 'Nollywood City", to further strengthen the Nollywood brand. Training of Personnel and manpower in the film industry should also be a priority of government.
Do you think it's appropriate to compare Nollywood to Hollywood?
There is no basis for comparison at all. Nollywood is a baby. Hollywood is a grandfather. Can you compare a toddler to its grand parents? It will be an exercise in futility. We can use it as a model and a bench mark.
If not, do you foresee the growth to the level of the American version in time?
That's very uncertain because, as we are moving up to catch up, they are moving further up.
Are you planning to retire from acting?
Planning to retire from acting? Absolutely not. Why should I? Acting has no retirement age, but lecturing does. I pray for good health, so that even after my retirement as a lecturer, I will still be histrionically engaged.