Tension in Osun as Aregbesola inaugurates N1.6bn road project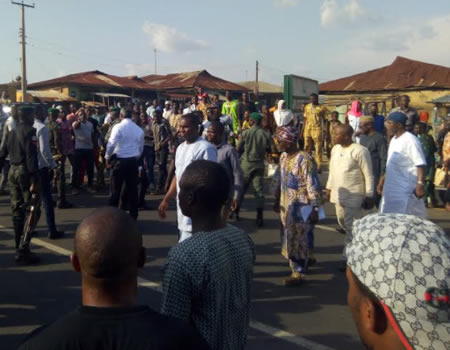 There was tension in Osogbo, Osun State capital on Tuesday, as suspected thugs, who thronged the commissioning of N1.6 billion reconstructed Olaiya-Jaleymi-Asubiaro-Ita Olokan road project by Governor Rauf Aregbesola-led administration attempted to disrupt the cutting of tape by Mr Governor.
It took the intervention of the Chief Detail to Aregbesola, who confronted the miscreants and operatives of the Department of State Security (DSS), who fired several gunshots to chase away the thugs.
Aregbesola, who had earlier addressed a crowd of supporters, civil servants and party stalwarts, including the labour unions, was about to unveil one of the signposts of the road project, named "Workers' Drive" at Isale Osun junction that leads to Ataoja of Osogbo's palace when thugs, numbering over 20 attempted to forcefully have audience with Aregbesola around 5:45 p.m.  but efforts by the Chief Detail, who heads the DSS operatives in his convoy and security agents saved day.
The DSS operatives, fired several shots to disperse the thugs, who almost caused a commotion at the unveiling ceremony.
Speaking during an interview session with journalists at the popular Olaiya junction, where he finally unveiled the major signpost in company of his wife, Mrs Sherifat Abidemi Aregbesola, the famous labour leader, Comrade Hassan Sunmonu, his Chief of Staff, Alhaji Gboyega Oyetola, the deputy governor, Mrs Titi Laoye Tomori, Aregbesola said he had not deviated from his position that commissioning of a project amounted to a waste of resources, explaining that he chose to officially unveil the Workers' Drive in his commitment to the people, institution and passion for the welfare of the citizenry.
When asked on the alleged involvement of the United Nations Educational Scientific and Cultural Organisation (UNESCO) in the road project in terms of counterpart funding, he denied such development, just as he refused to entertain more enquiries on it.
Lawmaker lauds FG's response to abandoned projects, commends Osun govt
Meanwhile, he disclosed that about N392 million was paid as compensation to 147 individuals, whose properties were demolished to pave the way for the successful completion of the project, saying "starting from Isale Osun junction, the road had become impassable with dangerous bends, twists and turns; and at some points, houses got precariously too close to the road, with the grim possibility of vehicles out of control running into those houses, putting lives in grave danger".
"The expansion of the road and the need to have a reasonable setback regrettably meant that some buildings are already standing in the way and have to be separated and taken out. This could have been avoided if there had been strict adherence to town planning rules in the past.
"We regret this and offer sincere sympathy to those affected, especially for those whom the houses were ancestral homes and had a deep emotional attachment to them. They should see this as their own sacrifice in our efforts to beautify our city and develop a decent human environment".
Aregbesola pointed out that, aside several roads constructed in Osogbo, government had completed and commissioned 18 Ilesa Township Roads, which constitute an inner ring road that eased vehicular movements and decongested the traffic in the city by taking travellers outside the city away from the city centre, stressing that  in Ede, "13 township roads have been repaired through direct labour.  In the different Federal Constituencies and 79 kilometres of intra-city roads were constructed and rehabilitated.