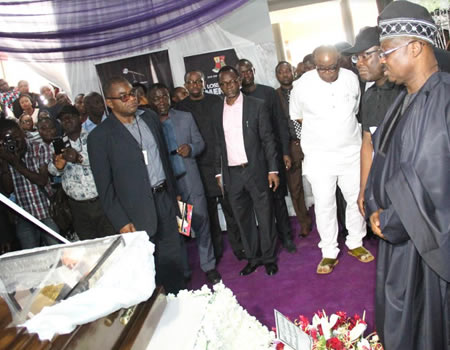 TEARS, grief, forlorn faces, disbelief enveloped the town of Lanlate, Oyo State, on Thursday, as the remains of the late Speaker of the state House of Assembly, Honourable Michael Adeyemo were lowered in the grave made at his private residence.
ALSO READ: Shock, disbelief! How Oyo Speaker, Michael Adeyemo died at 47 
For many who attended the funeral service held at New Park, Lanlate, and the valedictory plenary held on the floor of the Assembly, the shock that greeted the sudden news of Adeyemo's death on Friday, April 27, 2018, at 47 years, remained.
In his sermon at the funeral service, Reverend Adeyemi Adekunle called on the Adeyemo's family to preserve the good name and legacies left by the late Michael Adeyemo, while also urging human beings to live up to their words and introspect on what legacies they desired to be remembered for after life on earth.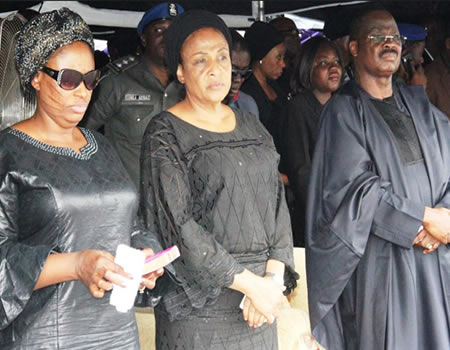 Just before the motorcade left for Lanlate, the valedictory plenary presided over by Deputy Speaker, Honourable Abdulwasi Musah, saw tributes rendered by Governor Abiola Ajimobi of Oyo state; state Chief Judge, Justice Munta Ladipo; the Conference of Speakers; members of the House of Assembly; members of the 7th Assembly; the All Progressives Congress (APC), the Nigerian Bar Association and the Judiciary.
A visibly grief-stricken Ajimobi expressed a deep sense of loss at the demise of Adeyemo whom he regarded as a brother, a patriotic man in progress, a bridge builder, an intelligent and diligent man who was committed to the state and service of God.
Also describing Adeyemo's passing as sudden and unexpected, Ajimobi said he took solace in the fact that Adeyemo lived a short but impactful life, epitomized the legacies of humility, selflessness, nobility and was at peace with God.
Ajimobi further lamented that Adeyemo's death had created a gaping wound that will take time to heal tantamount to a great loss to the state, his administration and the All Progressives Congress (APC).
In his tribute, While Chief Judge of Oyo State, Justice Munta Abimbola described the late Adeyemo as an erudite and thorough lawyer, whose contribution to the smooth administration of justice in the state will be indelible.
Stating that "a good heart had stopped breathing," Chairman, Ibadan branch of the Nigerian Bar Association (NBA), Mr Akeem Agbaje, in his rendition, said Adeyemo was a true and committed gentleman, humble, bridge builder, benefactor and an asset to the NBA.
ALSO READ: Adeyemo's death, greatest loss to Oyo APC govt ―Ajimobi
Deputy Chairman, Conference of Speakers, Honourable Edward Ubosi, who led other Speakers to the valedictory session, said the late Adeyemo always charged Speakers on the need for their legislative houses to be in harmony with their executive governors.
Ubosi who noted that other Speakers were in awe as to the timing of Adeyemo's death, urged Governor Ajimobi to coordinate the state Assembly such that it continues on the track laid by the late Adeyemo.
Speaking on behalf of their other colleagues of the Oyo Assembly, Chairman, Parliamentary Caucus, Honourable Olusegun Ajanaku and Honourable Gbenga Oyekola of Atiba constituency said Adeyemo was an apostle of peace and stability, a man dedicated to the service of God and humanity, a team player, a go-getter and an adherent of the philosophy of "live and let live".
They further spoke about Adeyemo's life being rooted in humility, gentility, hard work, perseverance, vision while allowing his knowledge of legal practice to guide him in performing his duties.
A member of the seventh Oyo Assembly, Honourable Adeniyi Farinto said Adeyemo's death called on humans to introspect on the brevity of life, adding that he was comforted that Adeyemo died the death of the righteous.
The late Oyo Speaker left behind his parents, Mr Ayoola Adeyemo and Mrs Olansebe Adeyemo; as well as his wife, Abosede Adeyemo and three children.
Other dignitaries present at the series of events held on Thursday are wife of the Oyo state governor, Mrs Florence Ajimobi; deputy governor, Mr Moses Adeyemo and wife, Janet; members of the state executive council; members of the judiciary; former state governor, Chief Adebayo Alao-Akala; federal lawmaker, Honourable Dada Awoleye; former state Commissioner for Finance, Mr Zacheaus Adelabu; and, Oyo gubernatorial aspirant, Chief Niyi Akintola.