Tambuwal disagrees with Jonathan, says he left PDP because of his people's wish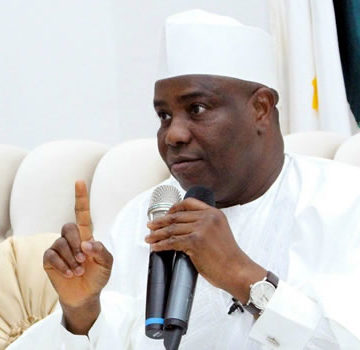 SOKOTO State Governor, Alhaji Aminu Waziri Tambuwal has reacted to the former President Goodluck Jonathan revelation during the launch of his book in Abuja, on the reasons that led him and others to defect from the Peoples Democratic Party (PDP) to the opposition, APC, ahead of the 2015 general election.
The Director-General, Media and Publicity, to the Governor, Abubakar Shekara, disclosed that in contrary, he never defected because of any blinded ambition as stated in the book.
Abubakar Shekara, who spoke with Journalists in Sokoto noted, "Tambuwal and others who defected from the PDP to APC were just responding to the wishes of the people.
"If he had blind ambition, he would have retained the number four position he had at hand. He rather jettisoned his comfort position to run for the governorship."
                          ALSO READ: Tambuwal approves payment of students registration fees
Justifying Tambuwal's return to PDP,  Shekara said, "it is clear that PDP has learnt their lessons and today, the table has turned, APC has become PDP."
He restated that Tambuwal returned to PDP was a matter of engaging a platform to salvage Nigeria, as political parties are not based on ideology.
Also speaking, Honourable Akibu Dalhatu, another of Tambuwal's aide, also exonerated the former Speaker of the House of Representatives from the failure of Goodluck Jonathan, to win the 2015 Presidential election.
Dalhatu, who is Special Adviser on Public Enlightenment and Mobilisation to Governor Tambuwal, hinged the failure of PDP and Goodluck Jonathan to misuse of power and impunity, that then, were the order of the day.
It will be recalled that former President Goodluck Jonathan had fingered Tambuwal, in his book, 'My Transition Hours,' as one of those that contributed to the failure of his re-election bid, by convening the House of Representatives on a Sunday, in the heat of nationwide protest against removal of petroleum subsidy, leading to a hike in fuel price.
Defending Tambuwal, Akibu said, "for the Speaker to convene the House of Representatives on Sunday, is because they have a matter of urgency to deliberate on, and for the fact that former President Goodluck Jonathan stated that it had never happened before,  there is always a first time in everything.
"To the best of my knowledge, the House convened on a Sunday, basically because of a matter of public importance, that has to do with a hike in fuel price, which Nigerians outrightly rejected.
"Did such protest not calls for a matter of urgent importance, or should they have folded their arms and allow protesters to throw the nation into chaos? He asked.
He pointed out that the deliberations and resolutions of the House were overwhelmingly applauded by Nigerians, irrespective of the day they sat, and till date, there has never been any dissenting voice, until this mere expression by the former President.
Akibu posited that "be that as it may, the duo today, bears no grudges or animosity towards each other."