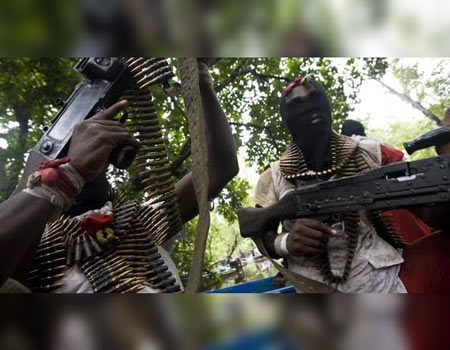 SOME rampaging youths have allegedly abducted an indigene of Owhawha Community in Ughelli South Local Government Area of Delta State.
The victim, Samson, was allegedly abducted in his farm at about 11:00 a.m along College road of Aladja community in Udu Local Government Area.
The abductors were suspected to be youths from Ogbe-Ijoh and Isaba communities in Warri South West Local Government Area of the state.
But the Assistant Secretary of Aladja community, Comrade Ighotegwolor Bezi, told journalists claimed that the incident has caused a serious tension in the area alleging that the armed youths shot sporadically in the air.
"Isaba and Ogbe-Ijoh youths abducted a farmer called Samson from his farm today. The area is really tensed as I speak with you," he disclosed on Tuesday.
Bezi said that security agents comprising the Joint Task Force (JTF), the Department of State Security (DSS) and the Nigeria Police had pleaded with the Aladja people to eschew retaliatory move while they pursue rescue of the victims.
Bezi warned Ogbe-Ijoh and Isaba people not to attack their people again stressing, "If they do, it will be fire for fire."
He also advised the Ogbe-Ijoh and Isaba people to respect the peace process initiated by the Delta State Government
However, in a swift reaction, the Chairman of Ijaw Youth Council (IYC) in Ogbe-Ijoh Clan, Engr. Smart Okosun, denied the allegations saying, "That is a big lie."
ALSO READ: Police deploy 2,500 officers to tackle planned mayhem in Kwara
Okosun claimed that it was actually Aladja youths who invaded Ogbe Ijoh and Isaba and started shooting sporadically allegedly in the presence of security operatives.
He noted that the development had created tension even though "We didn't attack Aladja and the Military were on the ground."
Okosun also lamented that the crisis situation in Aladja and Ogbe-Ijoh communities is slowing down progress, calling on them to maintain the peace.
"My advice to the youths is that they should sheathe their swords and lay down their guns.
"But if they still want to fight, they should go to the court. It is not by the gun. This will increase our relationship," he pleaded.
Meanwhile, the Delta State Commissioner of Police, Mr Muhammad Mustafa, who confirmed the report, noted that "The chairman of the council just left and we are trying to talk to all the parties."
"We are talking to the leadership in place in both communities. We are discussing with them and we hope they intervene," he added.