Supreme Court verdict: Atiku, PDP allegations ridiculous ― APC governors
• Defends Buhari foreign trips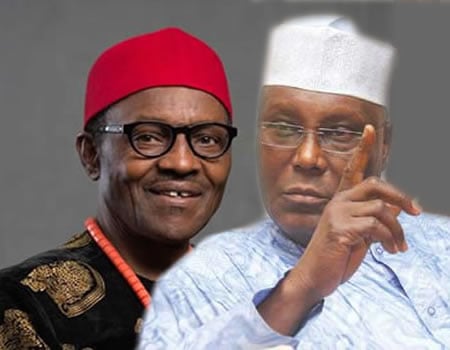 Governors on the platform of the All Progressives Congress(APC), on Thursday, reacted to the Peoples Democratic Party (PDP) and its presidential candidate in the last general elections, Alhaji Atiku Abubakar claims that the apex court was influenced to deliver verdict in favour of the incumbent president and All Progressives Congress candidate in the election, President Muhammadu Buhari.
The Supreme Court justices on Wednesday in an unanimous judgement read by Justice Tanko Mohammed dismissed the appeal filed by the Peoples Democratic Party and its presidential candidate, Atiku Abubakar as lacking in merit.
The presidential election petitions tribunal had earlier last September in a lead judgment by Justice Garba Mohammed affirmed Buhari's victory.
Alhaji Abubakar in his swift reaction said that the judiciary has been alleged by what he called a dictatorial cabal whom he claimed pressured the judiciary to swing judgement in favour of the APC presidential candidate, Muhammmadu Buhari.
But the APC governors, operating under the platform of Progressives Governors Forum described the claim of the PDP and its candidate as ridiculous.
Deputy governor of Lagos State, Femi Hamzat who represented his boss, Babajide Sanwoolu addressed newsmen on behalf of the Forum.
ALSO READ: Court of Appeal uphold PDP federal lawmaker in Osun
He queried the main opposition party and its presidential candidate for indulging in litigation when they have no faith in the judiciary.
He said: "Why did they go to the court if they don't believe in it? They went to court to file a case, why did they go there to file the case when they believe the courts don't have what it takes to deliver justice? I think that is ridiculous. We all went there, but because you don't like the outcome, because you cannot prove your case, you don't need to desecrate the institution.
"Our judges have been at the head of other countries' judiciary: the Gambia and other places, so why will a party desecrate that institution because they lost a case? I think that is so very unfair. Why do you go to a house, when you don't believe in that house?"
The governors equally express concern over criticisms trailing President Buhari private visit to London.
Hamzat said President Buhari deserves his rest like every other human being who could fall ill and "also has personal needs."
He said further: "First of all, I think we should understand one thing, that Mr President is a human being and part of the problem is that we place our leaders as if they are superhuman but they are human being. They have legs, they have pains. For instance, I was in pains at my back after flying from Lagos to Abuja, does it mean I can not take care of my pains as a human being? So, the President of the country is a human being, he has wife, he has children, he has brothers and sisters and he also has personal needs. That you are the President does not mean you should not be a human being, part of the problems is that as a people we try to elevate our leaders as if they are not human being, they are. I think that the moment we understand that we will be able to manage our thoughts and actions.
"Mr President went to a conference in Saudi Arabia and he wants to visit London on a private visit, he is a human being. May be he wants to see his cousin, does it mean that if you are in office your family should go and perish? No! For me, I don't think we should worry about these things, they are mundane but let us look at policies and what he is doing to affect the country."
The governors also said the speculated presidential ambition of a national leader of the party, Bola Ahmed Tinubu and a serving Kaduna state governor, Mallam Nasir El Rufai as a non-issue, as they noted that individual aspiration was not inimical to democracy.
"It is everybody's dream and it is okay to dream. The reality is that INEC will come with times table and what these people are doing does not mean it will work. I have not seen any campaign office and I do not know whether there is also in Kaduna, I have never seen it but that doesn't mean it does not exist, that is the essence of democracy. We all signed up for constitutional democracy and I have the right to bring anybody together and say I want to be president. So, whatever I do as long as its does not negatively affect any human being, its okay."
Also in attendance were Information Commissioners and Special Advisers, Media of some of the APC controlled states.