Sultan tells Nigerian pilgrims to support national Amirul Hajj in Mecca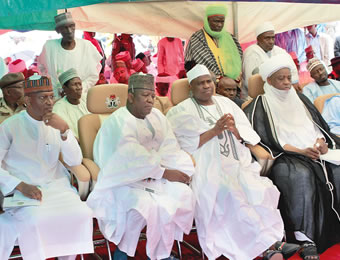 THE Sultan of Sokoto, Alhaji Muhammadu Sa'ad Abubakar, has implored all pilgrims from Nigeria to support the National Amirul Hajj for this year in Saudi Arabia, the Etsu Nupe, Alhaji Yahaya Abubakar and his team to succeed.
The Amirul Mumineen made the plea in his farewell address to the first batch of pilgrims from Zamfara State, at the Sultan Abubakar III international Airport, Sokoto.
He said the choice of the Etsu Nupe to lead this year's pilgrims to Saudi Arabia was arrived at after extensive consultations with stakeholders and thanked President Muhammadu Buhari for endorsing the choice.
In a remark, the president urged the pilgrims to be of good behaviour and do away with anything that could harm the image of Nigeria.
President Buhari, who was represented by the Sokoto State governor, Alhaji Aminu Tambuwal, asked the pilgrims to respect Saudi Arabia's laws so as to avoid unpalatable consequences.
Governor Abdulaziz Yari of Zamfara State charged the pilgrims from the state to reciprocate the gesture of being the first state to be airlifted to the holy land by conducting themselves well.
The governor noted that this was the first time the National Hajj Commission of Nigeria (NAHCON) would be picking the state as the first to be airlifted.
"This gesture is, indeed, welcomed by the people and government of Zamfara State. It is, therefore, my humble wish that you reciprocate the honour," the governor said.
About 503 pilgrims from Bukkuyum and Maradun local government areas of the state were airlifted to the holy land by Max Air, on Monday.