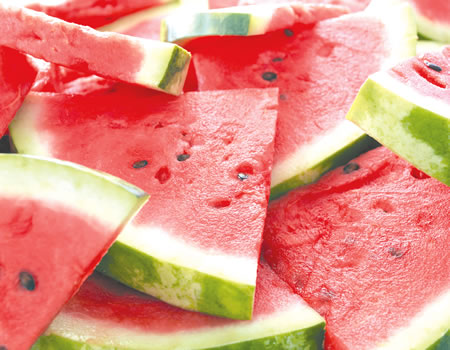 Watermelon is an extremely popular fruit. While we all enjoy eating this sweet refreshing fruit, we usually discard the tiny seeds in it without realising or rather knowing of their health benefits.
Many studies have suggested that increasing consumption of plant foods like watermelon decreases the risk of obesity and overall mortality, diabetes, and heart disease.
But scientists have proved its usefulness for the treatment of ulcer. They evaluated the antiulcer activity of watermelon seed extract and found that it exhibited a dose-dependent protection against ulcer in rats under laboratory conditions.
Rats treated with its extract showed a significant dose-dependent decrease in the ulcer formation, lowered gastric acid secretion and significant inhibition of ulcer.
Even in comparison with Ranitidine, a common medicine used in treating an ulcer, the antiulcer effect was greater at a dosage of 400mg/kg, suggesting that watermelon seeds have a good anti-ulcer therapeutic potential and can be used as an anti-ulcer remedy.
The 2018 study in the Journal of Pharmacognosy and Phytochemistry involved AN Ukwuani-Kwaja and A Zakari from the Kebbi State University of Science and Technology, Aleiro.
This study evaluated the antiulcer property of watermelon seed in animal models. Its extract showed a significant anti-ulcer effect at both 200mg/kg and 400mg/kg dose level in a dose-dependent manner as well as a significant reduction in the ulcer index when compared to the control group.
Peptic ulcer is a worldwide burden. Its prevalence is quite high in third world countries where an estimated 70 per cent of the population is affected. Several studies from different parts of Nigeria suggest its occurrence in four to 10 per thousand population.
The exact causes of peptic ulcer disease are not known, but the disease is seen to occur mainly due to a persistent intake of NSAIDs, infection by Helicobacter pylori, stress or as a result of a pathological condition such as Zollinger-Ellison syndrome.
But many of the available medicines used for its treatment are associated with a number of side effects ranging from diarrhoea, headache, drowsiness, fatigue and muscular pain.
Watermelon health benefits include managing diabetes, fighting free radicals, support a healthy heart, the source of energy and water reduces the severity of asthma attacks and support weight loss.
Its seeds are loaded with nutrients including fatty acids, essential proteins and lots of minerals. These seeds are rich in Vitamin B like thiamine, niacin, folate and minerals like magnesium, potassium, manganese, iron, zinc, phosphorus and copper.
These seeds have a hard outer covering so they should be chewed before swallowing to get their nutritional content. Besides, roasted watermelon seeds are served as a snack or used to garnish salads. In Nigeria, they are fermented to produce a condiment locally called 'ogiri'. The roasted seed can be used as a coffee substitute.
In Kebbi State, North-West Nigeria, watermelon seed has been reported to have medicinal uses such as in the treatment of erectile dysfunction, hypertension, ulcer, diabetes and headache.
Other benefits acclaimed to watermelon seeds include their ability to boost hair health, support beautiful skin, increase energy, stimulate digestion, regulates blood sugar, builds strong bones and lower cholesterol levels.
Oil from the seeds is used in cooking and incorporated into the production of cosmetics. Fatty oils in the seeds as well as in aqueous and alcoholic extracts paralyze tapeworms and roundworms.
In 2015, researchers had found that even the watermelon rind can significantly reduce the formation of ulcers when compared with Ranitidine, a reference drug.
Watermelon rind may be eaten, but most people avoid eating it due to its unappealing flavour. They are used for making pickles, sometimes eaten as a vegetable, stir-fried or stewed.
According to the Nigerian Journal of Basic and Applied Science, the seed's water extract at a dose of 150 and 300mg/kg showed a significant curative effect of 65.8 per cent and 75 per cent compared with standard drug Ranitidine 66.7 per cent. With the rind extract, 66.9 and 70.2 per cent curative effect were observed against 66.9 per cent of Ranitidine.
Currently, foods such as honey, cabbage, yogurt and green plantain, have been named as protective from ulcers. Researchers from New Zealand, for instance, tested honey made from the nectar of the Manuka flower on bacteria from biopsies of gastric ulcers and found that the honey inhibited bacterial growth.
Cruciferous vegetables such as broccoli and cauliflower contain sulforaphane, a compound that appears to squelch H. pylori. In one study, after patients who tested positive to the bacteria ate a half cup of broccoli sprouts twice daily for seven days, 78 per cent tested negative to the bacteria.
Similarly, scientists think that it may be the amino acid glutamine that gives cabbage its anti-ulcer punch. It does not only help to prevent ulcers, but it can also speed healing of existing sores.