133-year-old women living atop rocks, serving as a conduit between humans and the supernatural are an unusual sight. KEHINDE OYETIMI reports his visit to the world of the revered Sinatu Aduke Sanni, the Iya Orisa Olumo, who has seen it all, yet lives and offers divination at the top of the popular Olumo Rock.
Her frame betrayed her age; her voice sounded very clear; her gaze was piercing. She walked unassisted by a prop or by any human. Her life is the history of her environment; the surrounding mirrors her story. For 133-yr-old Chief (Mrs) Sinatu Aduke Sanni, the Olumo Rock did not just provide a fortress for Egba indigenes of Ogun State during wartime; the rock has held very spiritual implications for them.
For most first time callers at the Olumo Rock, a tour guide would naturally unveil the historical place of the rock as regards the existence of the people of Abeokuta (simply: under the rock) and its significance to the people of the South West, Nigeria. In essence, a tour enthusiast to Nigeria's Yoruba South West will inevitably be told that one of the major places to visit is Ogun State's Olumo Rock. The imposing rocks sit atop one another, constituting a grand view both on the ground and on top of them. Aside this, one gets a panoramic view of the city atop these rocks.
However fascinating the story of Olumo Rock is, not many are told of the 133-yr-old divine who lives, offers prayers and divinations for many atop the rocks. When Nigerian Tribune arrived the entry point to Olumo Rock, a tour guide who simply identified himself as Adewale courteously offered his services.
"You are welcome to Olumo Rock. I will be your tour guide. My services are not expensive. I understand that you must have paid the entry fees. Please let me know how far you would like to be guided in your tour," Adewale said. To which Nigerian Tribune's reporter replied, "My photographer and I are not here to take a guided tour of the rocks. We have heard of an old woman who lives here and offers divinations. We would like to see her."
"I can see you are journalists. Media houses usually visit here but none has bothered to have an interaction with her. She is also called Iya Orisa Olumo which means 'mother goddess of the Olumo Rock.' Please come with me," Adewale said. After the necessary formalities had been sorted, the climb to Iya Orisa's hollow abode within the rocks started.
Climbing became easy with the carved-out staircases providing assistance. It would have been easy if the elevators erected along the rocks had been functional. As one climbed, each rock that came in view had one story or the other to tell. A cave with a wooden door could be seen. The white feathers of a domestic fowl had made imprints on the door and on some edges of the cave. Adewale quickly said that "That door houses one of the major deities in Abeokuta. At a particular time every year, due obeisance is offered to the god of the cave. I must tell you that in some cases, people offer sacrifices so as to get their heart desires granted."
Not far away, a greenish presence came in view. A tree sprouted out of base of two rocks, with its green leaves particularly watered. The tree referred to as 'Odan' is regarded as the 'Tree of Doggedness and Resilience'. An inscription in front of it tells the story of the tree in the following words: 'This Odan Tree is a living symbol of doggedness, resilience, resourcefulness and a dogged determination to succeed even under extremely challenging situations. Take a look at the tree. Its root and stem tell the story of courageous battles the tree has fought to keep alive and growing. It spreads not only its roots but also part of its stem to fuse into the rock to extract nutrients.' Adewale would tell that the tree is as old as the rocks, dating back many centuries.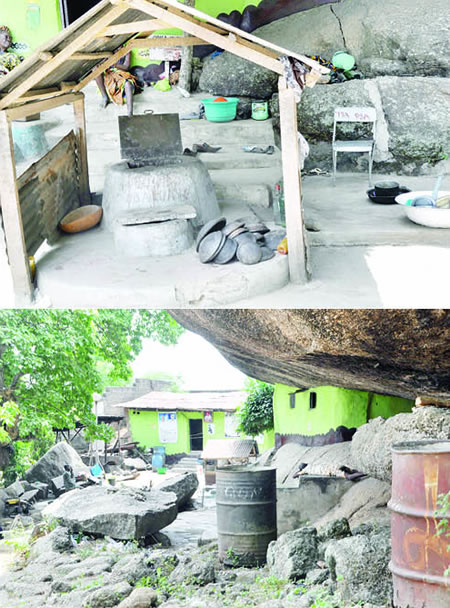 As the crew inched closer to Iya Orisa's place, a few rooms made out of the rocks came in sight. A singular banner announced: 'Egba war time hideout.' The tour guide spoke of the remarkable part that the caves played in protecting the Egba people during the time of war.
After navigating a few turns, a settlement eased into view. While some people slept on makeshift beds on a lower platform, two elderly women sat on a rocky dais. One of the elderly looked on as though she was in some trance. There was a shrine in front of them covered with roofing sheets. The two women sat in front of a small entrance leading into a cave. Scattered on various sides were black calabashes which must have been used for sacrificial worship. There was some mystical aura that greeted the newcomer. It was eerily quiet. The environment gave away the frightening mood of a sacred grove. There were presences, quiet, invisible presences that could be felt.
On getting close, Adewale pointed out saying, "The elderly of those two women is Iya Orisa that you have come to see." Sensing the presences of visitors, she looked as though her quiet had been disturbed.
"What do you want," she asked. To which this reporter answered: "Good afternoon Mama, we are here to have an interaction with you. We have travelled from Ibadan. We are journalists with the Nigerian Tribune."
"That must be the newspaper that was founded by Awolowo. You are welcome," she replied. "Have you come for prayers or divination?" She inquired.
"No Mama. We heard about you and decided to come and talk to you about your life here," this reporter stated.
"Then you should pay some money before I can grant the interview," she said. After some money had been paid, she spoke of the years spent on the rock, the deities worshipped and why people come from far and near to make use of her spiritual gifts.
"I am Iya Orisa Olumo. I am 133 years old. I have seen the rise and fall of many monarchs in Abeokuta and in other parts of Yoruba land. I have been on this rock for many years. I am proud of the powers of the deities of the Olumo Rock. You cannot talk about the history of Abeokuta without talking about the story of Olumo Rock.
"People wonder how Egba people lived here for many years. It was easy because the gods of the Olumo Rock protected them from any harm and the gods still do that till date. I have lived here for many years even though I am taken downstairs sometimes but I have enjoyed a privileged position of being used by the gods as a channel of blessings to many people. People travel from all over the world for spiritual assistance and I have been doing it for a long time. Those who are barren come here; those who are in search of employment also visit here. Those who are afflicted by strange illnesses and sicknesses also come here.  l worship Igun, Obaluaye, Sango and Ogun here. I offer special prayers for people," she said.
As the interaction continued, a man and his wife came towards where Iya Orisa Olumo was seated. Nigerian Tribune later gathered they they came for spiritual help. Apologizing, she prayed for the Tribune crew and said she had to attend to those who had come to see her. "I have to go now but you can talk to one of my acolytes. She would give you whatever answers you seek," she said. Without the aid of anyone or a stick, she got up, greeted those who had come to see her and beckoned on the man and his wife to follow her into the cave. After a few steps, she disappeared into the dark belly of the stony confines.
One of the women who sat close to her offered some insight into the life and operations of Iya Orisa Olumo. The woman, simply identified herself as, Iya Oladele, said she had been an acolyte of Iya Orisa for many decades.
"I am 80 years old. I have been an acolyte of Mama for many decades. I can't precisely say how many years she has spent here on Olumo Rock offering divinations and spiritual assistance to people. But we are many who have been her acolytes for many years. People come here to worship and get counsel from Mama. We worship Igun, Obaluaye and other deities of the Olumo Rock.
"We hold festivals here. Mama has been very generous with the spiritual gifts God has given to her. She decided to remain on top of the rock because of the spiritual presence of that she connects with here," she said.
One of the grandchildren of Iya Orisa, 54-year-old Abore, told Nigerian Tribune that his grandmother has been destined by the deities of Olumo Rock to connect them with supplicants who visit the place regularly.
"I am one of the acolytes of my grandmother. At 133, she is very spiritually insightful. She has been living and communing with the deities since I was a child. My grandfather died in 1992. Many people come here both within and outside the country to ask her spiritual help and counsel. That is what we do here. She collects fees for her charges. I am glad to have had a grandmother as powerful as she is," he said.