Stop tagging an ethnic with a particular crime ― Sultan of Sokoto
•Religion should not divide us ― Akeredolu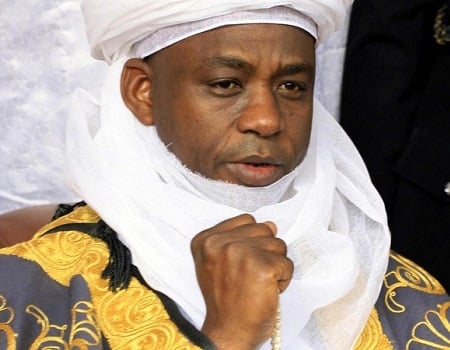 The Sultan of Sokoto, Alhaji Muhammad Saad Abubakar, on Monday cautioned Nigerian against labelling an ethnic group to a crime or tracing a crime to a specific ethnic group in the country.
Abubakar who stated this while delivering a lecture to mark the 2019 Akure Ulefunta day with the title: "Our diversity, A divine Gift and Blessing Untapped: Surmounting the challenges if the Management if Diversity" said criminalization of ethnicity and ethnicization of criminality in the country would not bring peace to the country.
The Sultan of Sokoto said" The fact if the matter is that there are criminals in every ethnic group and in every nationality
"lt is a Hunan trait, not an ethnic trait. Some of this criminality is economic related and will abate once we create jobs and prosperity.
"The criminalization of ethnicity and ethnicization of criminality, which we seem to relish and promote, will not benefit anyone.
He, however, called on traditional institutions, to raise their voices unanimously "against denigrating our diversity and criminalization of ethnicity"
He urged on government at all levels, media and the National Orientation Agency to embark on a massive campaign to enlighten Nigerians about the benefit of diversity.
According to him " our diverse ethnicity, far from being a problem is actually an asset to be nurtured and deployed for national development.
" Our strength as a country or as a region is in our collective energies, precisely harvesting our group contributions and channelling in ways that can give us a competitive or comparative advantage in the increasing competitive works if the 21st century.
" There is no time for internal squabbles, these can only drain our energy and delay our development.
" It is therefore very important that we realise that the current strife among ethnicities is not going to benefit anybody as it is counterproductive.
" The challenges facing all of us is how do we provide food, jobs, infrastructure for our fast-growing population in a World where oil, on which we rely entirely, is a receding resource that may be obsolete soon".
The state governor, Mr Rotimi Akeredolu advised Nigerians to look beyond their religious or ethnic differences and give priority to the unity of this country.
Akeredolu said religion should be seen as a unifying factor rather than a doctrine that is meant to divide the people of the country and said:  "I must appreciate the fact that you had the opportunity, to attend a meeting with our state religious leaders on how to form amity among religions because here, particularly in Ondo State, and most parts of southern Nigeria, a number of families, if not most families, have Christians and Muslims co-existing as family members.
"Also, we have husbands and wives belonging to different religions. And usually, it is easier for us to point to our leader, Asiwaju Bola Tinubu, who is an Alhaji and his wife, a Pastor in RCCG.
ALSO READ: Judgement: El-Rufai calls for unity, togetherness
"When we were growing up here as children, we celebrate Muslim festivals with our friends. We would go to their houses and eat in the same bowl. During our own festivals as Christians, they would come to us and they would even sow dresses and we wouldn't even know the difference.
"This has changed. But I am sure that we will get back sooner to embrace ourselves because we are one and religion should not divide us
"Hausa and our people have lived together for a very long time. When we have one or two security problems, I am of the opinion that they are not with those who have been living with us.
"They are with those who are just strangers. Even those living with us don't know them. Those living with us are peaceful and they have become part of us. Unity of Nigeria is non-negotiable."
The governor described the Sultan visit as a golden handshake across the Niger that will be cherished by all for a long time in the state.