Sterling set for fourth weekly drop on concerns about Brexit vote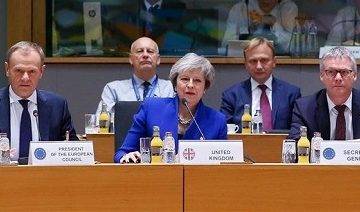 STERLING fell on Friday and was headed for a fourth consecutive week of losses as British Prime Minister Theresa May pressed ahead with plans for a parliamentary vote on her Brexit deal with the European Union, despite warnings it could topple her government.
Sterling's near-term fate hangs on whether May can win a majority for her Brexit deal in a vote on Dec. 11 that will define Britain's departure from the EU scheduled for March.
The odds look stacked against her getting the deal through a deeply divided parliament.
The pound was down by 0.4 per cent at $1.2746 at 0910 GMT, near an 18-month low of $1.2659 hit on Wednesday.
              ALSO READ: North-West acceptance of Atiku shows Nigerians have rejected Buhari ― PDP
It also weakened by 0.3 per cent against the euro to 89.27 pence.
"Volatility is increasing," said Ulrich Leuchtmann, an FX strategist at Commerzbank in Frankfurt.
"It seems the proposed deal is going to be rejected so delaying the vote could be an option for May," he added.
The Times newspaper reported on Thursday that senior ministers were urging May to delay the vote for fear of a rout, but her spokesman has said it would go ahead as planned.
A defeat on Tuesday could open up a series of different outcomes to Britain's departure from the EU — each with its own impact on sterling — ranging from leaving without the deal to holding a second referendum on membership.
The growing chance of averting Brexit altogether — potentially via a second referendum — has led some investors to start pricing out the prospect of a damaging "no deal" departure from the EU, analysts say.