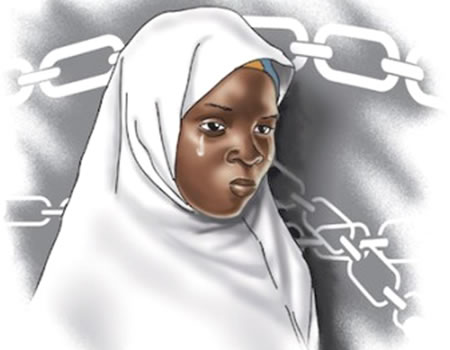 THE girl-child is bedevilled with many challenges in Nigeria and Africa at large as a result of the undeflated balloons of misogyny and sexism hovering  over their sky. From families who see them as liabilities instead of assets to societies which neither appreciate nor develop their talents and abilities because of their gender, it is as if it is all about woes for them.. They have over the years been ridiculed as feeble and most vulnerable to societal ills ranging from rape, child labour, female genital mutilation, early marriage, trafficking, and are as well, denied full formal education— as many girls of school age do not have adequate access to education. In Nigeria, for instance, women and girls constitute 60 per cent of the illiterate population and their literacy rate remains around eight points lower than that of the male.
With that in mind, on October 11, Nigeria joined the rest of the world to observe the International Day of the Girl-Child, a global event that aims at bringing the numerous challenges of the girl-child to the fore as it highlights issues concerning gender inequality facing young girls, and thus reminds us of our collective and continuous struggle to create a less dangerous world for all the girls, as well as creating the platform for them to excel in a society that sketches them as second class citizens. However, this year's theme, "With Her: A Skilled Girl Force" captures the essence of education and skill enhancement required for the girl-child today, so that she enters the workforce fully skilled, up-to-date with the needed technological prowess, a decade from now.
The benefits of education in the life of a girl-child can never be overemphasised as it undoubtedly has many personal benefits for girls themselves and the society at large, as it is often said that, when you educate a woman you educate a nation. Education is the process of impacting, learning and gaining skills, knowledge, morals and behaviour based on preventive and palliative measures. It enables the child to realize his or her full potential to think, ask questions and judge independently. Receiving an education empowers girls to take control of their lives, their families, and their future. Besides, the higher the level of a female's education, the more likely she would shun early marriage, bear her first child older and the less likely she would contract HIV or experience maternal death.
Most important, however, is that, empowering the girl-child through education and vital skill acquisition plays a positive role in breaking the cycle of poverty being perpetuated in the society. This is because, an educated woman ensures that her children experience better health, better education, and as a result, have improved employment opportunities. To put it differently, education narrows pay gaps and increases a woman's chance of entering the workforce and functioning well there..  According to United Nations reports, out of  a billion young people globally, 60% adolescent girls will be ready to embark on careers and join the workforce in the next 10 years. However, a whopping 90% of these children living in developing countries will have to work in the informal sector due to lack of education and employability in the technologically advanced future. Simply put, the lack of education denies the girl-child knowledge and skills needed to advance her status in the nearest future.
Yet, it has to be stated that everyone deserves the chance to work for fair and equal pay; to provide for themselves and their family. For many women who are in unsafe and unhappy marriages today, leaving is not an option, because they have no skills and no education to allow them to find work and to provide an income for themselves. For these women, living in an unhappy or abusive relationship seems better than living on the streets begging for money; the lesser of two evils in a sense. Yet, women should not be limited this way, and this can be easily avoided if we afford all girls their human rights and step up all efforts to properly educate them.
It is easy to see how a lack of education has a ripple effects across societies. A girl's education not only provides knowledge, it gives girl-children power and awareness over their own lives, which benefits all in the long run. In essence, education is the silver bullet for empowerment and progress. Females like their male counterparts have the right to education and skill acquisition, the right to choice and self-actualisation.  Stepping up our policies to educate every girl-child therefore translates to better health for the future generation, reduction in child morbidity and mortality thus triggering a snowball effect of achieving all other sustainable development goals in a viable manner.
Hence, with the numerous benefits and the far-reaching effects of a few books and a classroom especially for the girl-children, it's about time we ensured that all hands are  on deck to make the over 5.5 million school age girls not in school in Nigeria enjoy their inalienable right to be educated. The idea that women's education ends in the kitchen is outdated and no longer viable in our fast paced and ever changing world. Now more than ever, we need to prepare and equip every girl-child through education and encourage all girl-children to reach for their peak, just like their male counterparts. In the words of the UN Secretary-General, António Guterres, "… let us recommit to supporting every girl to develop her skills, enter the workforce on equal terms and reach her full potential." This especially is a task for us all in Nigeria.
Yakubu is of the Department of Mass Communication, Kogi State University, Anyigba, Nigeria.