By-Ifeoluwa Akinola
A predictive poll by Stears, a pan-African data company, says a low turnout of voters favours Tinubu, and a high turnout favours Peter Obi, who turns out to be more popular than Bola Tinubu and Atiku Abubakar. 
According to Stears' predictive poll result that was released Tuesday, February 7, 2023, a simple look at the poll results from all 6220 Nigerians shows that Peter Obi is likely to win the most votes, with 27%, followed by Bola Ahmed Tinubu with 15% and Atiku Abubakar with 12%.
Further analysis of the conditions that contributed to this result shows that in a case of high voter turnout, Obi gets 41% of the vote, holding a comfortable lead over Tinubu, based on the model's predictions. Meanwhile, in a low voter turnout scenario, Tinubu gains a favourable advantage for victory.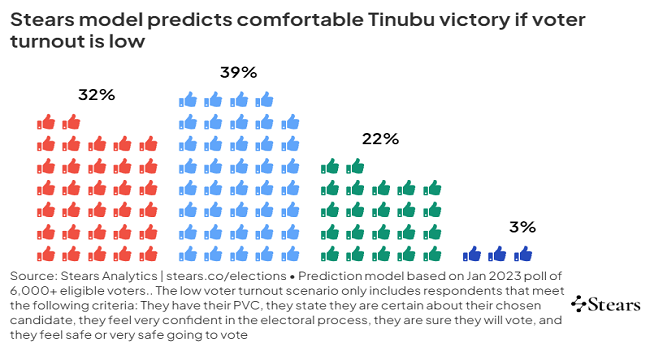 ―​​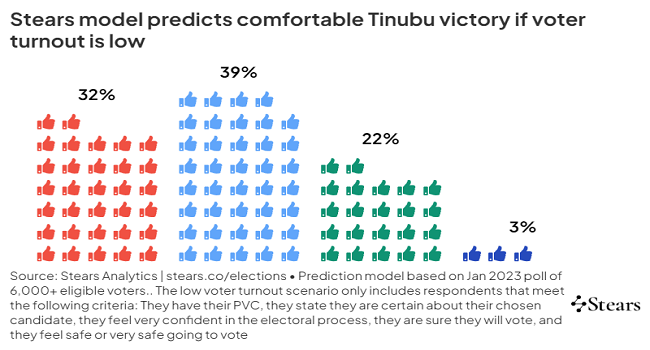 For better prediction, the model assigned 43% of undeclared votes to Tinubu, which suggests that most silent voters support Tinubu; However, Obi is still predicted to win when the reassigned silent voters' votes are added to those who have already said who they are voting for.
Michael Famoroti, Head of Intelligence and Co-Founder at Stears, explained that this prediction is more accurate and reliable than previous polls because it included an estimation model for silent voters in the analysis. 
The Chief Executive Officer at Stears, Preston Ideh, said that the company is using its skills in data analytics to improve real-time election tracking and data analytics in Nigeria. 
Ideh disclosed that the company built the first real-time election database in 2019. In 2023, the company will be tracking all live election results for the presidential, gubernatorial, national, and state houses of assembly.
Historical Antecedents to elections results
Based on the required voting quota for a candidate to be declared the winner of an election, the electoral laws state that a candidate must have 25 per cent of the votes in at least two-thirds of the states in Nigeria. The predictive analysis from the survey dataset shows that Peter Obi has at least 25% of the vote in the most geopolitical zones (5 out of 6) among voters that declared their candidate preference. He leads Bola Ahmed Tinubu (4 out of 5), while Atiku Abubakar only secures 25% of the vote in two (2) geopolitical zones.  
Only in the North-West, where Rabiu Kwankwaso is running, does Peter Obi not get 25% of the vote. This is because the votes in the North-West are most evenly split because of Kwankwaso.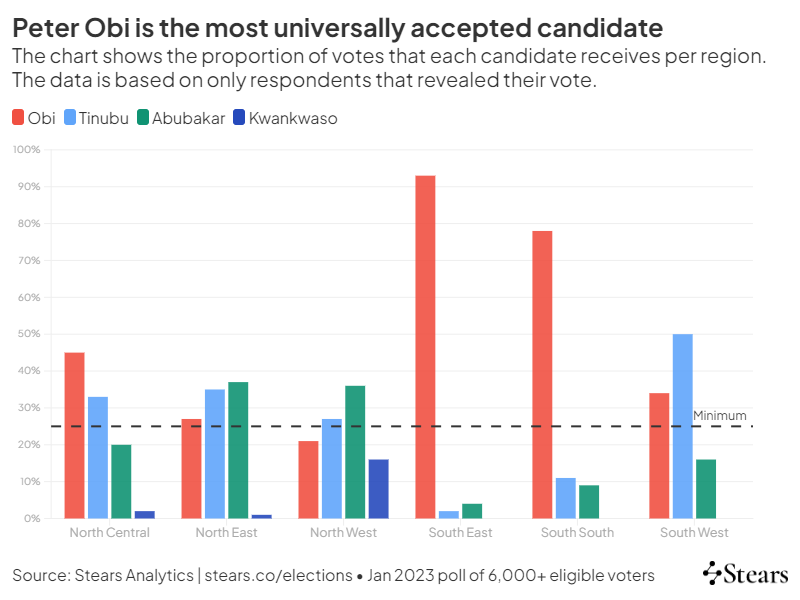 Kwara State is considered a swing state and has successfully predicted the results of each presidential election since 1999. 
Despite a high share of respondents refusing to reveal their preferred candidate, Bola Tinubu holds a healthy lead in the Kwara State polls, a good sign given the state's prescience in the presidential elections. 
About the model and Stears Methodology
The Stears election prediction model is a probit regression model. A probit model calculates the probability that an observation will fall into a binary category (vote or no vote). Probit models are preferred models for estimating or forecasting election outcomes.
The Stears poll was conducted from the 5th of January 2023 to the 20th of January 2023 using a stratified sampling method to select Nigerians aged 18 and above. 
---
---