Spousal murder: Experts finger drug abuse, stigma, fear, trauma, anger for increase in cases
Deaths, resulting from Intimate Partner Violence (IPV), are spreading uncontrollably and have become a major source of concern to many. YEJIDE GBENGA-OGUNDARE, with experts' opinions, reports that continuous rise in spousal homicide may be triggered by anger, explosion of pent-up frustrations and overstay in violent marriages, just as they proffer ways out of such situations.
Intimate partner violence has been a part of human society for ages. Researches from various development agencies across the world have confirmed that many people live in abusive relationships and face diverse forms of violence routinely without respite. Research findings estimate that one out of every three women had experienced an abusive relationship at some point in their lives and a woman is assaulted or beaten every nine seconds. Some men are also on the receiving end of abusive relationships though it has been proven that majority of victims are women, given their vulnerability.
Initial cases of spousal homicide reported men killing women but today, there are authenticated cases of women killing their male partners gruesomely and the figure continues to rise.
Love gone awry
Akolade Arowolo was a youth pastor in the Redeemed Christian Church of God, married to a banker, Titilayo Omozoje. He killed his wife in cold blood at their Isolo home in Lagos State. The autopsy result revealed he stabbed her in what was described as mad rage almost 100 times, removing one eye and a chunk of her breast over allegations of infidelity. Testimonies during trial revealed the marriage had always been turbulent.
Aside this, a cleric, Sunday Alfa, murdered his wife, a mother of four children for refusing to have sex with him on the ground that she recently gave birth through caesarean section.
Also a banker, Maureen Adejo was tortured and killed by her husband Olaoluwa Adejo at their Oworonshoki home, in Lagos State, in the presence of their five years old son, Richard, who testified that his father had been abusing his mother for long before the fatal incident, adding that his father also forced a local insecticide known as 'otapiapia' down the throat of his mother.
To the more mundane: Mathias Eze, a former commissioner in Enugu State Independent Electoral Commission (ENSIEC) killed his wife in front of his daughter because she failed to prepare food for him.  A man identified as Peter Odion allegedly killed his wife for eating food he prepared after she failed to cook for him because she was tired. Also, Christian Agba strangled his wife for refusing him his conjugal rights; Henry Nnamdi, a laundry man, killed his wife because he suspected infidelity; Bassey Effiong killed his girlfriend because she got an expensive mobile phone he felt was bought by a sugar daddy
A woman, Janet Odeghgbe was set ablaze by her husband for collecting a glass of wine from another man at a party; Naomi Chidiebere lost her life for condemning her husband's constant drunkenness and night crawling and the husband was so inebriated that he didn't know what he did until he sobered in the morning.
Also in Lagos, Lekan Sonde murdered his wife, Ronke, following suspicions of infidelity at their Egbeda-Idimu home after abusing her for eight years. He locked the corpse in the house with their two children and fled.
An upcoming musician, Zainab Nielsen, known as Alizee, was killed alongside her three-year-old daughter, Petra, in their Banana Island, Lagos, home by her 53-year-old Danish husband, Peter Nielsen.
Akolade Arowolo and Lekan Sonde were sentenced to death by hanging by the Lagos State High Court. However, the reality for many women in Nigeria is that murder is only a small fraction of the daily domestic violence they suffer; for every spousal murder reported, there are hundreds of unreported spousal battering cases which according to psychologists are the reason women are becoming the perpetrators of spousal murder in retaliation for a history of continuous abuse.
And if one thinks the men have hearts of stone, the women seem to have also upped the ante; the most recent is that of convicted Maryam Sanda, who stabbed her husband, Bilyaminu Haliru Bello, to death after seeing text messages in his phone which suggested that he was engaged in an extra-marital affair. 47-year-old  Udeme Odibi killed her 50-year-old husband, Otike Odibi, in their Diamond Estate, Ibeju Lekki, Lagos, home over his will because he refused to give her all of his properties.
In November 2017, an Ibadan-based lawyer, Yewande Oyediran, was sentenced to seven years imprisonment by an Oyo State High Court sitting in lbadan, after being found guilty of manslaughter for stabbing her husband, Lowo to death during an argument.
Babatunde Eso, a 45-year-old father of six was bathed with a pot of boiling pepper by his wife after a minor disagreement in their Festac home for jokingly telling her that her boyfriend was calling her on her mobile phone. Folashade Idoko, an auxiliary nurse, stabbed her 32-year-old husband, Lawrence Idoko, to death at their home in Ayetoro, Ogun state over suspicions of infidelity. A child bride, 14-year-old Aisha Isah, killed her 40-year-old husband, Isiaka Usman, less than five months into their marriage by hitting him with a pestle over an argument.
How I almost murdered my husband—Survivor 
A survivor of domestic violence, Abiola (surname withheld), told Nigerian Tribune that societal bias, stigma and religious doctrines are responsible for spousal murder. Abiola, who described herself as a single mother of four said, "I was lucky, I would have been a murderer. I was with my husband for 12 years and those 12 years were turbulent; I experienced verbal and physical abuse, financial oppression and emotional torture and my children were psychologically affected by the violence.
"But whenever I tried to leave, my parents would disagree. They said I wanted to disgrace them because as Christians, we should not divorce. I lived this tortuous life until one day when my husband slapped me and something snapped. I didn't know how I picked a bowl and broke it on his head, he passed out. I was scared. He was hospitalised for two weeks and in those weeks I stayed with him at the hospital. I assessed my life and knew it was a matter of time before something terrible would happen. After he was discharged, I moved out without telling my parents and my life is better for it. They should stop forcing people to remain in bad marriages; the end result may be fatal."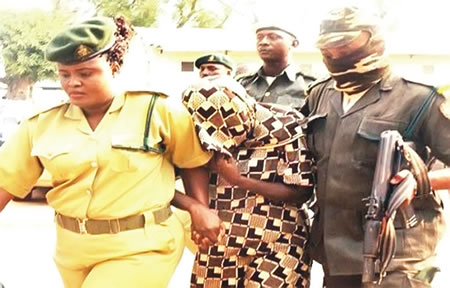 'Spousal murder usually as a result of unresolved frustrations'
A marriage counsellor, Biodun Olunbe, stated that "often, some cases of prior abuse leads to the perpetrator lashing out with violence which leads to fatality. It is often as a result of overwhelming hopelessness, frustration and emotional trauma. The killing spree is likely the result of unresolved frustration among couples with little options or outlets for seeking or receiving support. It is a psychological issue that originates from spouse battering.
"Also, many men today want their wives to be modern women in every sense; contribute to upkeep, go to work, shoulder responsibilities but still remain voiceless in decision making and allow the characteristic philandering and assertiveness of the man as the head, but modern women are not taking this again. They now have a voice and they use it. Consequently, some men turn violent and abusive and when the women have had enough, it leads to fatality. I would advise any aggrieved partner to walk away, though that is not an easy option," he stated.
'Stigmatising divorcees should be discouraged'
Jadesola Babalola, a social worker who volunteers at women shelters across Christian missions expressed the opinion that spousal homicide will continue unabated if the society continues to force people to stay in dead marriages because the orientation of the younger generation is different, adding that "young people are told to stay in marriages no matter what they are going through; they are told to sit with their properties, protect it and stay at all cost because once you leave, you are a failure. They are told it is honourable to die as a married woman than live as a single mother. Our society sees a divorcee as a plague to be avoided because they couldn't keep a home; they put stigma on them and those that can't stand the pressure sit tight till they kill their spouse or they are killed."
Speaking on the issue, a legal practitioner and chairman of the Oyo State Sexual and Gender Based Violence Response Team, Mrs Dupe Awosemusi, said that "fundamentally, people no longer marry based on love but on materialism and couples involved have refused to accept the realities on ground in their marriage; the peculiar nature of the spouses and unfortunate belief that they will change; inability of the spouses to differentiate society norms from reality; blind application of purported taboos in the society and religious beliefs and lack of boldness to walk out of the marriage so as to avoid stigmatization.
'People should walk out on abusive relationships'
"Spousal homicide can be avoided basically by getting married based on genuine love, trust and devoid of materialism. Prevention is better than cure. The couple, if already married can also avoid spousal murder by walking out on a violent marriage, a marriage without trust and love; it could be in form of separation or absolute divorce. Also, our societal hard discs need to be formatted to accommodate realities in marriage and stop stigmatising those who exit a violent marriage instead of untimely exit from earth and the multiplier effect of such exits on the children and the society."
She added that the law has helped in reducing the trend in many ways because there are so many laws in place but most of the couples involved don't even know of the existence of the laws that protect them and those who know are not ready to assist the law enforcement agencies to enforce these laws, adding "they are the ones that will report a domestic violence to the law enforcement agencies and also go back to beg on behalf of the spouse or even refuse to show up when the law is to take its course.
"Lack of political will to absolutely enforce these laws is also a major impediment. It should be noted that spousal murder will continue to be on the increase, unless couples and the society are ready to face the reality on ground, Awosemusi stated.
'Counseling, therapy can help end an abusive relationship'
Also speaking, Dr Jibril Abdulmalik, a Consultant Psychiatrist with the University College Hospital, Ibadan told Nigerian Tribune, Intimate Partner Violence should never be tolerated as there is no excuse for it.
According to him, "it can lead to fatal consequences, even when unintended. And everyone involved is ultimately a loser: the individuals, their children (if they have any) and the respective families. Our culture of shaming and blaming the victims, as well as the subtle tolerance society has for these actions have unfortunately resulted in the ultimate tragedy – death, in some instances."
Speaking on causes of spousal homicide, Dr Abdulmalik listed frustrations, poor emotional discipline and control (anger management), impulsivity and drug abuse as some of the risk factors increasing levels of spousal violence.
"It is not a mental disorder, but may require professional mental health care if there are underlying problems such as poor anger management, drug abuse, personal feelings of inadequacies, etc. There is no direct relationship between mental ill health and spousal homicide. But certain emotional or behavioural problems such as drug abuse and poor anger management skills may increase the risk of spousal abuse escalating to murder," Dr Abdulmalik stated.
He added that "human beings are the product of our inherited genes from our parents as well as a product of our experiences growing up: home environment, school environment, religious influence, type of friends or neighbourhood. They all play a role in shaping our personality and thinking."
Dr Abdulmalik however advised that "If you or anyone you know have experienced IPV, seek counseling and therapy from mental health professionals (psychiatrists and clinical psychologists), if you are in an abusive relationship, end it today. If mediation is going to work, ensure the abuser goes for therapy and is given a report before you consider going back. The truth is, if it happens once, more often than not, it will become a repetitive habit."