SPECIAL REPORT: Osun's out-of-school children: Tales of poverty, pains, struggle
Staying out of school has become normal for 13-year-old Adepoju Ibrahim. He considers learning vulcanizing as the best option having dropped out of school. Whenever kids in Ede town area of Osun State are going to school, Ibrahim moves to Oke-Gada area of the town where he is learning vulcanizing.
He withdrew from school in 2017 when he couldn't afford to enroll at Baptist Middle school after his primary education.
"I started learning here last year when my parent couldn't afford the school fees and the requirements needed for me to start a secondary school education," the boy told Tribune Online. "The school uniform alone goes for N1,500, the school fees and other requirements amounting N2,000 were just too much for my parents who are both petty traders to afford, hence why they decided to enroll me here for apprenticeship"
His daily routine revolves around getting to work early, opening the shop and staying close to his boss to learn how to either inflate low tyres or repair damaged ones, whenever customer patronises them. His boss, Mr Yinka Ojo, also specialises in selling used tyres and other miscellaneous tire repair work.
"I am learning faster and I will soon become a professional 'Vorcah', in fact, I now watch over the shop and handle customers work whenever my boss is not around," the boy, who only understands but couldn't express himself in English said in Yoruba.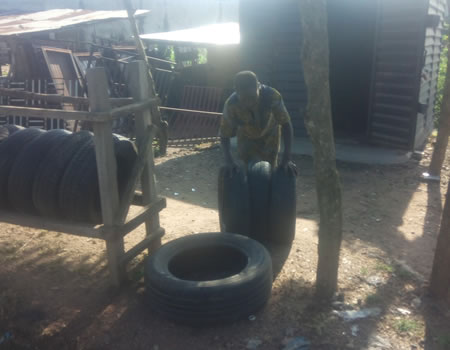 Ibrahim is one of the 26.9 per cent of children of primary school age out of school in Osun State based on the Multiple Indicated Cluster Survey (MICS) made available by UNICEF for children of school age out of school in 2016/2017.  Primary and secondary school dropout rate is highest in Osun and Oyo states among Nigeria's South-West states.
The largest percentage of out of school children are in the northern parts of Nigeria.
Osun State is however said to be trailing Oyo State in the highest number of secondary schools out of school children in the South-West with 10.5 and 15.4 per cent of children of secondary school age not in school in both states respectively.
Osun State former Commissioner for Education, Mr Kola Omotunde-Young, however, disagrees that the state has such high number of out of school children, based on the fact that the state recorded the highest number of school enrollment in 2013 and the state also recorded the lowest unemployment rate in Nigeria.
"In 2013, the National Bureau of Statistic (NBS), rated Osun as the state with the highest number of primary school enrollment in Nigeria and again, the NBS recently rated us as the state with the lowest index of unemployment in the country, so it is not possible for us to have such an outrageous number of out of school children in the state," he said.
However, the Universal Basic Education Commission (UBEC) had earlier corroborated the UNICEF data, stating that the total number of school children out of school has increased from 10.5 million to 13.2 million.
The UBEC Executive Secretary, Dr Hammid Bobboyi, stated this last October during a United Nations Children's Fund briefing on out-of-school children in Abuja.
His assertion implies that the UNICEF MICS data of out of school children in South-West Nigeria that puts Osun State as a state with a high number of out-of-school children is valid.
The previous budget of the state for education in recent years also reveals that education has been suffering from underfunding, as the state has continued to budget as low as 11 per cent of its total budget on education.
For instance, the state budgeted N11 billion representing eight per cent of its N146 billion budget for education in 2017, it allocated N12 billion totalling seven per cent of its total N173 billion budget for education in 2018 and however proposed 11 per cent of its total N152 billion budget for education this year.
An investigation carried out on some out-of-school children, parents and school administrators in the state revealed that the basic education is under threat in the state as a larger percentage of the children are either not going to school or dropping out of the school at the early stage of their life.
Afolabi Damilola, another out-of-school child found on the street of Irewole Local Government area, Ikire, during the school hour said hawking has become a daily routine for both him and his mother to feed. He has given up on going to school.
The 16-year-old boy said he was supposed to be in Junior Secondary School (JSS) 3, at Community Middle School, Ikire, when he stopped going to school to face the Dodo-Ikire he hawks on Ife-Ibadan highway squarely.
The boy said his father's death was a major blow on him and that was what forced him to drop out of school two years ago. His mother, who is a widow, prepares the Dodo while he hawks the spicy snacks for passengers to buy.
"My own job is to ensure I sell this Dodo and take the money home for me and my mother to feed. In fact, I now go to some neighbouring towns to sell my goods because we now have scores of hawkers here and the competition is becoming overwhelming. For instance, I was in Lagere, in Ile-Ife yesterday to hawk my Dodo," he said.
Out-of-school children's convergence on Ile-Ife, Osogbo
With the high number of out of school children in the state, the children now form a caucus to stay in some particular locations in the state while their counterparts are in school.
Agboola Ayobami, who spoke with Tribune Online,  said he walks through Alekuwodo to Olaiya area of Osogbo on a daily basis to join others who are predominantly out of school children like him.
"I have never been to school since I was born, my father is a carpenter while my mum stays at home as a housewife," the boy said.
Similarly, at Road 7, Mayfair, Ile-Ife, young children of ages 5 to 13 that are out of school usually converge on at the mini-park to play and beg for alms from commuters.
The children who come from Sabo, Lagere, Modakeke and different parts of the town said they were out of school because their parents could afford to cater for their education needs.
One of the children, Nuhu Saida, said she trekked all the way from Sabo together with his brother, Nuhu Muhammadu, in order to beg for alms so they can have money to eat and as well take something home for their mother
Reasons for increase in number of out of school children in the state
The increase in the number of out of school children in Osun State and Nigeria at large according to investigation has to do with the economic challenges facing the country.
Many of those who even enroll in the school in the state are eventually dropping out due to financial constraints, among other challenges.
For instance, Adeagbo Emmanuel, a 6-year boy of Egbedi area of Ilesa said he dropped out of the school when his parents couldn't afford to cater for his needs at the St Peters Elementary School, Isona Ilesa.
The boy, who now hawks fruits at Ile-Ife garage in Ilesa narrated the ordeal of how N1,000 being the school fee and lesson fee forced him out of school, thereby turning him to a fruit hawker in the garage.
"Last term, they sent me home because of the fees I was unable to pay and since then, my mother has said I won't be going again and that's why I'm always here to hawk my fruits to the people in this garage," the boy said.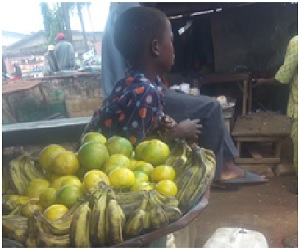 Mrs Esther Chimebuka, a 55-year-old woman in Wasinmi village of Ikire, narrated how paying school fees of her three kids has been a strenuous task for her. The woman said, she and her husband, Mr Victor Chimebuk are into farming, which tends not to be enough to cater for the feeding, schooling and basic needs of their children.
"My kids are yet to resume school this session because of the exorbitant school fees, which I and my husband are finding difficult to afford," she said.
The woman expresses uncertainty when asked if her children would eventually join others in school.
She said: "We are no more in the rainy season when we enjoyed a boom in our farming business and I can't afford their school needs for now."
Also, Iya Iyabo, a 70-year-old found selling pepper at Igbona market, Osogbo with her grandchild of eight-year-old explained how she can't afford catering for the school needs of the female child.
"She is a product of unwanted pregnancy, I struggled to send her mother, Iyabo to school only to come back home with the pregnancy of this girl, when she got to S.S 2.
"You can't expect me to struggle to feed her, care for her needs and still send her to school when she can always assist me here in the market," the aged woman said.
ALSO READ: Period poverty: How Nigerian ladies struggle to afford sanitary pad
Why our students are staying out of school ―Teachers
Some school teachers and administrators in the state that spoke with Tribune Online also offered reasons most of their students are staying out of school.
Mr Muritala, the Vice Principal 1 of Community Middle and High School, Wasinmi village, Ikire, revealed that the students of the schools are mostly staying out of school to face farming, which happens to be the major profession of people living in the village.
"We currently have a total population of 198 students in the school but once it is the rainy season, that farmers usually cultivate their farms, the population will reduce drastically and we can have about 50 students staying out of school throughout that period," he said.
He also revealed that it is a common thing in the village for students to stay out of school during the village's market day, which occurs every five days.
"As you can see, we have a teeming population of students present today, if you were here two days ago that happens to be the market day, you will meet just a few students on ground."
Similarly, a class teacher who pleaded anonymity in Urban Day Middle school, Ijebu-Jesha also said the reason why most students prefer farming to school is because of illiteracy on the path of most parents and guardians.
"This is a town where a larger percentage of them don't know the value of education; they prefer engaging their children in farming than bringing them down here for basic education.
Also, Mrs Atitebi Lydia, the Vice Principal of Urban day middle school, Mayfair Ile-Ife narrated that poverty is the major factor militating against the children's enrollment in the school. He said that some parent can't afford to pay the maintenance fee and lesson fee the students pay in the school
"N1,500 is a huge amount of money for some parent to pay for their children to get educated in a government school," she said.
According to Mrs Bola Thompson, the headmistress of St Peters elementary school, IsonaIlesa narrated that the general uniform adopted for the students in the state by the state government is one of the major problems forcing most students out of the school.
"The school uniform cost nothing less than N1500 per student and it is the government that is the sole distributor of the uniform, unlike in the past when parents can go to the market to get school uniform for their children and gives it to tailor to sow for them at a relatively cheaper price." She stated.
She said students whose parent can't afford to buy the school uniform often feel depressed in the school and that most students even prefer not coming to school than coming without the government school uniform.
"Although, the government gave a pair of the school uniform to all the students in the state when they first started the general uniform thing, but that has long spoil after few terms and student now purchase the uniform for a whooping sum of N1,500," She added.
Dwindling girl-child education in the state
According to UNICEF, 60 per cent of the 13.2 million out of school children in Nigeria are girls, many of those who do enrol and drop out early.
Low perceptions of the value of education for girls and early marriages are among the reasons for the problem, UNICEF says.
Oyebola Folake, a 14 years old girl who dropped out of St Julius middle school, Ila Orangun may be one of the girls suffering from this menace.
Folake, who now hawks 'puff puff' on the street of Ila Orangun narrated how her mother prefers her hawking the 'puff puff' while are two younger siblings who are boys go to school.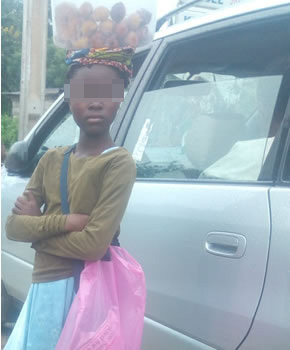 In the same vein, MrFajinmi of United Methodist middle school, Iwo explained the causes of the free fall in the number of girl-child students in the school
The JSS 3 class teacher narrated that the sudden diminish in the number of female students in his class from 16 to 8 cannot be far-fetched from various reasons ranging from teenage pregnancy, poverty among others
"In this register, I'm holding, I have 20 male students in my class, 16 female students and out of the 16 female students, 8 are no longer coming to school," He said.
Also, Mrs Oluwatoyin Victoria, the headmistress of Baptist elementary school, Wasinmi said the school has always had on register higher number of male students compared to the female students since she got transferred to the school two years ago.
"As you can see on the board, we recorded a higher number of male students in almost all the classes last session and the same thing is gradually playing out this year again," she said.
Decline in school children's enrolment worrisome –NUT
The National Union of Teachers, NUT has described the free fall in the school children's enrolment in the state as worrisome. The NUT chairman in Irewole Local Government of Osun State, Mr Babalola Babatunde averred that the decline in the enrolment of school children in the state cannot be farfetched from the host of problems posing threat to education in the state.
Mr Babalola said apart from poverty that is forcing many parents and guardians to keep their wards away from the school, the teachers are also being faced with poor remuneration and insufficient manpower.
"If you go to many of the schools in the villages, you will only see a headmaster with either one or two teachers handling the whole elementary education of the children in the village, which is not supposed to be so," he said pathetically.
Commissioner for Education reacts
Responding to the situation, the Immediate Osun State Commissioner for Education, Mr Kola Omotunde-Young in his defence said "although we may have few out of school children that may arise from poor parenting in the state, but the state is working towards getting these children back to school." For instance, he said the state will soon come up with a programme tagged REPPAIR otherwise known as Responsible Parenting in Parental Responsibilities to sensitise the parents and guardians on the need to send their kids to school.
On  maintenance fee and school uniform that are militating against the children's presence in the school said those things are put in place to ensure maintenance of the school and to as well drive money into the government purse while ensuring standard education are obtainable in the schools.
"No child in Osun state is supposed to pay any kobo in Osun schools but there is something called 'Maintenance Fee' which is levied on the students for the maintenance of the infrastructures we have made available for them in the schools. It is N500 per student in Elementary school, N1,000 per student in the middle school while the students in the high school pay N2,000. The school uniform is also a brainchild of Omoluabi garment factory, an industry that is set up to provide employment opportunity and to drive money into the government purse," He explained.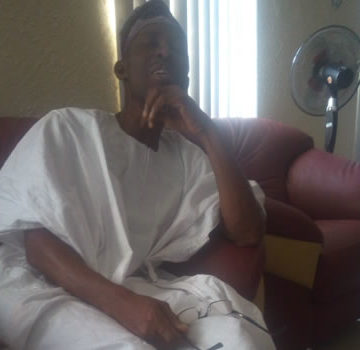 Basic education under threat in Osun State
According to the Child Rights Act 2003 and the Universal Basic Education (UBE) Act of 2004, the first 9 years of a child's education ― elementary and middle school education is a basic right, free and compulsory for all children but despite the passage of these acts, some children in Osun state are still being denied access to basic education.
Mr Adekunle Mafe, the president and convener of Brainykid Education Foundation, a non-governmental organisation that focuses on quality and accessibility of education to children in Nigeria expressed concern over the the inability of thousands of kids in Osun State to have access to basic education.
"With the figures and statistics of out of school children in Osun state, it basically shows that basic education is under serious threat and the government and stakeholders must be vigilant to salvage the situation," Mafe said.
This investigative report was supported by the Wole Soyinka Centre for Investigative Journalism (WSCIJ) Regulators Monitoring Programme (REMOP) for the Education Sector.