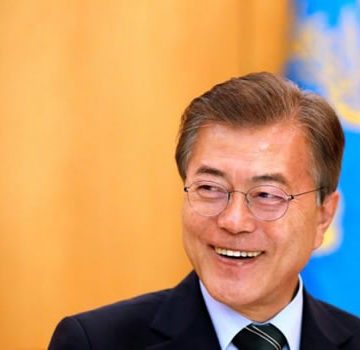 South Korean President Moon Jae-in said on Thursday China should do more to rein in North Korea's nuclear program and he would call on President Xi Jinping to lift measures against South Korean companies taken in retaliation against Seoul's decision to host a U.S. anti-missile defense system.
In an interview with Reuters ahead of his trip to Washington next week for a summit with U.S. President Donald Trump, Moon said 'strong' sanctions should be imposed if North Korea tests an intercontinental ballistic missile (ICBM) or conducts a sixth nuclear test.
"It must be sufficiently strong enough that it would prevent North Korea from making any additional provocations, and also strong enough that it will make North Korea realize that they are going down the wrong path," Moon said.
The comments mark the toughest warning yet by the liberal former human rights lawyer, who was elected in May after campaigning for a more moderate approach to the North and engaging the reclusive country in dialogue. As a candidate, he said, sanctions alone have failed to impede Pyongyang's defiant pursuit of nuclear weapons and ballistic missiles.
North Korea will acquire the technology to deploy a nuclear-tipped ballistic missile capable of hitting the mainland United States "in the not too distant future," Moon said.