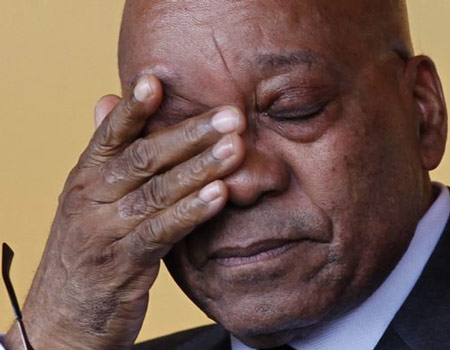 Continental second largest economy, South Africa on Tuesday formally slipped into the abyss of economic recession.
This is the first time in eight years so-called Africa's most sophisticated economy would slide into recession after data from Statistics South Africa showed weak manufacturing and trade figures for the first quarter.
There had been fears about the economy since early 2016 when hopes raised about the former apartheid enclave's economy by ratings agency Fitch affirming its investment grade credit rating fizzled out quickly.
In the first quarter of 2016, South African economy shrank by 0.2 percent year-on-year basis compared with 0.6 percent growth in the previous three months, according to Statistics South Africa.
Analysts cite political instability, high unemployment and credit ratings downgrades as denting business and consumer confidence in South Africa and the rand extended its losses against the dollar, while government bonds also weakened.
The economy contracted by 0.7 percent in the first three months of 2017 after shrinking by 0.3 percent in the fourth quarter of last year, lagging market expectations of a quarter-on-quarter GDP expansion of 0.9 percent.
A consumer frenzy helped the South African economy grow by an average five percent a year in the five years before the 2009 recession, but it has struggled to register much growth since.
"The slowdown in Q1 was due to much worse results from usually stable consumer-facing sectors that had been the key drivers of growth in recent years," Capital Economics Africa economist John Ashbourne said.
The worst performing sector was trade, catering and accommodation, which contracted by 5.9 percent, while manufacturing – one of the key sectors – fell by 3.7 percent.
Standard Chartered Bank's Chief Africa Economist Razia Khan said the "awful" data showed weakness where it was not expected.
The poor growth numbers pile more pressure on the ruling African National Congress (ANC) to get the economy back on track faster as it tries to stave off further credit ratings downgrades and stem falling voter support.
The Treasury said the negative economic growth was a risk to fiscal targets and introduced "significant downward bias" to this year's growth estimate of 1.3 percent, up from 0.3 percent in 2016.
"The current state of the economy puts more pressure on us as government, business, labor and broader society to intensify our growth program and improve confidence as a matter of urgency to arrest the decline and set the economy on a higher growth trajectory," the Treasury said in a statement.
Finance Minister Malusi Gigaba would meet business leaders soon to discuss ways to achieve inclusive economic growth, the Treasury said.
Pressure on President Jacob Zuma, including from within the ANC, has risen since a controversial cabinet reshuffle in March that led to downgrades to "junk" status by S&P Global Ratings and Fitch and allegations of influence peddling.
Corruption allegations escalated when local media reported this week on more than 100,000 leaked emails they say show inappropriate interference in lucrative tenders.
"Our economy is now in tatters as a direct result of an ANC government which is corrupt to the core and has no plan for our economy," Mmusi Maimane, the leader of the opposition Democratic Alliance, said.
S&P Global Ratings and Fitch last week said risks to South Africa's ratings include weak economic growth and political uncertainty ahead of the ANC conference in December when a successor to Zuma as party leader will be chosen.
Zuma can remain as head of state until an election in 2019.
Moody's, whose Baa2 rating is two notches above "junk", is reviewing South Africa for a possible downgrade