South Africa is kinder to female artistes than Nigeria – South African TV presenter, Matheba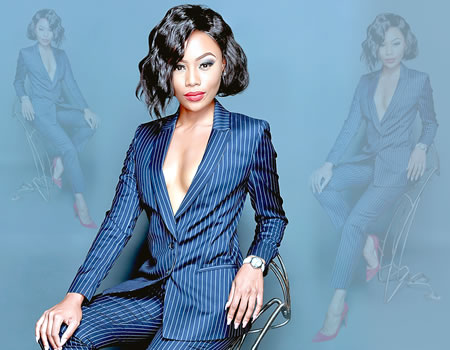 A prominent South African TV presenter and On Air Personality, Bonang Matheba, has insisted that the music industry of her country celebrates female entertainers more than Nigeria's, which to her mind, has bigger clout and should therefore set good examples.
In an interview with Saturday Tribune recently, Bonang called on the Nigerian entertainment industry to quickly tie the loose ends on their regard for female creatives.
"This," she said, "is more progressive and probably where I feel Nigeria can do a bit more."
"For instance, Tiwa Savage is the only popular female voice in Nigeria that is greatly celebrated, while the rest of the country honours and recognises men more. This is an area of observation that can be more elevated.
"But in terms of their [Nigeria's] entertainment industry, I would have to give it to them [Nigeria] for delivering a stunning Red-carpet experience and their ability to elevate the status of their artistes."
Bonang, who recently premiered her first TV series, "Being Bonang" on VUZU AMP, precisely said, "Our [South Africa's] industry is far much kinder to our female counterparts and genuinely celebrates them and allows them to shine".
Bonang's remark carefully echoes the submission of some entertainment critics in Nigeria about how gender roles among other factors have toughened the playing field for female creatives in the entertainment industry especially the music arm.