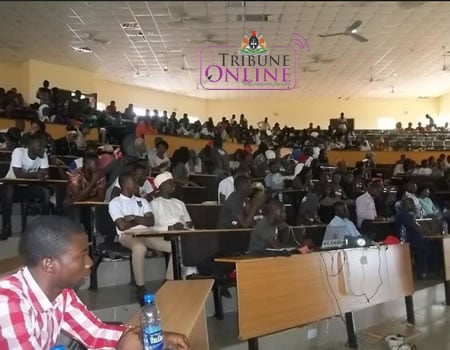 THE Deputy Vice-Chancellor (Academic) of University of Ilorin, Prof. N.Y.S. Ijaiya, has said social workers "are next to God" and cannot be paid adequately for the kind of service they provide, their reward, according to her, lies in heaven.
This was during the 2018 World Social Work Day Programme organised by the school's Department of Social Work, Faculty of Social Science and Medical Social Service Department of University of Ilorin Teaching Hospital on Tuesday, 20th of March 2018, at the Communication and Information Science Lecture Theatre (CISLT) of the school.
The six-day programme themed "Promoting Community and Environmental Sustainability", which started on Monday, 12th of March, 2018, was held in commemoration of World Social Work Day, an annual event held every third Tuesday of March by the International Federation of Social  celebration, kicked off with a series of activities which included awareness campaign, visitations to Borstal Training Institution (Ganmo), and Hope Orphanage (Idofian), Sports, etc.
The programme ended on Tuesday, March 20, with a public lecture.
In his welcome address, the Head of Social Work Department, Unilorin, cum host of the event, Dr A. A. Abdullahi, appreciated the presence of the dignitaries and thanked the students in his department for their hard work and support toward his administration.
While delivering her goodwill message, the Deputy Vice-Chancellor (Academic), Prof. N.Y.S. Ijaiya, as represented by the Director, Counseling and Human Development Centre, Unilorin, made a startling revelation to the effect that, "social workers are next to God". The versatile administrator, also averred that social workers cannot be paid adequately for the kind of service they provide, as their reward, according to her, lies in heaven.
Setting the ball rolling on the main discourse of the august gathering, the first keynote speaker, Dr M. M. B. Usman, from the Department of Epidemiology and Community Health, Faculty of Clinical Sciences, College of Health Sciences, Unilorin, defined the concept of health and social work as that which aims at ensuring a healthy life and
community. He went further to give the meaning of community, environment and sustainability while placing emphasis on sustainability as the "ability to continue a defined behaviour".
Dr Usman also said that environmental sustainability will occur when there is a "balance between man and environment".  According to the varsity don, environmental sustainability can be promoted by participating in prominent global initiatives and collaboration, adopting a recycling culture, minimizing waste, planting
more trees, and strengthening social work services. He concluded his lecture by urging participants to be conscious of what they do in the environment.
The second keynote speaker, Dr U.A. Raheem, who doubles as the HOD of Geography department and Chairman, Academic Staff Union of Universities (ASUU), spoke on environmental sustainability with a specific focus on cultural aspects of the environment.
The erudite scholar gave an exposé on the fact that the unsustainable exploitation of resources contributes not only to the loss of biodiversity but also destroys about 17 million hectares of tropical forest each year.
Dr Raheem explained further that generations to come will experience more shortage of resources as humans presently are managing to survive as a result of population explosion and scarcity of resources.
In addition, he admonished professionals in the fields of social, economic and environmental sciences to work harmoniously in order to maintain the goal of sustainable development. His conviction was premised on the fact that the fields are interconnected and correspond to human factor problems in society.
He concluded by advocating a change in the curriculum of the social sciences so that students can be trained in multiple disciplines towards providing social dimensions on the subject matter.
"We have been training sociologists, economists, social workers… we should train social scientists," he said.
More dignitaries gave their goodwill messages including the department's President. Students presented poems and articles concerned with social work.
Other dignitaries present at the occasion were: Dean, Faculty of Social Science, Prof. B. Salawu; Dean, Faculty of Medical Sciences, Prof. Afolayan; Director, Center for Peace and Strategic Studies, Prof. Noah Yusuf; Director, Brostal Training Institute, Ma Awoyemi; Sub-Dean, Student Affairs Unit, Unilorin, Dr. Alex Akanmu; among others.
Chima Osuji and Oluwatomisin Ojebode are undergraduates of the University of Ilorin, Department of Int'l Law and Jurisprudence, and Department of Social Work respectively.
---
---