The long walk to ensure the Violence Against Persons (Prohibition) Act, also called the VAPP Law gains traction across the country to curb escalating incidence of violence seems not to be coming to an end as the law is still in various stages of getting adopted in 17 states of the federation. YEJIDE GBENGA-OGUNDARE reports that it is yet to be passed into law in 10 states while it is awaiting assent in seven states; creating clogs in concerted efforts to stop all forms of violence across the country through legislation.
When the Violence Against Persons (Prohibition) Act, known as the VAPP law, was signed into law by former president, Goodluck Jonathan in 2015, many were skeptical that it could do the work it was expected due to challenges associated with domesticating laws in Nigeria. Today, while 18 out of Nigeria's 36 states and the Federal Capital Territory has adopted it in varying forms to combat rising cases of violence against people, the law is still struggling in  17 states, majority of which are in the Northern region of Nigeria, as it combats with the penal code for existence.
This development is seen by many arbitrators and lawyers, especially rights advocates as a sign that many states only pay lip service to assertions that they will fight against violence against persons in their state and is considered to be a clog in the wheel of success of the fight against violence.
Constitutional and legal experts have stated that the VAPP law is an innovative instrument that can holistically curb the menace of violence and abuse as it dwells on various forms of violence while honing on gender and sexual-based violence. It was designed to tackle all forms of violence against persons in private and public life and provide maximum protection and effective remedies for victims and punishment of offenders.
It is also the first legal tool that redefines rape and also recognises that rape can involve male victims and focuses on globally acceptable deterrents in the form of punishments for offenders and provisions for financial compensation of victims as well as categorising emotional, verbal and psychological abuse as offences.
Why is it important for leaders to enforce the VAPP law?
Many people over time have expressed the belief that Nigeria is one of the least safe places for women in the world and therefore requires a legal tool to create a safe environment for women and girls. It is believed that Nigeria, due to its harmful cultural practices that are often not in favour of women; Female Genital Mutilation (FGM), circumcision, denial of inheritance and succession rights, forced marriage and alienation of rights in its various forms, need a law like VAPP to provide a legal framework that protects the victims of these practices.
Indeed, a 2018 survey by the Thomson Reuters Foundation, ranked Nigeria as the ninth most dangerous country for women.
According to Amnesty International's Osai Ojigho in an interview in June 2020, "no matter where you are in Nigeria, in the north or south, in the city or rural, Christian or Muslim, every woman and girl is at risk of rape. Nowhere is safe or immune to this violent crime against women."
Speaking on the importance of the law, the national president for the International Federation of Women Lawyers (FIDA) Nigeria, Rhoda Prevail Tyoden expressed the belief that the VAPP is a necessary legal tool, adding that, "I think the VAPP Act is a more comprehensive law. It is a benchmark law for offences such as rape. It covers almost everything. We are getting there."
She however raised concern on obvious lapses in different legislations at the state levels, lamenting that there seems to be different laws for different issues and different punishments for offenders of the same issue across states.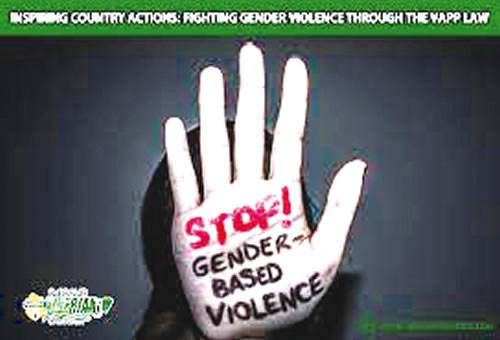 Innovations in the VAPP law
The VAPP law unlike earlier legislations blocked the vacuum that exists and allow perpetrators of violence get away with their criminal acts and go on to further intimidate victims of their acts. One of the innovations in the VAPP law is that while other Nigerian laws provides that rape can only happen through vaginal penetration, VAPP law redefines it to cover oral and anal sex as well as the use of objects or other body parts other than the penis which has never happened before.
Also, the VAPP is the only legislation that is focused on Gender Based Violence and also provides for compensation for victims by offenders and it is also the first federal law that attempts to prohibit Female Genital Mutilation (FGM), which is still prevalent across many states in Nigeria.
.
Continuous advocacy
Stakeholders are however not resting on their oars in ensuring the signing and domestication of the VAPP law across Nigeria; government officials and policy makers, activists, non-profit advocacy organisations and civil societies continue to put in a collective effort to get the VAPP law domesticated beyond the 18 states that have adopted it so far.
The states that have passed the law at the Houses of Assembly but it is yet to get executive assent includes Adamawa where it was passed on March 1, 2021; Bayelsa, where it was passed on February 17, 2021; Imo state, where it was passed on July 27, 2021; Kebbi passed on September 30, 2021; Kogi passed March 22, 2021; Plateau where it was passed on December 24, 2020 and Rivers where it was passed in January 2020.
10 states are yet to pass the law at the Assembly level despite series of advocacies; there seems to be no political will towards this. The states include Borno, Gombe, Kano, Katsina, Niger, Sokoto, Taraba, Yobe, Zamfara and Cross River.
Meanwhile 18 states have passed the Bill and it has gotten executive assent and is now a law. They are Federal Capital Territory where it got assent on May 23, 2015; Abia on October 1, 2020; Akwa Ibom on June 19, 2020; Anambra in 2017; Bauchi in 2020; Benue on May 28, 2019;  Delta on October 7, 2020; Ebonyi in May 2018;Edo on August 5, 2021; Enugu in April 2019; Jigawa on February 24, 2021; Kaduna on December 1, 2018; Kwara on September 24, 2020;, Nasarawa on January 21, 2021; Ogun in  2018; Osun on October 11, 2021;Ondo on July 15, 2021 and Oyo on February 26, 2021
Two states; Lagos and Ekiti have Protection Against Domestic Violence Law and Gender-Based Violence Prohibition Laws respectively. In Lagos, the Domestic Violence Law of Lagos State was passed in 2007 while Ekiti passed the Gender Based Violence (Prohibition) Law in 2019 and the two laws have some of the provisions found in the VAPP embedded in them.
The importance of the VAPP has been continuously preached by civil society organisations across the country inn order to ensure it is domesticated by all states. In May 2020, the chairman of Bauchi State Network of Civil Society Organizations (BASNEC), Jinjiri Garba, had at a stakeholders meeting called on media practitioners to urgently set agenda on the need for policymakers to domesticate the Violence Against Persons Prohibition (VAPP) law in order to protect citizens against human rights abuses.
At the meeting on domesticating the VAPP bill in the state organised by Women Advocate Research and Documentation Centre (WARDC) and funded by African Women's Development Fund, Garba had stated that the media have a pivotal role to play in advocating the passage of the bill in the state through consistent reportage as it is only when there are good laws that violence, especially against women, would be tackled.
He had stated that the state still uses penal code to administer justice on gender-based violence and this need to be reviewed immediately to conform to global best practices. His stance was supported by Amina Garuba, the founder of Ikra Foundation for Women and Youth Development (IFWYD), who emphasised that the VAPP bill was professionally drafted.
Also on May 1, 2021, the Chairman of the Conference of Speakers of State Legislatures in Nigeria, Abubakar Sulaiman, who is also the Speaker, Bauchi State House of Assembly, had promised that the conference will ensure that all states domesticate the Violence Against Persons Prohibition (VAPP) Act without further hesitation.
According to him, the increasing cases of rape and other forms of violence against persons in many parts of the country call for swift action and effective modalities toward the implementation of the Act, adding that the VAPP Act is an improvement on the penal code in relation to violence as it makes provisions for compensation for victims, as well as protection of their rights.
"The conference of speakers of state legislatures in Nigeria, under my leadership would embark on a legislative advocacy to ensure that all states of the federation that did not pass the VAPP Act did so without hesitation," he said.
Mrs Dupe Awosemusi, a director in the Oyo State Ministry of Justice and coordinator of the Oyo State Sexual and Gender Based Violence Response Team (OYO SGBVRT) domiciled at the Ministry Of Justice, had staed that the VAPP law is the only tool that can combat Gender Based violence in the Nigerian society today.
Many have attested to the fact that the VAPP law is needed to eradicate violence in the Nigerian society and have wondered why some states refuse to take the required steps towards domesticating the law. Speaking on this, Martin Obono, a lawyer and executive director of Tap iNitiative, had stated that though there are not enough reasons why the majority of Northern States are behind in domesticating the two Acts; their conservative lives, the Sharia law and Penal code may be obstacles.
YOU SHOULD NOT MISS THESE HEADLINES FROM NIGERIAN TRIBUNE
Buhari Urges MTN For Quality Service, Downward Price Review In Cost Of Data, Other Services
President Muhammadu Buhari Friday at State House Abuja urged the MTN Group to make the available top-of-the-range service to its Nigerian subscribers…
We Have Not Had Water Supply In Months ― Abeokuta Residents
In spite of the huge investment in the water sector by the government and international organisations, water scarcity has grown to become a perennial nightmare for residents of Abeokuta, the Ogun State capital…