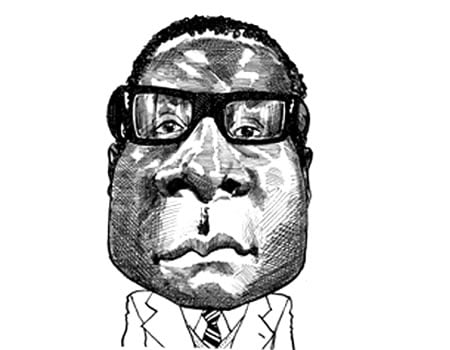 African history is rife with leaders who are obsessed with power. Even when they are elected through the democratic process, they manipulate some vital democratic institutions such as the judiciary, legislature to enable them suppress opposition in a bid to hang on to power unduly. In the past, the late President Kwame Nkrumah of Ghana was a typical example.Nkrumah did not only lead his country to independence from Britain in 1957, he contributed immensely to the liberation of other African countries from the colonialists.  He was elected Ghana's President in 1960. Unfortunately, when the bug if sit-tight bit him in 1964, he declared his party CPP as the only legal party to participate in elections. He was overthrown in a military coup while on a visit to China in 1966 after ruling for nine years. He lived in Guinea on exile, but died in Romania of throat cancer. The list of Africal leaders who have left the stage through inglorious and unceremonious means is expansive. Cote D'ivore  Laurent  Gbagbo  is a typical study. His quest to hung on to power even when it was acknowledged that he lost his re-election bid in a free and fair election led to his disgraceful removal.
The ugly precedence in Cote D'ivore was set by Felix Houphouet-Boigny who was President of the country for 33 years.  At his death, he was the third longest-serving head-of-state in the world, after Fidel Castro of Cuba and Kim Il Sung of North Korea.  He was the first President of Cote d'Ivoire, and he died in office as president. The uprising that hit the Arab world and North Africa led to the deposition of sit-tight Presidents  Zine  al-Abidine  Ben Ali  of Tunisia who called the shot for over 20 years and Egyptian Hosni Mubarak who held sway for 30 years. Leadership styles in Togo and Gabon are no exception as they have reflected a dynasty that revolves around two families in these countries.Gnassingbe Eyadema took the sit-tight madness in Togo to an inglorious height. He was president of Togo for 38 years.  He came in through a coup d'état and refused to leave until his death.  Eyadema ran Togo as a personal estate.  He made his mother the mother of the nation and made her birthday the national day.  Under him, Togo was militarised.  An entourage of 1000 beautiful women sang his praises everywhere, as did highly-indoctrinated school-children.
The narrative has been the same in Uganda, Cape Verde, Equatorial Guinea, Angola, Burkina Faso,Chad, Angola, where freedom-fighter Eduardo dos Santos has been president of Angola since 1979 for 34 years.  Lately, he has changed the constitution to enable him to stay in power until 2022 when he will be 80 years old. In Cameroun,  Paul Biya has been president of Cameroun for more than 30 years. The  people were constrained to wear clothes with his portrait emblazoned on them. Recently, attention shifted to Zimbabwe, where elements in the Zimbabwe Defence Forces in the evening of 14th November seized gathered in the nation's capital, Harare and seized some major institutions in the city, including Zimbabwe Broadcasting Corporation. The process led to the ousted of Robert Mugabe. Robert Mugabe held sway since 1980. Mugabe is a classical study in perpetuity in power. Tensions in Zimbabwe was brewed by who would succeed this 93- year old despot in power between two major contenders, the then embattled Vice- President, Emmerson Mnangagwa, who is now the President. Mnangagwa was allegedly backed by the army, and Mugabe's spouse, Grace Mugabe, who was allegedly backed by the G40 faction.
It was intrigues and power play in Zimbabwe. A situation that led to the firing of the Mnangagwa and subsequent forced exile to South Africa.There was rumoured poisoning of Mnangagwa during an August 2017 political rally led by the president and his airlifting to a hospital in South Africa for treatment. Though Mnangagwa pledged his loyalty to the ZANU–PF party and President Mugabe, adding that "the story spread by his supporters that Grace Mugabe had ordered the poisoning via a dairy farm she controlled was untrue", Grace Mugabe was not satisfied with Mnangagwa's refutal as she described Mnangagwa's poisoning claims as ridiculous and rhetorically, stressing that his comments about the August incident were part of an attempt to weaken the country, the power of the president, and divide ZANU–PF, since doctors had actually concluded that stale food was to blame. The jostle on who succeeds Mugabe became intense that Grace Mugabe claims that  her supporters were constantly receiving threats that if Mnangagwa did not succeed Mugabe, they would be killed and that the faction backing Mnangagwa was plotting a coup d'état.Mnangagwa was also alleged of consistently and persistently exhibited traits of disloyalty, disrespect, deceitfulness and unreliability.
While kudos should be accorded to the Zimbabwean military for their professional and patriotic conduct in restoring sanity to the country and uprooting sit-tight syndrome, the latest episode in Zimbabwe calls for a rethink among African leaders.African leaders should copy the late Nelson Mandela of South Africa as a model. Mandela spent  27 years in prison fighting for democracy in South Africa. He chose to be president of the country for only one-term of five years. Nobody could have begrudged Mandela if had chosen to elongate his tenure after such a long struggle. But he chose to toe the path of honour by doing one term. The question remains" where are there no or few Mandelas in Africa.
Ukegbu writes in from Aba, Abia State.