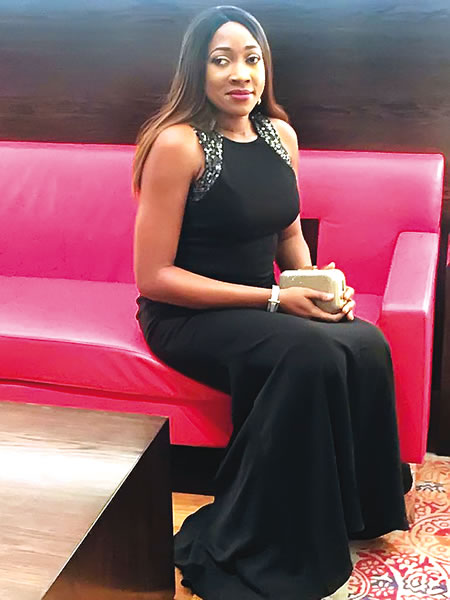 Osasele Esangbedo is the Founder of Noah's Ark Foundation For Sickle Cell, a support and advocacy group, an NGO that is focused on supporting the less privileged, sickle cell patients in the community. In this interview, she speaks about herself as a sickle cell patient and how this motivated her to start an NGO to help others. Excerpts:
Good afternoon, madam.  Thank you for making time for this chat.  Please introduce yourself to our readers.
I am Osasele Anita  Esangbedo, I am over 40 years.  I was the 5th child but now the 4th child because I lost my immediate elder brother to sickle cell crisis. I studied at the University of Benin with a Diploma in Social Works and a bachelor's degree in Health Science (Education). I am a professional caterer, a certified genetic counselor and at the same time, I run an NGO I founded called Noah's Ark Foundation for sickle cell
That is a handful!  Let us rewind, so to speak, and tell us something about your parents.
So you are a full-blooded Edo State indigene.  Now tell us a bit about your early education.
I had my primary education at Oba Akenzua Primary School and went on to Idia College in Benin City from where I obtained my Senior School Certificate.  I didn't go straight into the university because I had great difficulty gaining entry into the University because of JAMB.
Why so?
I missed the JAMB exams several times because of illness.  So, as a last resort, I registered for a Diploma Course in Social Works at the University of Benin.  After getting the Diploma, I was given direct entry into the University to read Health Science.
Why Health Science?
Actually I was not a Science student and wanted to study Banking and Finance but I was given a placement in Health Science.  Initially I was not happy but my father encouraged me, saying he had even wanted me to become a doctor.
Any regrets?
None.  In fact, the Health Science Course has helped me tremendously in life.
When did you come to know you have sickle cell disorder?
I was born at the Shell Clinic along with my late brother and was thus diagnosed early. So I grew up knowing about my status and I was introduced to medication at an early age.  And I was always told to avoid stress.
Did you face any crises in early life, especially at school?
I had dental issues at age 5 but my first major crisis occurred when my immediate senior brother died.  He too had sickle cell disorder and he passed on at age 21.  In those days, and perhaps even now, many people believe that those with the disorder do not live beyond 21 years of age.  So, when my brother died at 21 years, it was not easy for us.  My brother was three years older than me and it was like, Okay, so I have three more years to live!  It really got to me when my father saw me some hours after we lost Odiase my older brother.  I could see that a sense of helplessness had enveloped him.  You know that kind of feeling that "Oh dear, this one too will go in the next three years!"
How did you cope in school?
Luckily for me, my teachers were made to be aware of my condition and therefore excused me from strenuous work such as grass cutting.  My mates occasionally teased me that I was a weakling.  I just simply ignored them.  And I made sure that I took my medication regularly.  I remember there was another girl like me in school who tried to show she could do everything others were doing in order to avoid being teased.  She did not make it eventually.
How sad!  Do you remember any other significant crisis?
When I was 18 years I had acute chest syndrome.  Actually that was when it became clear to everyone outside my immediate family that I am SS.  After that I suffered from Osteomyelitis.  It was found that antibiotics were not working very well, so I had a surgery (sequestrotomy) to correct the Osteomyelitis and afterwards was given crutches to help me in my movements.  But I was in a hurry to get well, especially as I was intent on sitting for the JAMB exams.  In the process I sustained a fracture and that put paid to my efforts to sit for JAMB.
Oh dear!  How are your legs now?
Reasonably alright although my left leg is showing some negative signs (Osteonecrosis).  It is not the hip this time; rather it is the entire femur.  Then in 2006, one night I experienced a burst nerve in the retina.  Fortunately my family stood by me solidly and I underwent surgery in the UK.
You have had quite a few issues to deal with!
Yes and it was at this point that I realized that I was privileged compared to many other sufferers.
Can you explain that?
Okay.  One day I was going to church and met a girl who was begging for alms.  Looking at her I knew she had sickle cell disorder.
Really? How come?
I saw the paleness and I just knew.  Indeed, when I first approached her, she denied having the disorder but when I told her that I also had the disorder, she opened up to me.  I then arranged for her to be seen at the Sickle Cell Clinic of the Gbagada General Hospital.  On another occasion in Benin, a parent came up to me one day and asked if I was OSASELE.  When I replied "Yes", she asked me if I could see her son who was in hospital and threatening to commit suicide.  A few days later I went to visit the boy.  When I told him I could help him to commit suicide he laughed and thereafter we took to each other.  I helped him to see life differently.
And that was when you formed your NGO?
Yes and I named it Noah's Ark.
After the biblical Noah's Ark?  Saving all species in pairs?
I saw it as a place of refuge for those who were less privileged than me.
So what do you do at this NGO?
We give out free medicines such as anti-malarial drugs and we give beverages like milo, milk and soya bean powder.  And, of course, we give a listening ear.
How many people do you cater for at the NGO and what is the age spread?
We have over 60 members; we have a 54-year old, a 51-year old and lots of children and teenagers.  The youngest is a twelve-month old baby.
Wonderful!  NGO's are not easy to run especially from the funding aspect.  How have you managed?
The NGO was registered in 2011 and I have my siblings to thank for the support.  They, my friends and relations have been very supportive.  Later a couple of corporate organisations assisted me.  One of them has dropped off because of the prevailing economic situation in the country.
What have been your major challenges running the NGO?
Our major challenge has been sourcing for funds.  There are many NGO's and, unfortunately, some of them have not been very honest in their dealings.  So it is difficult to get corporate organizations' listening ears but we keep on trying.
Are you aware of the Coalition of Sickle Cell NGOs?
No, I am not aware.
The Lagos State Government has encouraged NGOs working in the area of sickle cell programming to come together.  The Association has planned some programmes.  We will give you their contact details.  Also, you can send a list of those that your NGO is taking care of to the Sickle Cell Foundation Nigeria and we will be able to provide assistance for about four of them.
That will be nice.
Quickly, what has been your relationship with the Sickle Cell Foundation Nigeria?
I heard about the Foundation through my NGO.  I received a mail about Genetic Counselling Training and I felt it would be useful.  So I registered and attended.
What is your opinion about the training?
It was great.  I enjoyed it tremendously and it has been very useful for me when relating with those that come to my NGO.
What have been your personal major challenges?
Well, I was quiet in school.  I knew I had to avoid stress.  I was expecting to die at 18 years.  So I was happy to cross that landmark.  Then I thought I would die at 21.  Still that came and went.  Now I am over 40 and counting!  Living life took out the fear of death.  So I am happy.  I know myself, know when to rest, when to say "STOP".  I try to eat right (vegetables, fish oil and foods that give me protein).  Very importantly, I take my drugs regularly and, as a Christian, I give God all the glory for where I am today.
Is there any one very special in your life?
There is none, at the moment.  Well, there was one who was genotyped AA but when his parents got to know my status, they objected vehemently to the relationship.  But I am not unhappy.  I do not see marriage as a compulsion and I can continue my life as presently.  If, along the way, someone comes, I will also be happy.
ALSO READ: 40m Nigerians are healthy carriers of sickle cell gene — Prof. Akinyanju
Obviously, they were not well informed.  As a last word, what advice would you give to those out there who are living with sickle cell disorder?
First there is a great need to create more and more awareness about the disorder.  People need to know that the disorder is not an end to life.  This awareness should be created from early ages, in schools, for example.
That way stigmatization can be reduced. For instance, growing up I always hid my genotype status from people but now am more confident to disclose it at every opportunity. Like I said earlier having sickle cell does not define who you are as it can be well managed in such a way that affected persons can live a normal life like every other person.
Secondly, a person with the disorder has to hold his head up high.  You must take your drugs regularly and live life as fully as you can.  To do this you need to know yourself well and keep within your limits.
Fantastic!  OSASELE, it has been a great pleasure talking with you. Thank you for your time.
Thank you for having me.