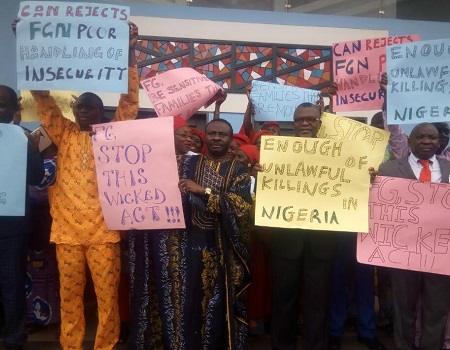 President, Christian Association of Nigeria (CAN), Reverend Dr 'Supo Ayokunle has called on President Muhammadu Buhari to forget re-election in 2019, if the current spate of killings by herdsmen, as well as general insecurity, was not urgently addressed.
He stated this on Sunday, when he joined the Pastor, Oritamefa Baptist Church, Ibadan, the Oyo State capital, Reverend Dr Remi Awopegba, and other clerics and church members as they marched with placards, in response to the directive by the umbrella body of Christians in Nigeria, CAN, to hold peaceful protests within the premises of their churches.
Speaking on why the Christian community decided to hold the protests, Ayokunle, who is also the president of the Nigerian Baptist Convention (NBC) said: "Christians, all over the country, have gathered in unity to say no to bloodshed in Nigeria. Since 2009, bloodshed has continued, and administration after administration has been promising and assuring us not to fear, telling us to go about our various businesses, telling us they are on top of the situation, but we have seen that they are not on top of it. Bloodshed has continued.
"It used to be just Boko Haram, but now, herdsmen, especially the Fulani people, have joined them, and they have been killing people and decimating communities. Now, they have concentrated on Christian communities – the Middle Belt – which have a majority of Christians. They have been killing and maiming, and to cap it all, in the past week, they murdered two priests and also killed people who went to worship. If we are not safe inside the house of God, where again do they expect us to be safe? And the Inspector General of Police is doing nothing.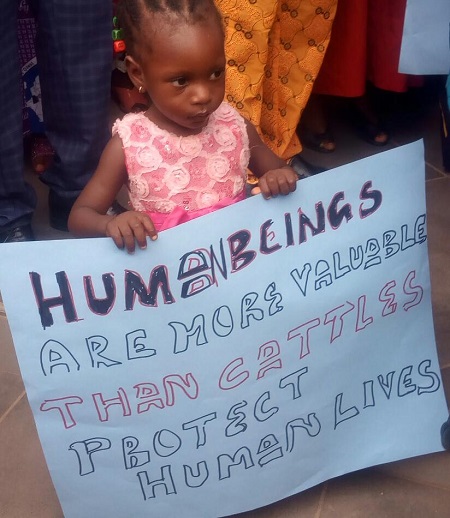 "We have always heard of unknown gunmen. When will these unknown gunmen become known? Are they not humans? What of the intelligence service of the security agencies? Why are they inept? Instead of recovering guns from murderous herdsmen, they are asking people licensed to own guns to submit their guns? What kind of security approach is that? It's questionable and shows sign of complicity. We have lost faith in the security agencies and all security chiefs must be sacked. If bloodshed continues, this administration should forget about 2019. We cannot continue like this. Enough is enough."
Calling on Christians and Nigerians, in general, to obtain their Permanent Voter Cards (PVCs), he stated that "It is time to use our votes to say no to a government that cannot protect the citizens. I'll advise citizens to be up and doing, be circumspect, and get their PVCs and be ready to vote out a government that cannot protect them. Whether Buhari is willing to re-contest or not is not my problem. My problem is that he cannot continue to be there while bloodshed continues; while herdsmen continue to decimate communities, and none of the perpetrators are brought to book. How many of them have you heard of being brought to book?"
Speaking specifically to Christians, he said: "They should stand firm and not be afraid. They should not be cowed, but speak the truth to the powers that be, because we all own Nigeria. Christians are not second-class citizens in this country. We have no country of our own and we are stakeholders in this country, just as those in government, and we are telling them we didn't vote them into power to kill all of us. If they see criminals, they have been given everything by the Nigerian nation to arrest the criminals. No excuse again can avail for lack of performance. Impeachment or no impeachment is not my problem. The legislative arm of government should do their work to ensure that the rule of law is upheld."
Speaking on the statement by the Catholic Bishops Conference of Nigeria calling for President Muhammadu Buhari's resignation, he said: "What do you want the Catholic Church to say when two of its priests were killed in the church; not inside anybody's farm, not chasing anybody's cows. Do you want them to tell such a government to continue?"
Demanding the immediate release of Leah Sharibu, he said: "What type of negotiation did they carry out that allowed other students to gain freedom and leave one out on the basis of her faith? That has put burden on the government that they have targeted Christians. A reasonable negotiator will make sure that such a condition will not be the basis for leaving one of the girls behind. Leah Sharibu must not die. She must gain freedom now, not tomorrow. This government will have blood on its hands if Leah Sharibu is not released with immediate effect. This goes for all the remaining Chibok girls in captivity. What was the condition for the release of other Dapchi girls, who were predominantly Muslims that they couldn't use for the remaining Chibok girls and Leah Sharibu? That has put a question on the sincerity of government and Nigerian Christians demand the freedom of those girls without delay."
Also speaking, Reverend Awopegba, while calling on Christians in governance to live up to their faith by upholding righteousness, he urged Christians to be law abiding, just as he encouraged security operatives to step up efforts at ensuring the security of lives and property.
---
---