She starved me of sex for 10yrs, insisted I slept on the floor —Husband
•He slept with his lovers in our home, once infected me with STDs —Wife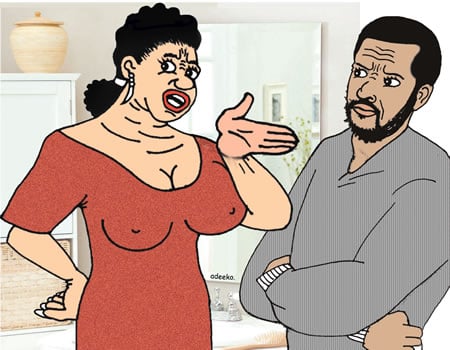 Oja Oba/Mapo Court C Customary Court, Mapo, Ibadan, Oyo State, has put an end to the 11-year-old relationship between a couple, Kazeem and Adijat Hazeeh.
Kazeem, who approached the court, accused his wife of being stubborn and disrespectful. He added that she had constantly denied him sex.
The plaintiff told the court he was fed up with their relationship and therefore appealed to the court to separate them.
Adijat who was in support of divorce prayed the court to grant her custody of their two children.
Ruling after he had heard both parties, the court president, Chief Ademola Odunade, terminated their union and granted custody of both children to the defendant while the plaintiff was asked to pay the sum of N10, 000 monthly for their children's upkeep.
He was also ordered to be in charge of their education and health care.
"My lord, I've had enough of my wife's atrocities and I pray that you end our relationship today.
"I got married to Adijat in 2008 and we are blessed with two children. As a loving and caring husband and father, I left our bed for Adijat  and our children who were then in their infant and slept  on the floor.
"I slept on the floor for 10 years ignoring the pains and aches I constantly felt due to the discomfort as a result of the hardness of the floor.
"My lord, Adijat refused that I made love to her after we had our first child. The only time she allowed me sex was when we were planning to have our second child. She stopped having sex with me immediately she got pregnant.
"She would always give an excuse that our children could wake up while we were in the middle of love-making. Though burning, I tried to reason with her and waited till they were old enough to sleep on the mat so that I could go back on the bed.
"My lord, to my surprise, Adijat vehemently stood against my sleeping with her on the bed  when I asked our children to move to the floor.
"I eventually had my way but my wife refused to have sex with me. She would turn her back to me in bed and lay stiff and cold when I touch her. She succeeded in frustrating me.
"My lord, Adijat while starving me of sex, was sleeping around. She had strings of lovers she was satisfying sexually on daily basis. She ended up infecting me with gonorrhea.
"I reported her to her parents, they counseled her but she refused to change.
"My lord, Adijat aside denying me sex disrespects me. She has a caustic tongue and uses unprintable words on me always. She has turned me into a source of ridicule in our compound.
"I don't want her any longer, "he told the court.
"My lord, Kazeem chose to sleep on the floor, I didn't force him to do so.
"It is true I deny him sex and I say before this court I have no apology for doing so," Adijat said.
"I stopped having sex with Kazeem because I don't want him to send me to an early grave.
"My husband is a womaniser. He brings his concubines to our matrimonial home and have sex with them there. I have contracted Sexually Transmitted Disease (STDs) as a result of his escapades and spent a fortune treating it.
"My lord, my husband's family members have also succeeded in complicating issues between my husband and I. They have consistently worked against the success of our marriage. I once overheard my mother in-law planning how she would throw me out of my husband's house. I confronted her and she couldn't deny all she said.
"Kazeem is in the habit of beating me and would not leave me until I bleed or go into coma.
"My lord, I agree to divorce, "she concluded.