She aborted my pregnancy, sneaked into our neighbour's room for sex every night —Man
•He's a fraud, duped our landlord —Woman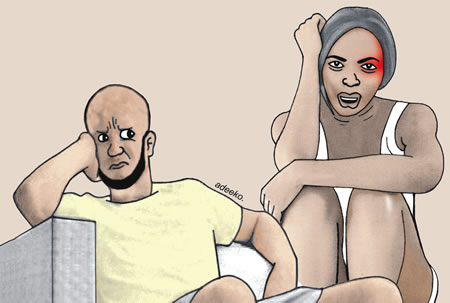 Oja Oba/Mapo Court C Customary Court,Mapo, Ibadan, Oyo State has put an end to the nine-year-old relationship between a couple, Gbadebo Olarenwaju and Omotayo Olanrewaju.
Ruling, the court president, Chief Ademola Odunade, after he had dissolved their union, awarded custody of the only child produced by their marriage to the defendant while the plaintiff was asked to pay the sum of N6, 000 monthly for his upkeep.
Gbadebo, who dragged his wife to court, had earlier stated in his divorce suit that his wife was irresponsible and promiscuous. He added that she was a pathological liar.
He thus pleaded with the court to stop their marriage and grant him custody of their only child whom she had no time for.
Omotayo conceded to divorce stating that her husband was uncaring and a dupe.
Gbadebo stated before the court that: "Omotayo is a pathological liar. She lied to me when we met that she was never married. I took her for her word and went into wedlock with her only to discover that she was not only once married, but that she had a child from her first marriage.
"I accepted my fate after the cat was let out of the bag and was determined not to allow the incident mar our relationship.
How TB Joshua brokered peace in South Sudan, Tanzania Says
"But my lord, Omotayo had proved beyond all doubts that she was not worth the attention and love I showered on her.
"Omotayo was in the habit of abandoning me at home for days without disclosing her whereabouts. She would leave home without my consent and return when it pleased her. I was worried initially, but I gradually got used to her habit.
"My lord, my wife woke me up in the middle of the night in October and informed me that she was pregnant. I was gladdened by the news but to my chagrin, she came back to announce to me in the evening of the same day she had aborted the pregnancy. She gave her new job as an excuse for her action. According to her, her employment would be terminated if found pregnant. I was distraught for days as a result of her action," he said.
"My lord, Omotayo is a whore. She would lie that she was going for vigil but would sneak into our neighbour's room and spend the night with him. It was no more a secret in our compound and neighbourhood that Omotayo and this man are lovers.
"She has packed her belongings out of my place and we have been living separately since then.
"I pray this honourable court to dissolve my marriage to my wife because she has caused me enough pain and embarrassment.
"I further appeal that the custody of my only child be granted me because I have never failed in carrying out my responsibilities towards him," Gbadebo stated.
Omotayo who admitted to claim told the court that:"My husband is a hypocrite. He's a pot calling the kettle black. He accused me of lying but he has Satan the father of all liars as his father.
"He neglected me when I was pregnant with our son and showed us no care after I had put to bed. I have been responsible for our child's upkeep since birth.
"My lord, I pray that you award me custody of our son. Aside the fact that he is still a child, his father would influence him negatively if left with him.
"Gbadebo is full of atrocities. He's a fraud and was always disgracing me. He went as far as duping our landlord of a meaningful. We became an object of ridicule in our compound as a result of this.
"My lord, my marriage to Gbadebo has not been a successful one. I, therefore, agree to divorce, "she concluded.