She aborted my pregnancy after I gave her N1m as rent —Man
•My husband loves me, his family members are the ones against me —Wife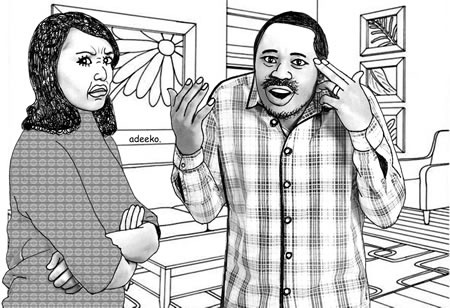 I met her when I came to Nigeria from Chicago for a holiday. She told me the pathetic story of how she was consistently maltreated and abused by her husband. I pitied her but gradually fell in love with her. We agreed on marriage and provided all that was necessary to make her comfortable only to discover she was a dupe."
"My husband loves me dearly, it is his family members who are instigating him against me. They dragged me to court with the intention of throwing me out of his house."
A man, Richard Ogunmodede had told Oja Oba/ Mapo Court C Customary Court, Mapo, Ibadan, Oyo State that he was no longer interested in his union with his wife, Olufunke Ogunmodede.
Richard who accused his wife of deceit added that she was a dupe.
Olufunke did not admit to claim.
CBN adds cassava derivatives to import restriction list
Richard who is based in Chicago was represented by his brother, Ladi Ogunmodede.
He stated that:"My lord, Olufunke told Richard when they met that she had two kids by her husband whom she had separated from as a result of constant abuse of her by him.
"My brother pitied her and because he has a large heart readily helped her with her financial needs. But gradually, he fell in love with her.
"Having lived in Chicago for twenty five years and planning to come back home to settle down, Richard decided he would take Olufunke as wife.  They held an introduction ceremony with the plan of having a wedding ceremony when he returns to the country.
"Before he left, Richard ensured he made her comfortable by providing her N1 million to rent and furnish an apartment.
"He went further to buy her a car and got her a driver whose salary was N30, 000 per month.
"My brother also extended his kind gesture to Olufunke's family. He was giving her younger sister in the tertiary institution N50, 000 and her parents a regular monthly allowance.
"Richard bought Olufunke's parents a big ram which cost N70, 000 during the last Eid Kabir festival and N30, 000 to prepare for the celebration. Her family was the envy of others in their neighbourhood during the festive period, "he told the court.
Ladi added that:"Richard works with a security agency which monitors the activities of their staff especially on phone.
"Olufunke sent a text message to my brother explaining she dreamt he was dating and having sex with her sister on a regular basis.
"This message was received on the platform of my brother's company and he would have been sacked but for the outcome of investigation which exonerated him.
"They had the introduction ceremony in January and she got pregnant after this. She later claimed to have lost it after five months.
"Richard started sensing a foul play when she started to develop cold feet after he sent almost N400, 000 to Olufunke to facilitate a legal divorce from her previous husband. The remaining was meant to secure the necessary papers needed for her two children to relocate to Chicago.
"My lord, we later discovered through her sister that she was never separated from her husband. Olufunke and her husband actually connived to dupe Richard. They had both extorted him of a meaningful amount of his hard earned money before the cat was let out of the bag.
"Her sister is here in court to shed more light on her sister's dubious activities," Ladi stated.
Giving her evidence Lara Adeoye told the court that:"My lord, my sister went into relationship with Mr. Richard Ogunmodede under deceit.  Her intention was to dupe him.
"She was never separated from her first husband. We were all living together in the house rented by my sister with the money given her by Mr. Ogunmodede.
"She never wanted Mr. Ogunmodede's pregnancy. She kept it up till five months in order to siphon money from him.
"My lord, my sister didn't lose her pregnancy, she aborted it.
"That faithful day, I heard her groaning in pain early in the morning. She locked her door so that I would not come in.
"I later heard her open the door and rushed to the toilet and was there for a while. She was flushing the toilet consistently and later came out.
"I tip-toed to the toilet to see what was going on and saw pieces of foetus in the toilet bowl and blood stains on the floor. Then I knew my guess was right, "she explained.
"My lord, all they have said are lies. My husband's relatives are against my marriage to him and are doing all in their power to throw me out of his house. My lord, I don't agree to divorce.
"Richard never told me he is no more interested in me. It is his family members who dragged me to court in his name, "the defendant said.
The court president, Chief Ademola Odunade instructed the court registrar to put a call through to Richard in Chicago in order that he might confirm if truly his brother was acting on his behalf.
Richard picked his call which was placed on loud speaker and responding told the court and Olufunke in particular he was no longer interested in his marriage to her and that he wanted her out of his life.
Ruling after he had heard all, Odunade dissolved their marriage.