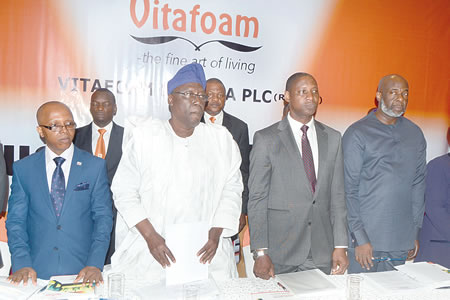 VITAFOAM Nigeria PLC has announced a plan to increase its shareholder value with expected strong earnings from the subsidiaries.
Besides, the company has assured shareholders that the board and management shall look into the popular demand for floating a Rights Issue to strengthen its working capital.
By the company's performance last year, most of its subsidiaries are already operating profitably while others have strong potential to enhance its profitability.
Addressing the shareholders at the Annual General Meeting (AGM) in Lagos, the Chairman, Dr Bamidele Makanjuola explained that a strategic review of the company's business units to ascertain continued alignment with broader transformation objectives was undertaken to position it for accelerated profitability.
According to him, the company had completed its expansion project and has begun to consolidate for optimal performance as reflected in the current status of some subsidiaries.
"Vitapur Nigeria Limited has become a source of hope and inspiration. It has posted profit for the second year running. Our moulded foam products, Vitavisco Nigeria Limited has continued to operate profitably. It is growing slowly but steadily.  Vitafoam Nigeria Limited has maintained its profit-making streak, although this was attenuated during the year by the adverse economic conditions in the country," said Makanjuola
He assured the shareholders that company would revamp Vono Furniture Products and Vitagreen Nigeria Limited, while strategic decision would be taken on Vitafoam Sierra Leone Limited and Vitafoam Ghana Limited respectively in view of the negative impacts of foreign exchange on their operations.
Describing the directors as professionals with integrity, Makanjuola stated that shareholder value would always be at the focal point of the company's consolidation phase.
The shareholders commended the company's board and management on its long tradition of stability and regularity of dividends despite the tough operating environment.
A shareholder, Alhaji Gbadebo Adetokunbo commended the company's foresight in diversification into pre-fabricated buildings and leather products that could be exported to earn foreign exchange and canvased for floating of Rights Issue to generate revenue internally in addition to  prudent management of the N2.1 billion loan from the bank of industry (BOI) as explained by Makanjuola.
Commenting on the Rights Issue, the company's Group Managing Director, Mr Taiwo Adeniyi explained that the company would look into the capital injection option and take the most professional decision on it at the appropriate time.
Adeniyi  had earlier reviewed the unfavorable operating environment and its impacts on the manufacturing sector saying:
" On the forex issue,  unfavorable monetary policy of the Federal Government led to high-interest rates, devaluation of the Naira and hyper inflation which all combined to increase our production costs. With the economic recession experienced during the greater part of last financial year under review, management was mindful of price increases but as a good corporate citizen, the company could not completely pass the costs to  consumers through products' prices increases."