Federal Government College (FGC), Ijanikin in Lagos has been enmeshed in crisis after some of its students were caught with their female counterparts in a hotel in the State engaging in a "threesome".
This comes a few months after a distraught mother identified simply as Mrs Joy had accused the school for covering up the alleged bullying of her son by his colleagues.
In an acknowledgment letter signed by the Director (Legal Services), Federal Ministry of Education, Grace Ekanem, which was obtained by our reporter, the ministry promised to look into the case.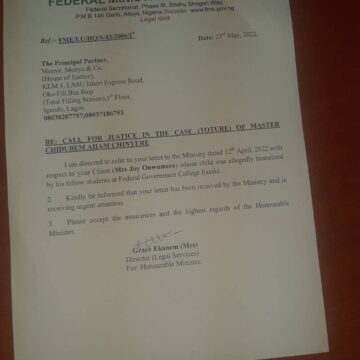 Recent development
The students — numbering about seven males and five females — were said to have jumped the school's fence and stayed out of school for days without being noticed by the school authority until a few days later.
ALSO READ: Pastor's wife who engaged in sex romp with herbalist in custody — Police
According to our findings, the students involved in the act were between the ages of 14 and 17 and are addicted to drugs.
A source who pleaded anonymity said "two of the students were infected with HIV" following the act.
School mgt. reacts
When contacted, the Principal, Mrs Tofunmi Akamo, said the school has suspended six of the students describing the allegation that the students use drugs as unfounded.
"The children are currently on indefinite suspension; that is the guideline recommended for them.
"We normally involve their parents and hand such letters and their children to them.
"The girls and the boys are no longer in the dormitories. That is the only incident that happened and it happened two or three weeks before we vacated this last term," she said.
All efforts to speak with the parents of the affected students proved abortive at the time of filing this report.