Senate to probe alleged illegal transfer of N14bn from NEPZA to private coy account
• FEC approved transfer ― permanent secretary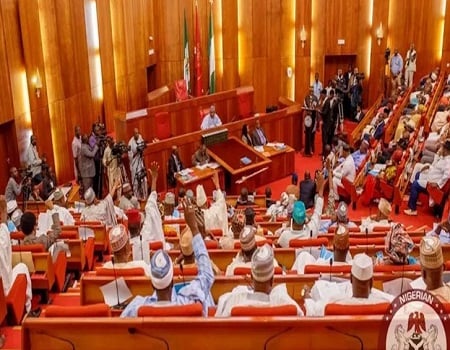 Minister for state, Industry, Trade and Investment, Mariam Katagum and the permanent secretary, Edet Akpan have asked the Senate to look at the direction of the executive secretary of the National Export Processing Zones Authority (NEPZA) for explanation on the alleged illegal transfer of funds to a private entity.
The senate, through its committee on trade and investment chaired by Senator Rose Okoh, had during the budget defence session on Tuesday, told the ministry that it was not unaware of legislative query on the ministry it described as "the transfer of over N14 billion illegally from the 2017 appropriation budget of NEPZA to Nigeria special Economic zones Company.
Chairman of the senate committee on Trade and Investment said the Senate of the ninth assembly would want to see the query and inquiry as well as would seek an explanation on how that sum was moved from government coffers ostensibly to a private company without due process and without provision of goods and services.
Okoh also demanded an explanation for the absence of the Minister of Industry, Trade and Investment, Adebayo Adeniyi, from the budget defence session in spite of the repeated public pronouncement by the national assembly leadership that all ministers must take advantage of the two weeks period to defend their budget proposal or lose out in the process.
ALSO READ: Niger Delta yet to receive funds for capital expenditure ― Apkabio
Responding to the matter, the minister of state, Mariam Katagum said the permanent secretary would be in a better position to explain the details of that transaction.
She, however, conveyed the apologies of the minister to be away from the budget defence session due to the fact that he was on a trip with the President to Russia to discuss the reactivation of the Ajaokuta complex.
When it was time for the permanent secretary to explain the details of the alleged illegal transfer of N14,376,027,84 billion from the 2017 allocation to NEPZA he said though the money had been warehoused in the central bank and has remained there, only the executive secretary of NEPZA has the answers the senate seeks.
He said that "The 14bn in respect of NEPZA, is an item NEPZA being in a very proper place to explain to the committee and I believe NEPZA will find a way of doing that, the idea of opening an equity company was the creative idea of the former minister who believes, that it was not proper to have a centralized equity company that could manage all free trade zones in the country.
"That N14bn was 100 per cent controlled by NEPZA, it had nothing to do with the main ministry. The main ministry has no power or authority over what they do with the amount that is appropriated under a particular agency," Mr Akpan stated.