Senate moves to ascertain crude oil production quantity
• Ascertain loss, urges NNPC to adopt computerized measure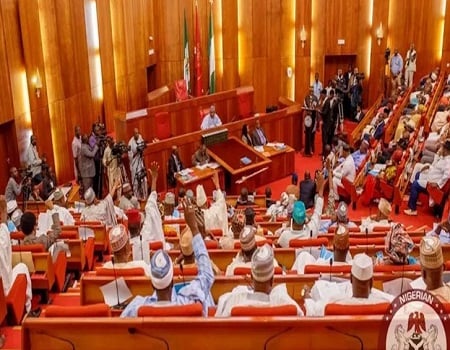 In its bid to arrest continued loss of crude oil production and to improve the revenue to the federal government, the Senate has called on the Nigerian National Petroleum Corporation (NNPC) to adopt technology in compliance to international best practices in measuring oil production in the sector.
Consequently, the Senate in its resolution, on Tuesday, mandated its Committees on Petroleum Upstream, Downstream and Gas Resources to hold a public hearing with stakeholders to ascertain the quantity of oil and gas produced daily and quantity control mechanism as currently engaged by NNPC.
The resolution of the Senate also urged that if adequate, its joint committees should ascertain the amount of waste of petroleum products through pilfering, pipelines vandalization, leakages, and from any other forms.
The upper legislative chamber further urged the committees to ascertain the international best practice of computerized oil and Gas business management, including pipeline protection and quantity and quality control; and Any other advice that could improve the oil and gas business in the country.
Affirming the resolution of the Senate, the President of the Senate, Ahmad Lawan also urged the President of the Federal Republic of Nigeria to set up a consortium of such experts to evaluate the possibilities of installing computerized oil facilities management gadgets to curb the excesses of the multifaceted problems associated with the oil and gas production, transportation and sales business in the country.
The resolutions of the Senate was sequel to the motion on the need to install Computerized oil facilities management gadgets for Nigerian Crude Oil Business aimed at eliminating shortages in accruals to the federal revenue.
The bill was sponsored by Senator George Sekibo, (Rivers East) and deliberated on the floor of the Senate.
Sekibo said that harvesting and sale of petroleum products have been the mainstay of both the national income and foreign reserve.
ALSO READ: Ignore Akpabio's interim management team, Lawan tells NDDC committee
Similarly, both national Gross Domestic Product (GDP) and income per capital rating by international monetary policies depend on revenue made from crude production and sales.
"Believes that petroleum products business as the mainstay of our national economy ought to have been given priority attention in terms of protection, expansion, quantity and total quality control."
Contributing to the debate, Betty Apiafi (Rivers West) expressed worry that over 61 years in such business as a nation, Nigeria cannot give an account of the total amount of petroleum products produced, total sold, total wasted and amount lost through pilfering or pipeline vandalization.
She stated that International Energy Agency, puts Nigeria production at about 2.53 million barrels (402,000 m³) per day, well below its oil production capacity of over 3 million barrels (480,000m³).
According to her, Nigeria is Africa's biggest oil producer with a maximum production capacity of about 2.5 million barrels, but this meagre quantity is always under attack through oil platforms theft, pipeline vandalism which has reduced quantity produced.
Adding his voice to the debate Senator Ibrahim Gobir (Sokoto East) expressed worry that a foreign-based journal "the London Economist" described Nigeria Government as having a wretched reputation in its crude oil governance as between 100,000 and 400,000 barrels of crude are estimated to be stolen translating to 36 million barrels to 146 million barrels per year.
Worried further that while these figures stand doubtful, on August 30th 2019, the Nigeria National Economic Council (NEC) through a submission by NNI'C has put the amount of crude oil stolen in the first six months of 2019 at 22 million barrels translating into N14 trillion naira for six months or about N3.0 trillion per year.
Senator Gabriel Suwam (Benue North East) pointed out "that major oil-producing countries, such as Kuwait, Russia Saudi Arabia and United Arab Emirates (UAE) just to mention a few, that have oil as the mainstay of their economies have computerized management systems that record the quantity of oil produced, quantity sold and at what price."
He said the same systems also have Global Positioning System (GPS) monitoring facilities that can give information on all the entire oil business processes in their countries
Suswam said computerized oil management system assists in the protection of the pipelines, trigger off alarms when any section of the pipeline is disturbed for whatever reason.
The system detects if there is a weak section along the stretch of the pipeline, indicates the position and point of such section as well as advises on how to mend or go about it.
The same system captures pictures of suspected intruders on the pipeline. The computerized management facilities are equipped with fire-fighting gadgets in the event of a fire outbreak associated with oil and gas production and exportation.
He wondered how "in such a digitalized era while other countries in the same business venture just as we do have gone digital with computerized management facilities, for the past 50 years, Nigeria as a nation, is still doing our petroleum business with analogic technology, using human beings (4 persons) to monitor a kilometer of pipeline, giving undue opportunities to oil pilferers, giving rise to unnecessary pipeline explosion, causing deaths and unquantifiable loss of products and other human valuables.
He believes that "the cost of the loss incurred in the first six months of 2019 would be near adequate to install any type of sophisticated system that could help manage our inefficiency and salvage the wretched reputation assigned to us by the London Economist.
He said that Nigeria has the capacity in terms of funding to install both pipelines and products evaluation computerized system to save waste, have accurate knowledge of production as well as avoid pilfering through breakage of pipelines, causing loss of human lives and environmental degradation.
The Senate said that one key area of fighting corruption is through effective management of the resource itself, that is the sources of revenue just as the present administration emphasizes on the fight against revenue pilfering at different levels of government by operators. It is believed that more revenue than what can be imagined may have been lost through ineffective management of the petroleum products than the physical minuscule cash taken by operators of the national economy.