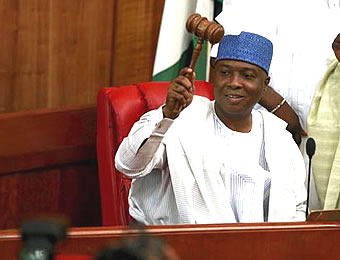 THE Senate, on Wednesday, resolved to reverse the suspension of the country from the Global anti-corruption group, the EGOMONT group of Financial intelligence Units, by granting independence to the Nigeria Financial Intelligence Unit (NFlU).
The lawmakers, who resolved to separate the NFIU from the close watch of the Economic and Financial Crimes Commission (EFCC), said at the plenary that the refusal of EFCC to grant the body freedom led to the suspension of Nigeria in August 2016.
The senators, thereafter, resolved to prepare a bill to guarantee freedom for and empower NIFU in line with international best practices.
The decisions followed a motion sponsored by Senator Chukwuka Utazi.
The senator disclosed that Nigeria was suspended because the NIFU was still domiciled within the EFCC, instead of being granted operational autonomy, a major reason for the unit's
admission into the group in June 2007 as agreed by the board of anti-graft agency.
He  listed  other reasons for suspension to include the alleged meddlesomeness of the acting chairman of EFCC, Mr Ibrahim Magu, in the affairs of NFIU.
Senator Utazi warned that if Nigeria was allowed to be expelled at the expiration of December deadline, it would attract international sanctions against the country's financial system.
Deputy Senate President, Ike Ekweremadu, stressed the need for a public hearing among all relevant stakeholders, including the Office of the National Security Adviser (ONSA); Attorney-General of the Federation; Central Bank of Nigeria (CBN); Department of State Services (DSS), Independent Corrupt Practices and Other Related Offences Commission (ICPC) and the EFCC, among others, to resolve the issue of autonomous for the NIFU.
It also urged the executive branch to include in any supplementary budget estimate that may be presented to the National Assembly before the end of the year, a separate budget for the NFIU, in view of the need to lift the suspension of Nigeria as soon as possible.
Senate President, Dr Bukola Saraki, in his remarks, lamented that "Nigeria's suspension from EGMONT Group is a setback in our fight against corruption and, as such, we must move swiftly because we cannot afford to be cut off from the group."