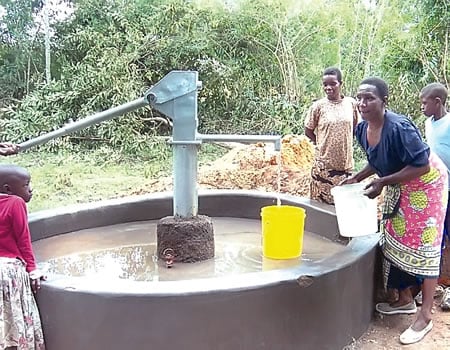 Sen. Theodore Orji, representing Abia Central Senatorial District, has inaugurated a solar-powered motorised borehole for the Umundara Ahuwa Oboro community in Ikwuano Local Government Area of the state.
Speaking at the inauguration on Tuesday, Orji said that six boreholes were allocated to Abia at the National Assembly and they would be distributed to the six local government areas in the district.
He said that three had been installed in Umuahia South, Osisioma and Ikwuano, adding that Umuahia North, Isialangwa North and Isialangwa South would soon have theirs installed.
Orji said that he had also distributed electricity transformers to the six local government areas as part of his constituency projects, to energise power supply.
He said that aside from employing six persons from the six council areas directly in his office at the Senate, he had also assisted many others from the district to secure jobs.
Orji, former governor of the state, urged communities that were yet to feel his impact in the Senate to exercise patience.
He assured them of his determination to offer effective representation to the area.
Orji also spoke briefly on the current crisis rocking the Peoples Democratic Party (PDP), saying that stakeholders of the party were working round the clock to resolve the problem.
He urged them to remain steadfast and confident, while describing defectors from the party as "inconsistent politicians."
He promised the constituents that he would look into the sundry challenges facing the area, especially the problem of deplorable roads.
The Village Chairman, Mr Onyekachi Owo and PDP Woman Leader in the local government area, Mrs Ebere Okiyi, in their separate speeches, thanked Orji for the projects.
They appealed to him to also assist in attracting Federal Government's attention to the roads leading to the community as well as Azuiyi-Oloko Road.
Eziyi said that Azuiyi-Oloko had been cut off from the rest of the communities in Ikwuano council area due to the bad road.
Other speakers at the event, including the former National Vice Chairman of PDP, Southeast, Col. Austin Akobundu Retd., and former Commissioner for Industries in the state, Chief Henry Ikoh, who commended Orji for attracting the project to the area.
In an interview with the News Agency of Nigeria (NAN), the two Village Heads of the benefitting communities, Chief Marcus Osuwa and Chief Gilbert Emesie, expressed appreciation to the senator on the boreholes.
They promised to initiate some security measures to protect them from vandalism.