Be security conscious, provide adequate information for security personnel, FCT minister urges Nigerians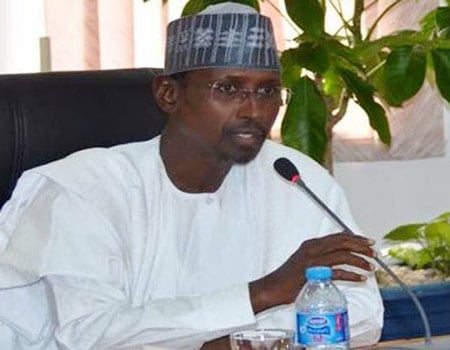 IN Abuja, the Federal Capital Territory (FCT), the 57th Independence Anniversary was celebrated with funfair by the FCT administration led by Malam Muhammad Musa Bello.
The event which was celebrated at Eagle Square witnessed callisthenic display by about 40 public and private schools within the territory; march/parade by schools; unity dance by students to signify that Nigeria would continue to remain one indivisible entity; as well as presentation of trophies to the winners and release of balloons by the FCT minister to commemorate the anniversary.
The security personnel were seen at strategic locations to ensure the protection of lives and properties.
In his speech, however, the FCT minister, Malam Bello urged Nigerians to be more security conscious and provide adequate information to the security personnel, saying President Muhammadu Buhari has secured Nigeria better than he met it.
According to him, "today for us as Nigerians is a very great day. Our democracy is 18 years today and we thank God for how far we have gone and how far he has kept us. We must together make Abuja truly the center of unity.
"We in the FCT are going to be law abiding as good citizens in line with the broadcast of President Muhammadu Buhari. We are working hard to improve on education, health among others. We must continue to build upon our togetherness and continue to fight corruption. 
"With the beautiful display from our school children today it shows that there is hope for this country. We thank the founding fathers that have made FCT the center of unity. All of us should expand this concept of unity so that we will all continue to live together as one.
"When President Muhammadu Buhari assumed office one of his cardinal points of promise to this country is to bring back security in the country. As you can see this country is secured, Abuja is secured. For positive development we should thank God and continue to pray for God to give the leadership of this country under Buhari the ability to continue to secure this country.
"This is clear manifestation of the unity we have in this country and it is something that we should not play with. As the President said today, everybody is a security officer. I commend security operatives in the country for this peaceful atmosphere because a few years ago what you celebrated today would have been unthinkable but for that, as a nation, we have to thank God", he added.
The Senate Minority Whip, Senator Philip Aduda urged Nigerians at the occasion to continue to live as one entity for a better nation
Aduda who expressed joy about the celebration said: "I feel happy and I want to congratulate Nigerians for this 57thIndependence Day celebration. This shows that we must continue to live as one entity that is called Nigeria. We must continue to love ourselves and together we can progress and make a better nation that we will all be proud of."   
At the end of the match past, in the primary category, Army Children School, Asokoro, took the 1st  position, Festival Primary School, Area 10, came 2nd while Army Children School, Maitama settle for the 3rd position.
For the Junior Secondary Schools, Sheikh Abubakar Academy, came 1st, Junior Secondary School, Apo legislative quarters, took the 2nd position while Junior Secondary School, Kado-Kuchi came 3rd.
Government Girls Secondary School, Dutse was the overall winner in the Senior Secondary School category, Government Secondary School, Wuse Zone 3 took 2nd, while Govt. Science Secondary School, Piakasa went home with the 3rd position. 
Also present at the occasion were the FCT Police Commissioner, royal fathers and top government functionaries.