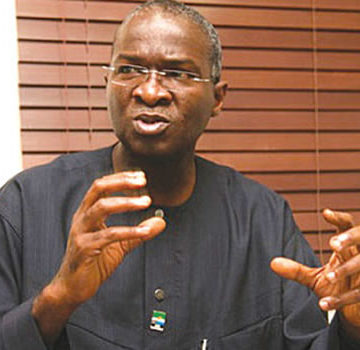 SELQUEL to last Wednesday's accident on Oyo-Ogbomoso road, the Oyo House of Assembly has reinforced its appeal on the Mr Babatunde Fashola led Ministry of Power, Works and Housing to urgently fix the road.
The Assembly, considering a matter of urgent public importance raised by Honourable Wumi Oladeji of Ogbomoso North Constituency, bemoaned the loss of lives from several road crashes, continued deterioration of the road, evident in gaping potholes and gullies on the road.
Noting various assurances of officials of the federal government to fix the road, the Assembly urged Fashola to mandate the Federal Road Maintenance Agency (FERMA) to expedite action on fixing the lay-by and damaged portions of the road.
Commenting, Honourable Muideen Olagunju of Oyo East/Oyo West constituency said that the project should have begun in December 2017, praying that the federal government hastens the construction of the new Oyo-Ogbomoso expressway.
Specifically pointing to the recent death of three secondary school principals and a bursar in an accident on the road, Oladeji, in her prayers, urged the state government to ensure that the entitlements of those late public servants are urgently processed and paid.
On this, Speaker of the state House of Assembly, Honourable Michael Adeyemo urged the state government to also offer a scholarship to the children of the deceased.
Thursday's sitting also saw the Assembly confirm Justice Adegboyega Akinteye as the first President of the recently constituted Customary Court of Appeal, Oyo state.
ALSO READ: Lawyer files motion against Osun LG parliamentary polls
The Customary Court of Appeal, Oyo State, recently approved by the National Judicial Council, is on the same pedestal with the State High Court or Federal High Court.
"The establishment of this court will lead to the development of customary law. All cases emanating from the customary court, grade C, go to the high court but with the establishment of this court of appeal, customary court cases will now be fast-tracked.
"Currently, we have Grade A customary court which is already in operation to be feeding the Customary Court of Appeal. We also have Grade C customary court."
"All the lower customary courts will be under the supervision of the Customary Court of Appeal. This court will also decongest the High Court because several cases can now be filed in the Customary Court of Appeal," Akinteye said.