Save our children from kidnappers •Jakande Estate Lagos residents cry out
TUNBOSUN OGUNDARE reports that residents of Jakande Estate in Ejigbo-Isolo, Lagos State are currently living in fear as cases of missing children increase, as well as robbery attacks are also adding to the security scare in the community.
RESIDENTS of Jakande Low Cost Housing Estate, Ejigbo-Isolo, Lagos, are currently in a dilemma over mysterious cases of missing children in the community, an entirely new phenomenon,  as they have not been able to unravel the perpetrators behind the crime.
The residents  after recording another incident of missing children recently have taken their case to the state government and security agencies, calling on them to come to their aid by providing adequate security and social infrastructure to stem the tide. Two children were kidnapped in the community within two days.
N-Power beneficiaries appeal to FG for timely payment of stipends
According to residents, most people are no longer sleeping with their two eyes closed unlike when the estate was newly built in 1983 by the administration of the first civilian governor of Lagos State, Alhaji Lateef Jakande. The security situation deteriorated about five years ago when they could no longer move freely within the estate and its environs over fear of being attacked.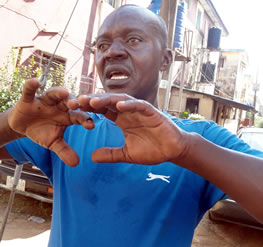 Sunday Tribune investigations revealed that it is not just the case of missing children that has been rampant in the area. Armed robbery attacks and petty stealing have also increased. Many  of the residents, as a result,  have refrained from either venturing out of their homes very early in the morning or staying out late at nights. Some of them, investigation revealed, no longer leave their belongings and other items like clothes and shoes, including domestic animals like goats without protection.
Parents also now feel reluctant to allow their children to go outside their apartments in the night let alone to play with their peers. Any deviation from this, according to Sunday Tribune findings, could result in calamity as was the case of  the two children who got missing within two days last week.
The first incident, according to investigations, happened on Thursday, 8th of August and it involved a nine-year-old schoolboy, named Isaac Yaqub, who lives with his parent in Block 166 of the estate.
Yaqub, it was said, was playing in the neighbourhood on that fateful day around 5.00pm but did not return home. He was declared missing. But fate smiled on him as he was later found alive and unhurt the following day in Ketu area, a distance of about 20 kilometres away.
Sunday Tribune visited the residence of Isaac Yaqub's parents, one of the flats in a block of six three-bedroom flats, but could not get Yaqub or his parents. However, a neighbour who simply identified herself as Mummy Ayomide and a caterer reluctantly spoke to our correspondent on the issue surrounding the boy's disappearance.
After confirming the incident, Mummy Ayomide explained that she was on the search team for Yaqub, even though she came home tired that evening..
"We combed all the corners of the estate till around 1.00am without any trace of him on that fateful Thursday. We continued at dawn the following day.
"It was shocking to us. But we thank God we later found him. The information I heard was that he walked into Ketu Police Station late in the night that Thursday to declare himself missing, and that he had N500 on him without being able to say exactly how he got the money. That alone surprised all of us because we could not imagine how he could have left the estate and got to Oshodi and then to Ketu, all alone and for what purpose.
"He is someone who doesn't go out on his own. That is why we believed he must have been dumped by his abductor(s) at Ketu after giving him N500 and asking him to enter the police station. It must be God who moved in his favour by rescuing him. And government should come to our aid in this estate to prevent a recurrence,» she said.
But while Yaqub is lucky to have been found, no one has yet to know what has happened to  Victoria Gbadudu, a four-year old girl, who is still missing. Sadly, she got missing when the dust raised by Yuqub's case was yet to settle. The young girl who lives with her father's aunt was last seen playing with children of neighbours when they suddenly discovered she was missing. Incidentally, her disappearance happened on the day Yaqub was found and people were rejoicing with the family.
Narrating the incident to Sunday Tribune inside the family's living room, Madam Victoria Enababor, who was surrounded by sympathisers, said "Victoria's father is grandson of  my elder brother and he gave birth to her out of wedlock. So, the girl was given to me to take care of when she was six months old and she has been living with my family since then.  I named her after me and she sees me as her mother.
"On the day the incident happened, which was last Friday, August 9, I gave her bread and stew as breakfast. She even refused to take her bath first before breakfast. And because she was not going to lesson that day, I didn't object.  And she was eating when I left home for my shop which is nearby and then went to Cele Market to buy meat. I returned later to the shop. I left her with my 16-year-old son at home but that one left her in the house and went out to do other things.
"So, all in my mind was that Victoria was at home playing, more so that I was battling to fix the belt of my grinding machine that got cut. It was after I fixed the belt that I came home and then asked my daughter who had returned from lesson about Victoria's whereabouts because I didn't see her around.
"She told me that she hadn't see her since she came in, thinking that she was downstairs playing with neighbours' children, as they all used to play together. That was what we all thought and I began to cook the meat. But while doing that, we went downstairs to ask of her and they said she wasn't with them," she revealed.
That was the beginning of Madam Enababor's dilemma. The elderly woman, who is a widow, explained further that "We then raised the alarm and went from one corner to another in and around the estate searching for her. Many people in the neighbourhood also joined in the search.
"We reported the matter at Ailegun Police Station and then Ejigbo Police Station and later at Isolo Police Station but all to no avail up till this moment, which is six days after," she said.
However, a top police officer at Ailegun Police Station who preferred not to be named as he is not authorised to speak to newsmen confirmed the two incidents and that the other person (referring to Yaqub) had since been found.
"As for Victoria, we have her details including photograph and we have also given it to other stations and we shall communicate to her family once we see her," the police source added.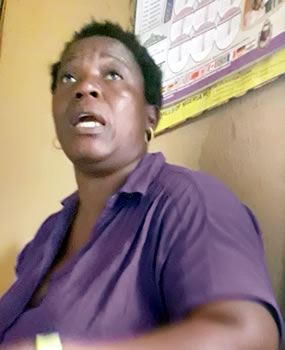 As of the time of going to the press, Victoria was yet to be found and Madam Enababor is in agony. She could only appeal to her abductors to release her and for police to intensify efforts in finding the little girl.
"It is not easy nursing Victoria to this stage. She was given to me a sick girl to take care of. She sees me as her biological mother just because she was a baby when she came to me, coupled with the love we all showered on her as the baby of the house," the distraught guardian, lamented.
On whether her biological parent had been informed, Madam Enababor said even though both had been informed of the incident, only the father showed up.
Some residents interviewed on the situation in the estate were of the view that security is porous, pointing at the way commercial motorcycle operators of all kinds come in and go out of the estate at anytime and from any route without restriction.
Reacting to the development and particularly on the issue of security, Mr. Oluwaseun Dejo, a community leader and politician, confirmed the poor security situation in the estate. According to him, the case of missing children in the estate was strange to him and other residents.
"It is strange because we had no such cases before and for having two incidents within two days interval and again armed robbery attacks on residents going to work early in the morning is cause for serious concern.
"We must all have to take the issue of security more seriously so as to prevent recurrence of missing persons, kidnapping and robbery in the estate," he stressed.
Another resident and a professional football coach, Mr Victor Collins, also expressed shock over the two incidents as well as the armed robbery attacks. He said he has been living in the estate since the early 90s without witnessing such occurrence.
"Some years ago, we walked freely at any time of the day and night without anybody molesting or harassing anybody. People could also spread their clothes in front of their flats and leave them outside overnight without anybody stealing them. But you dare not do all that today," he said, reinforcing the worsening security in the estate and urging government to come to the aid of the residents and safeguard their lives and those of their children.