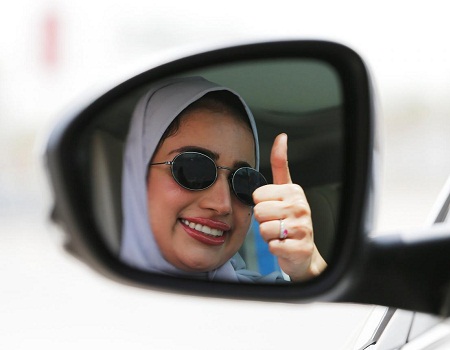 WOMEN in Saudi Arabia took to the roads early on Sunday, ushering in the end of the world's last ban on female drivers, long seen as an emblem of women's repression in the deeply conservative Muslim kingdom.
"It's a beautiful day," said businesswoman Samah al-Qusaibi as she cruised the eastern city of Khobar just after midnight with police looking on. "Today we are here," she said from the driver's seat. "Yesterday we sat there," she added, pointing to the back.
The ban's end, ordered last September by King Salman, is part of sweeping reforms pushed by his powerful young son, Crown Prince Mohammed bin Salman, in a bid to transform the economy of the world's top oil exporter and open up its cloistered society.
"It is our right and finally we took it. It is only a matter of time for the society to accept it, generally," said Samira al-Ghamdi, a 47-year-old psychologist from Jeddah, as she drove herself to work. She was one of a small group of women who had managed to secure a license beforehand.
The lifting of the prohibition, which for years drew international condemnation and comparisons to the Taliban's rule in Afghanistan, was welcomed by Western allies as proof of a new progressive trend in Saudi Arabia.
But it has been accompanied by a crackdown on dissent, including against some of the very activists who previously campaigned against it. They now sit in jail as their peers take to the road legally for the first time.
The number of new drivers remains low, as women with foreign permits only began converting them earlier this month. Others are training at new state-run schools, with 3 million women expected to drive by 2020.
Some still face resistance from conservative relatives, and many accustomed to private drivers say they are reluctant to take on the country's busy highways.
"I definitely won't like to drive," said Fayza al-Shammary, a 22-year-old saleswoman. "I like to be a princess with someone opening the car door for me and driving me anywhere."
Concerns that women drivers will face abuse in a country where strict segregation rules usually prevent women from interacting with unrelated men prompted a new anti-harassment law last month.
The Interior Ministry plans to hire women traffic police for the first time, but it is unclear when they will be deployed. The public security directorate reported no unusual incidents one hour after the ban ended.
Riyadh resident Amr al-Ardi said the women in his family would wait to see how the system works before they start driving.
The decision to lift the ban in the kingdom – where once-forbidden cinemas and concerts have also returned – is expected to boost the economy, with industries from car sales to insurance set to reap returns.
Saudi stocks rose more than one per cent on Sunday and insurance firms made solid gains, as demand from women is expected to boost the automotive sector.
The change should also save families billions of dollars on chauffeurs while encouraging more women into the workforce and raising productivity, if only modestly at first.
ALSO READ: Saudi Arabia issues first driving licences to women
Auto companies produced theatrical ads to mark the ban's end, and private parking garages designated "ladies" areas with pink signage.
"Independence Day" read the front page headline in the kingdom's leading English-language newspaper, Arab News. Social media largely erupted in celebration, though there were some voices of dissent and derision.
One Twitter user said he would not allow his wife to take the wheel: "If she wants to drive she can go to her father and God willing she will drive lorries. Decisions like this depend on personal freedom #She_Won't_Drive."
Much of the kingdom's overwhelmingly young population supports Prince Mohammed's reforms, but many Saudis fear their speed could provoke a backlash from religious conservatives once seen as dominant.
Activists and diplomats have speculated that the arrests of more than a dozen women's rights advocates over the past month were aimed at appeasing conservative elements or at sending a message to activists not to push demands too far.
The crown prince's modernization efforts have won praise at home and abroad, but he has also provoked unease with an anti-corruption purge last year when scores of royals and top businessmen were detained at the Ritz-Carlton Hotel in Riyadh. Most were freed after reaching settlements with the government.
Billionaire investor Prince Alwaleed bin Talal, an early advocate of women driving who was detained at the Ritz for three months, tweeted a video of his daughter driving.
"Saudi Arabia has just entered the 21st century," he said to his granddaughters in the back seat in the video. "Thanks to King Salman for this achievement."
Even with the end of the driving ban, Saudi Arabia remains one of the most restrictive countries for women, who need permission from legally mandated male guardians for important decisions such as foreign travel and marriage.
Amnesty International said lifting the ban was "a small step in the right direction," but called for an end to other practices that discriminate against women.
Activists have already begun campaigning to end the guardianship system, which has been chipped away at slowly over the years. Prince Mohammed declared in an interview earlier this year that he believes men and women are equal.
But veteran Saudi activist Hala Aldosari says women remain second-class citizens and criticized the crown prince's "piecemeal approach" as serving the interests of the elite at the expense of women from more restrictive families.
"Worst of all will be if these small-scale reforms, and the silencing of feminists, slow the momentum for pushing the Saudi regime into making more meaningful change," she wrote in a U.S. newspaper.
---
---