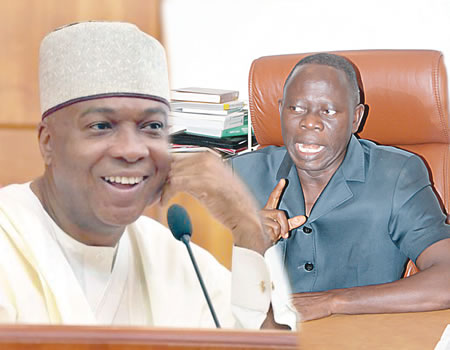 The National Chairman of the All Progressives Congress (APC), Adams Oshiomhole, has said that the Senate President, Dr Bukola Saraki, would "definitely" be impeached.
Speaking at a press conference on Friday, in Abuja, Oshiomhole said Saraki would not only be removed but the party would work hard to ensure that he is defeated in his senatorial district in 2019.
Adams Oshiomhole said Saraki's political dynasty in Kwara State would be destroyed.
"He (Saraki) failed to understand that the Nigeria national project is more complicated and is not that easy. He will not only be impeached, we will work hard to have him defeated as a senator in his own senatorial zone come 2019," Oshiomhole said.
"The people of Kwara State are fed up with Saraki and we are fed up with Bukola. Saraki will not be the first to be impeached and I doubt if he is going to be the last but definitely he will be impeached.
"According to the law and according to the democratic norms, the only way Senator Saraki can avoid impeachment is for him to do what is honourable, which again leads to the issue of character," the APC chairman, Oshiomhole said.
The ruling party has been mounting pressure on Saraki to step down as the Senate President after he defected to the Peoples Democratic Party (PDP) but the nation's number three citizen has vowed to remain in office.
At a press conference on Wednesday, Saraki said he would only relinquish his position if two-thirds of the Senate removes him.
YOU MAY ALSO LIKE:
United Nation Development Programme (UNDP) has warned that the civilian Joint Task Force (CJTF) assisting the Nigerian military in fighting insurgency in the North-East could constitute a security threat worse than Boko Haram if not taken off the streets and empowered adequately…READ MORE
---
Evangelist Ebenezer Obey-Fabiyi remains the toast of many music lovers across the world. In this interview by SEYI SOKOYA, the music legend speaks on the secret of his success and sets the record straight about the fortune of a socialite he once famously sang about, Sade…READ MORE