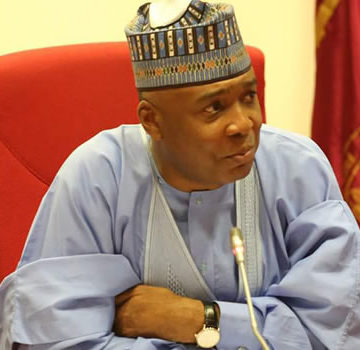 SENATE President, Dr Bukola Saraki, has assured people of Kwara state of his commitment to attracting more capital projects and appointments into the state.
Speaking after inspection of some ongoing federal road projects in Ilorin and Asa local government area of the state at the weekend, Saraki said that people of the state deserved nothing but the best in acknowledgement of their support for him and the ruling All Progressives Congress (APC) in the state.
The road projects he inspected include Afon/Aboto/Oyo state boundary road construction and  Michael Imodu/Afon Junction in Ilorin.
The Senate President facilitated the award of contracts for the two federal roads.
Prior to Saraki's intervention, the boundary road was in a deplorable condition with its attendant motor accidents and incessant robbery operations along the route.
Expectedly, the construction of the road would open up and boost commercial between the people of  Kwara and Oyo states when completed.
Saraki, who was briefed and conducted round by the contractors handling the road projects, expressed satisfaction with the level of work done and urged the contractors to speed up the pace of work in order to deliver the projects in good time.
He said the legislative organ of government would continue to perform its role of oversight on projects funded with public money to ensure that quality works were executed and delivered.