Saraki, govs, ex-govs, others laud Adebayo's role in ending Civil War
From one tribute to another, Nigerians, on Thursday, were united in describing the late governor of Western State of Nigeria, Major-General Adeyinka Adebayo, as an advocate of a peaceful and united nation, a true nationalist and a gentleman officer.
At the lying-in state for Adebayo, held at the House of Chiefs, Secretariat, Ibadan, Oyo State, representatives of every segment in the country lauded the crucial role the deceased played in preventing the incursion of the Biafran soldiers into the Western Region during the Civil War and his tactical advice in bringing the war to a swift end.
Adebayo was described by his colleague Generals as a man who was lucky to escape death on several occasions, especially during the 1966 coup.
General Oluwole Rotimi described Adebayo as a man of providence and destiny who was not around whenever death lurked.
"Each time death was lurking around, he was never around. He was a very lucky man because in the coup of July 1966, he was on a course in the United Kingdom and merely came home for just about two weeks. If he was proved to be around, he could have most probably been one of the victims of that coup.
"When he was 70, I told him that he was an extremely lucky man and I described him as someone in the habit of cheating death but if God has predestined you, there is no power on earth that can change it.
"He served with all his heart and strength during his time in the Nigerian Army. One distinguishing fact was that Adebayo was a man of peace and had the interest of Nigeria at heart, otherwise probably Brigadier-General Ogundipe would have stayed in the army but due to other circumstances, he had to leave and become Ambassador.
"We had our differences only in principle. Throughout his life, he never allowed these differences to affect his relationship with a lot of us," Oluwole said.
The top echelon of the society at the event included the Senate President, Dr Bukola Saraki; Governors Abiola Ajimobi (Oyo), Rauf Aregbesola (Osun), Akinwunmi Ambode (Lagos), Rotimi Akeredolu (Ondo); while Ekiti and Ogun state governors were represented by their deputies, Dr Kolapo Olusola and Mrs Yetunde Onanuga respectively.
Saraki described Adebayo as a great Nigerian who fought for the unity of the country when it was threatened.
He urged the current generation to emulate the legacies of forthrightness, dedication to a united Nigeria and the strive for equity.
Ajimobi, who spoke on behalf of other South-West governors, described Adebayo as an illustrious son of Africa, a shining example of patriotism, whose name was never mentioned in any professional misconduct.
Stressing that Adebayo's great legacies would remain etched in Nigerians' hearts, Ajimobi pointed to his sagacity in preventing the incursion of Biafran soldiers into the Western Region.
The Yoruba Council of Elders, in its tribute delivered by Chief Idowu Sofola, held that Adebayo administered the old Western Region with wisdom and total dedication to probity, forthrightness and a peaceful nation.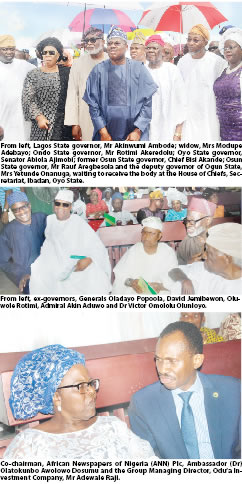 Former military and civilian governors present were General Oluwole Rotimi, General Oladayo Popoola, General David Jemibewon, Dr Omololu Olunloyo, Admiral Akin Aduwo. Also present was the General Officer Commanding 2 Division, Major General Martins Abraham.
Professor Jide Osuntokun, representing Christ School Alumni, Ado Ekiti, Adebayo's alma mater, lauded the selflessness and sense of nationalism of the deceased, adding that Adebayo held the belief that what was good for the Yoruba nation was appropriate for the entire country.
"He was a statesman who applied his trainings as a warrior not to plunge the country into war but to avoid it. But when, by errors of omission, war became inevitable, he did all he could through tactical advice to bring the conflict to a swift end.
General Adebayo was governor of Old Western State in war time and at a time when there were scarce resources. He believed in using dialogue than combat," Osuntokun said.
Eulogising the deceased, Lagos State governor, Mr Akinwumi Ambode, described him as an elder statesman who worked tirelessly for the progress of the Yoruba nation and unity of the country.
Speaking at the commendation service held for the deceased at Archbishop Vinning Memorial Church Cathedral, Ikeja, Lagos, earlier on Thursday, Ambode said the late Adebayo was like a father who he had a lot of respect for owing to his virtues and legacies.
In his sermon at the service, the Bishop of Diocese of Lagos West, Church of Nigeria (Anglican Communion), Right Reverend James Odedeji, said in the history of Nigeria, the late Adebayo would be remembered for hard work, integrity, family virtues, generosity and selflessness in the discharge of duties, among others.
He admonished Nigerians to engage in fruit-bearing lifestyle and eschew selfish disposition to affairs and people.
Afenifere chieftain, Chief Ayo Adebanjo, told the Nigerian Tribune after the service that the deceased was a man of integrity, adding that his death was a big loss to Nigeria.
"He was a great nationalist who championed the struggle for the return of democracy during the  [General Sani] Abacha regime. His consistency, integrity and political knowledge helped in the development of the nation," he said.
Former governor of Lagos State, Senator Bola Tinubu, in his tribute, said though Adebayo was not born great, he, however, attained greatness through sheer effort of will, determination and resilience.
According to Tinubu, although Adebayo was a trained soldier, he was nonetheless a man of peace, adding that he stood for Nigeria's unity when it mattered most.
The list of guests also included the co-chairman, African Newspapers of Nigeria (ANN) Plc, Ambassador (Dr) Olatokunbo Awolowo Dosumu; Deputy Vice Chancellor, University of Ibadan, Professor Emilolorun Aiyelari; former minister, Cornelius Adebayo; the Olubadan of Ibadan, Oba Saliu Adetunji, represented by the Balogun of Ibadan, Dr Owolabi Olakulehin; deputy governors, Mrs Titi Laoye-Tomori (Osun) and Mr Moses Adeyemo (Oyo); Senators Abdulfatai Buhari (Oyo North) and Monsurat Sunmonu (Oyo Central).
Adebayo will be buried at his hometown, Iyin Ekiti, Ekiti State, tomorrow.