Sanwo-Olu proposes scrapping of pension for Tinubu, Fashola, Ambode, others
• Proposes N1.155trn for 2021 budget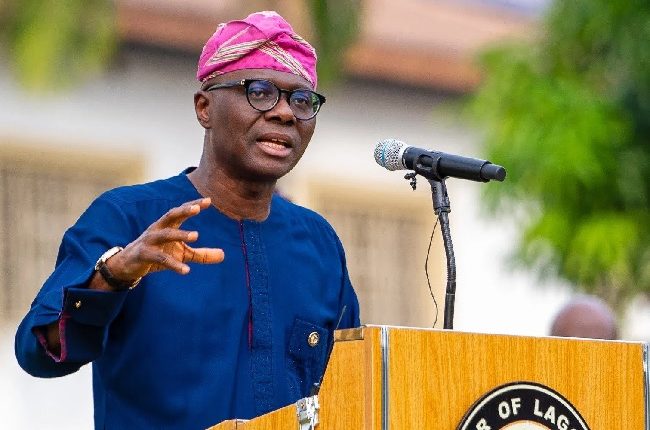 Lagos State governor, Mr Babajide Sanwo-Olu, on Tuesday, said his administration is resolved to sending a draft Executive Bill to the State House of Assembly for the repeal of the Public Office Holder (Payment of Pension Law) in respect of former governors and deputy governors, with the aim of keeping costs of governance low and to signal selflessness in public service.
Sanwo-Olu made this known while presenting the 2021 proposed budget which stands at N1.155.022trn to the House for passage into law.
The governor, while justifying the proposed bill, which would affect past governors, including Asiwaju Bola Ahmed Tinubu, who is now National Leader of All Progressives Congress (APC); incumbent Minister of Works and Housing, Mr Babatunde Raji Fashola; Mr Akinwunmi Ambode, and others, said it was occasioned by the need to come up with innovative ways of keeping the costs of governance at a minimum in the face dwindling revenues and the inflationary growth rates in the economy.
"Mr Speaker and Honourable Members of the House, in light of keeping the costs of governance low and to signal selflessness in public service, we will be sending a draft executive bill to the House imminently for the repeal of the Public Office Holder (Payment of Pension Law 2007), which provides for payment of pension and other entitlements to former governors and their deputies.
"It is our firm belief that with dwindling revenues and the appurtenant inflationary growth rates, we need to come up with innovative ways of keeping the costs of governance at a minimum while engendering a spirit of selflessness in public service," Sanwo-Olu said.
The governor said the 2021 Budget was tagged: "Budget of Rekindled Hope, "to reflect our determination to rise above the challenges that have affected our development indices in the last 10 months."
Besides, he said the budget "is to demonstrate our willingness to overcome all obstacles and deliver all electoral promises."
The budget has a capital expenditure of N703.222bn while the recurrent expenditure stands at N451.75bn.
Giving sectoral allocations, Governor Sanwo-Olu said General Public Services will take N136.28bn, Science and Technology, N28,272bn, other General Public Services 108,005bn, Public Order and Safety N32,757bn, Economic Affairs, N381,85bn and Agriculture N18,31bn.
According to him, Education has been allocated a sum of N143,655bn, Housing and Community Amenities, N40,280bn, Health N118,360bn, Recreation, Culture and Religion, N5,170bn, and Social Protection, N9,15bn.
Others are; Commerce, N41,99bn, Energy and Mineral Resources, N32,585bn, Transportation, N98,931bn, Infrastructure- Works Family N172,238bn, Waterfront N11,78bn, Environment, N50,934bn, Drainage N11,936bn and Other Environmental Services N38,99bn.
The governor disclosed that the budget targets Internally Generated Revenue (IGR) of N732,659bn, with Capital Receipt standing at N63,085, while Federal Transfer is at N166,784bn, adding that the Recurrent Expenditure is N451,750bn with the Capital Expenditure standing at N703,272.
Governor Sanwo-Olu charged Lagosians to tenaciously keep hope alive as his administration forges ahead with the plans, programmes and projects designed to achieve the "Lagos of our dreams," positing that the Year 2021 "Budget of Rekindled Hope" reflected the continued execution of the THEMES agenda, "which is just as relevant as it has always been."
According to him, this was the agenda that the people voted for, and have continued to affirm through the consultative fora and civic engagements undertaken throughout the budget process; including that held recently by members of the Lagos State House of Assembly with their various constituencies.
This was just as he said the COVID-19 pandemic and #EndSARS protests had only heightened the need to urgently implement the various programmes under the THEMES agenda.
On the demands made by the youth during the #EndSARS protects, Governor Sanwo-Olu said it had become expedient for his administration to leverage on its developmental efforts by focusing on sectors with job-creating potential like Agriculture, Construction, Technology and Security.
ALSO READ: COVID-19 vaccine within Nigeria's reach, Health minister tells Reps
He said the administration was set to improve the economic conditions and social safety needed for "our youth and all hardworking Lagosians to flourish.
"We are committing resources to sectors that need to grow for our people to become self-reliant and economically empowered.
"Consequently, for the Agricultural sector, our food security plan has a cumulative budget of N22.21billion while we are committing a cumulative budgetary provision of N311.43billion to infrastructure: this will cover direct intervention through the Ministries of Works and Infrastructure, Waterfront, Transportation, the Judiciary, our Schools and Seed Capital of N15billion for The Rebuild Lagos Trust Fund," he said.
"This does not include the value to be created from executing the rail lines (both Red and Blue) recently approved by the Lagos State House of Assembly.
"To continue to drive our digitisation strategy, we have committed a total of N37.37billion investment in 30 technology, while in the environment and health services, we have committed a total of N48.28billion and N111.94billion respectively.
"In line with our urgent need to light up Lagos, we will begin a set of initiatives in the energy sector to ensure the Lagos economy is supported by power, one community at a time. To this we have committed a total of N32.58billion in the 2021 budget," he added.
The governor said the 2021 Appropriation Bill also speaks to the restoration of economic balance as the state navigated its way out of the negative impact of both the COVID-19 pandemic and the destruction of public assets following the #ENDSARS protest hijack, declaring that a pivotal crux of the 2021 budget would be the promotion of an entrepreneurial culture among people of Lagos.
"In light of this, micro, small and medium enterprises will be strengthened because their activities help to facilitate socioeconomic advancement.
"We have done a lot to support the entrepreneurs in Lagos State through the LSETF and we will do more by providing technical and financial support so that they can, in turn, generate employment that will stimulate equitable economic prosperity.
"We understand that we must consolidate our gains in the technology sector for accelerated economic growth and job creation. In order to achieve this, we will collaborate with major players in that space like Oracle, Microsoft and Google to prepare our youths for the IT job market," Sanwo-Olu stated.
According to the governor, as the administration focuses on job and wealth creation, it will also prioritize the security of lives and property as well as local intelligence gathering in the communities by increasing significantly the number of Neighbourhood Watch Officers over the next two years.
He said the state would achieve all these through its human development MDAs comprising the Ministries of Education, Women Affairs and Poverty Alleviation, Wealth Creation, (including LSETF) and SDGI.
"We will not just increase the size of the Neighbourhood Watch personnel across the state, we will henceforth ensure their training, including community engagement, de-escalation techniques, and proactive information gathering within communities.
"We believe that as the population of Lagos State increases and becomes more sophisticated, so should the training of our security personnel; to cope with extant challenges. I must thank the private sector, which has continued to demonstrate great support for the Lagos State Security Trust Fund.
"However, we still have a long way to go and we need more contributions to the fund to properly execute the war against crime and insecurity.
"In addition, we will henceforth enforce LASRRA registration as well as our safety and physical planning rules. It has become imperative that we are able to identify every resident of our dear state: the idea of being anonymous in Lagos will no longer be accommodated.
"Engagement and Social Works: the possibilities for economic and social growth abound in our state. However, we must be emphatic about engaging our youth. As a father, politician, and governor, I am saddened by the increasing rise of substance abuse among our youth, particularly the boys. Our developmental vision would be incomplete without a vibrant, capable, and healthy youth population to take the baton of leadership when we leave the scene," Sanwo-Olu said.
Speaking further, Governor Sanwo-Olu said his government had made it its prerogative to increase its financial commitment to youth mentoring, mental health support, and substance abuse rehabilitation.
He assured that his administration would very soon, unveil its comprehensive action plan to address this issue, saying that the initiative was being driven by the Neighbourhood Watch, the Ministry of Youth and Social Development and the Office of Civic Engagement.
He said the approach would entail a robust communication strategy that would highlight government's projects and initiatives in a format that was easy to digest by the youth themselves, adding: "Our intention is to cultivate their trust and get them to embrace participatory governance."
"We must do all we can to deter them from cybercrime and other vices. Consequently, there is a proposed allocation of N9.16billion in the 2021 Budget," Sanwo-Olu said.
Sanwo-Olu proposes scrapping of pension for Tinubu, Fashola, Ambode, others