Sanwo-Olu, C&C leaders others honour Fakeye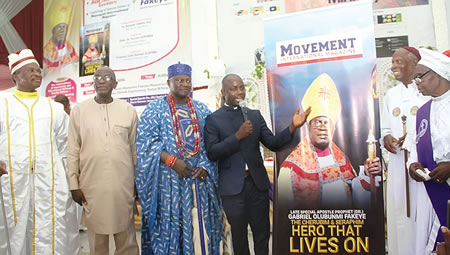 The Lagos State governor, Mr Babajide Sanwo-Olu, has described the late Prophet Gabriel Olubunmi Fakeye, as a mentor and an exemplary leader in the growth of Christianity in Nigeria.
The representative of the governor; his Special Adviser on Christian Religious Matters, Very Reverend Bukola Adeleke, made this known at the 5th edition of Prophet (Dr) Gabriel Olubunmi Fakeye Memorial Lecture, in Lagos.
He noted that Prophet Fakeye lived an exemplary life and deserved the honour bestowed on him in his memory.
Sanwo-Olu expressed his delight that the church still recognised the good works and contribution of the cleric, which has spurred them to continually honour him despite his death.
He recalled that Prophet Fakeye had mentored a lot of people through his popular radio evangelism programme, adding that he is one of his sons who enjoyed his evangelism messages.
Also speaking at the event, the General Leader, Cherubim & Seraphim Movement Church, Apostle Sunday Funsho, lamented the neglect of the care of children and family values in the country.
He said that the effect would be high rate of divorce, separation and domestic violence.
"In Nigeria today, care of the children is utterly neglected and family values thrown to the dogs. The result stares us in the face; the high incidence of divorce, separation, domestic violence sometimes resulting in death, has reached alarming proportion.
"Both surprising but disturbing the heirs of this nation has forsaken the scriptures; knowledge and fear of God, morality, hard work and other cherished values," he said.
Sunday described Fakeye as a man that cherished core family values and education, adding that libraries in his office in the church and house attest to this.
He said that his humility was borne out of his upbringing that does not discriminate, nor oppress the weak.