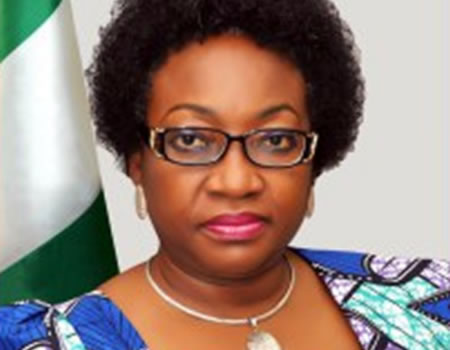 THE Federal government has admitted that about 80,000 of its employees who constitute the core civil service are poorly remunerated and is working on an upward review of their salaries.
Head of Civil Service of the Federation, Mrs Winifred Oyo-Ita, made this known on Wednesday in Abuja at the Service-wide sensitization workshop on 2017-2020 Federal Civil Service Strategy and Implementation Plan (FCSSIP) for Directorate Level Officers (GL 15-17) in the ministries and extra-ministerial departments.
She, however, vowed to stop the salaries of thousands of workers who have failed to update their Integrated Personnel Payroll Information System (IPPIS) records via online Portal.
She accordingly, announced May 28, 2018, as the deadline to complete the registration process.
She disclosed that the review of the salary structure of the core civil servants who are the workers in ministries and departments was part of the mandate of the Presidential Committee on Minimum Wage set up by President Muhammadu Buhari.
Oyo-Ita, who described the salaries of the core civil servants as extremely low, said this category of employees who are the backbone of the government receive fraction of salaries of their counterpart in Federal government parastatals and agencies.
She clarified that people talk about high Federal government wage bill because of these parastatals and agencies, including military, paramilitary agencies, universities and host of others that constitute the entire public service, stressing that disparity was so wide.
She noted that the current administration was committed towards repositioning the civil service but insisted that this could not be achieved if the issue of salaries of workers is not taken seriously.
The Head of Service said the 2017-2020 Federal Civil Service Strategy and Implementation Plan was designed to achieve holistic overhauling of the service for effective service delivery to Nigerians.
She said: "Public service is the entire gamut of the organizations that source funds from the Federal Government and their activities are guided by extant regulations.
"When people talk about the personal cost of government being so high, they are talking about the entire public service structure. But within the public service structure, there are just a few people, which is just about 80,000 in number and these 80,000 are the core civil servants.
"It is on the shoulder of this core civil service that the entire public service and governance lies. These 80,000 people are the people in ministries and departments whose salaries are extremely low.
"For example, what a public servant in a parastatal on level 16 earns, is two and half times what a Director in a ministry earns and that Director is now meant to supervise that parastatal or agency, which he is earning a fraction of their salaries.
"These 80,000 people are the poor civil servants that really need attention. We are looking into this under the Presidential Committee on Minimum Wage. We will address all these matters so that a fair salary structure is put in place," she said.
On the IPPIS online data registration, Oyo-Ita said: "I want to use this opportunity to draw your attention, that in spite of several circulars and advertisements in the print, radio and Television requesting employees to update their records online, some employees are yet to update their IPPIS records via the online Portal.
"The on-line Records update is a key requirement for the implementation of the HR Module of IPPIS and must be completed by every employee of the Federal Government to maintain their records on the IPPIS platform.
"I wish to inform you that the portal will close officially today 23 May 2018 but will be opened for corrections until Monday, 28 May 2018 and those that are yet to update their records are advised to do so not later than date as failure to do so will lead to stoppage of the salary of the affected employee on IPPIS platform," she said.