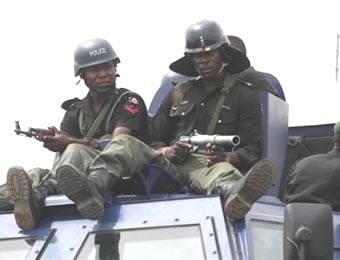 THOUGH, Police in Benue State is investigating the crisis that erupted on Saturday which led to ten persons injured, at the stakeholders meeting it was discovered that 'rumour triggered the crisis.
Makurdi, Benue State capital was on Saturday was thrown into confusion when youths besieged Wadatta and Wurukum markets and unleashed terror which led to pandemonium.
Consequently, the state government hurriedly conveyed stakeholders with all the state security chiefs in attendance where they reviewed the crisis.
he said.
Speaking, leader of the Hausa Community, Ahmed Baba explained that the crisis started when three persons who were said to be travelling from the North were manhandled.
He said one of them was killed, and two others injured, adding that a mosque in Yongo Wadata area was also destroyed.
But Mr  Bello Abdulsalam who said that nothing of such happened attributed the protest to rumour mongering of alleged attacks by Tiv on Hausa and Hausa on Tiv.
Irked by the ugly development, the  State Governor Samuel Ortom who warned religious, community and political leaders in the state against rumour-mongering said that his administration would not tolerate any act of lawlessness that could translate into anarchy in the State.
The Governor condemned the protest that occurred in certain parts of the State capital including, Wadata, Ankpa quarters, Wurukum and North bank areas which led to 10 persons injured as well as the destruction of property.
He described the incident as "unnecessary and unwarranted,  warning sternly that government will descend hard on anyone who carries out acts with impunity.
Ortom explained that 10 persons were injured in the crisis and are presently receiving treatment at an undisclosed hospital.
"I want to warn our religious and community leaders to guide against rumour mongering it helps no one but trigger crisis."
"It is wrong for anyone to rise in whatever guise and cause a crisis. The incident is capable of plunging not only the State but the entire nation into chaos. I will not tolerate this and anyone who dares me, I will deal decisively with such a person according to the law.
"Why should this be happening at a time that we are coping with invaders? I urged all of you to refrain from rumour mongering as it destroys a society," Ortom said.
Commenting on the incident, Ter Makurdi Sule Abenga attributed the occurrence to a message preached by an Islamic leader in one of the mosques who made reference to Wantaregh Paul Unongo's statement during the mass burial of over 73 persons killed by Fulani herdsmen, that the Tiv nation can raise one million armies to defend its territory .
He reported that one of his chiefs was beaten up and his tooth removed, noting that perpetrators of the mayhem have connections outside the State.
Chief Nder Anye, Leader of Puusu Community in Makurdi, said at about 10 am on Saturday, his younger brother's business centre located around  Demekpe was vandalized by some unknown persons.
"We saw a mob advancing towards the area but our youth mobilised and pushed them away. Again at about 2 am another mob came around the NUJ house but our youths and the vigilante group drove them away.  I had to join the vigilante to ensure that our wives and children are safe.  I did not it know the cause of the crisis",
Meanwhile, soldiers of the 72 battalions have been deployed to maintain peace in the affected areas.