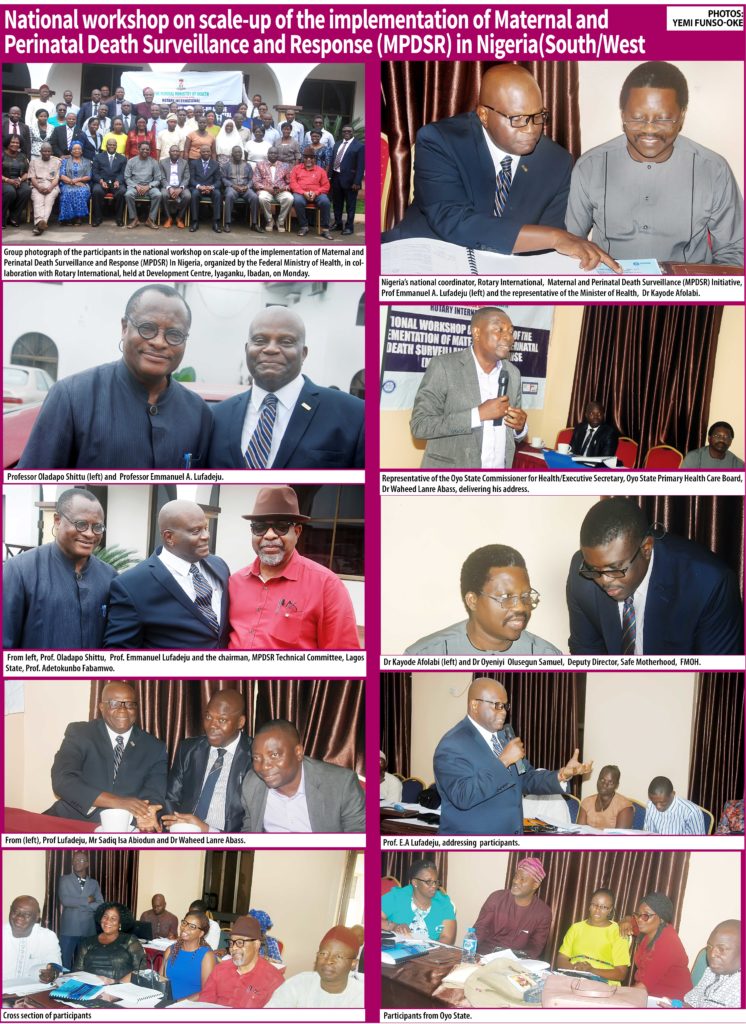 The Rotary International in collaboration with the Federal Ministry of Health has urged states, local government and stakeholders in the health sector to support the Maternal and Perinatal Deaths Surveillance and Response Programme, to characterize the cause and circumstances of each death with a view of determining strategies for preventing future occurrences.
Minister of Health, Professor Isaac Adewole, made this known at a National workshop on scale-up of the implementation of Maternal and Perinatal death surveillance and response (MPDSR) for state officials on Monday, in Ibadan.
Professor Adewole, who was represented by Director of Reproductive Health in the Federal Ministry of Health, Dr Kayode Afolabi, said the specific objective of the programme is to collect accurate data on all maternal deaths, analyze and interpret data collected and use the data to make evidence-based recommendations for action to decrease maternal mortality. He added that Federal government would ensure actions take place by monitoring the implementation of recommendations and inform programmes on the effectiveness of interventions and their impact on maternal mortality.
Adewole stressed further that findings and recommendations would be disseminated to civil society, health personnel, and decision-makers and policy-makers to increase awareness about the magnitude, social effects, and preventability of maternal mortality, allocate resources more effectively and efficiently by identifying specific needs and enhance accountability for maternal health. He, however, urged states to use the implementation plan as advocacy tools and institutionalize MPDSR at the state level for budget allocation and release.
In his remark, the National Coordinator of Maternal and Child Health Project of Rotary International in Nigeria, Professor Adedolapo Lufadeju, said that the organization with its project Quality Assurance in
Obstetrics (QOA) was merged to support FG's Maternal and Perinatal Death Surveillance and Response (MPDSR) programme, to reduce maternal and infant mortality in Nigeria. According to him, "Rotary International in collaboration with the Federal Government has been able to introduce a web-based electronic system to capture data from all secondary hospitals in the country to enable make plans, instituted interventions in respect to each individual state. "We believe with these data collections from each state in the country, it would help to identify both medical and contributory causes leading to maternal deaths which will attract quick intervention from the Federal Government to control future occurrences.
"Professor Lufadeju, however, said the institutionalization of MPDSR in Nigeria has the potential to accelerate Nigeria's effort at reducing maternal and perinatal mortality, especially in this SDG-3 era of ending preventable maternal & newborn deaths by 2030.
---
---