Rotary donates borehole to Sokoto community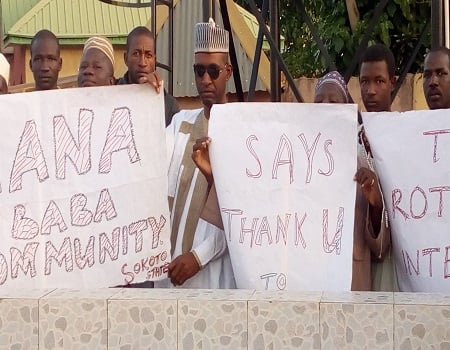 ROTARY Club International has donated a solar powered Borehole to a community, Manna Baba in Sokoto south Local Government area of the state.
The project which is targeted at Polio eradication was christened, "End Polio Now", was handed over to the district head of the community on Sunday in a brief ceremony within the community.
Speaking with newsmen, the District head of Manna Baba community, Mallam Muhammad Bello Dikko, expressed appreciation to the association for the gift.
ALSO READ: 18 finalists unveiled for 2018 Miss Nigeria pageantry
"On behalf of my people within Manna Baba community here, we are all saying a very big thank you for this gesture.
"We deeply appreciate this project and promise to maintain and make use of it judiciously, so as to meet up with it's purpose," he expressed.
Meanwhile, a member of the association who decided to remain anonymity, says the project is part of their efforts to eradicate Polio in the country and was adopted by Nigeria National Polio Plus Committee.
Also speaking, a community leader in Manna Baba, Mallam Aminu also expressed his deep appreciation to the leadership and members of the association for bringing such developmental project to the community.
Aminu however used the opportunity to call on all other Nigerians and associations to emulate what Rotary did and always try in their own way to give back to the society, no matter how small it is.