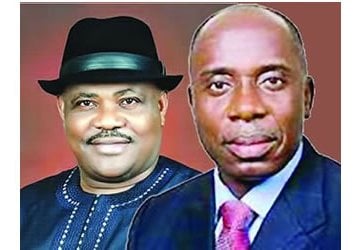 THE Rivers State Government has rejected the report of the state police command on the fracas between the security personnel attached to State Governor, Nyesom Wike and that of the Minister of Transportation, Chibuike Amaechi in Port Harcourt last Saturday.
The security details of the two opposing political bigwigs in the state were caught in a clash arising from a totally mismanaged traffic situation with each of them alleging assassination attempts on them.
The Rivers Police Command later came out with a report debunking the allegation and stating that no attempt was made on either the governor or the minister's life at any point of the situation which many observers in the state have joined the police to describe as a show of shame.
But in its reaction, the State Government said the report was not acceptable to the government describing it "as a sad development for the police force that has chosen to disgrace itself".
The State Commissioner for Information, Barr Emma Okah who stated the feelings of the state government on the report said that the claim by the Commissioner for Police Ahmed Zaki that the incident was a minor accident showed that the police did not investigate the matter but was merely acting a script written for it by the Commander of the Special Anti Robbery Squad (SARS), Akin Fakorede.
Alleging that Fakorede is a bosom friend of the Minister, he said the statement by the police only confirms that plans have reached the advanced stage to eliminate Governor Wike adding that the weekend clash was a manifestation of the plans by the police.
The Commissioner stated that it was wrong for the police to treat the Governor as a subordinate of the Minister stressing that not recognising the superiority of the governor's convoy above any other in the state except those allowed by law is a national embarrassment.
Barr Okah further accused Amaechi of plotting to make Rivers State ungovernable saying that the actions and inactions of the Ubima born immediate past governor of the state have shown a sinister intention to collapse the apparatus of government of Rivers State.
He alleged that Amaechi has been stalling the development strides of Governor Wike in Rivers State.
"Let the Minister of Transport recognise that there is a sitting Governor in Rivers State. Let him wait till 2019, there is another opportunity. But people of Rivers State deserve peace; the people of Rivers State deserve development. We cannot be living in a situation where every day there is one ugly news or the other emanating from the same source and every effort the governor is making to ensure that we develop our state and give our people good governance is being rubbished and whittled down by the former governor of state, a state he governed for eight years," he stated.
He wondered; "is this how he (Amaechi) wants to be cited by posterity, is this legacy he wants to leave for Rivers State. As Minister of Transport, the best we expect from him is cooperating with your state governor. After election politics goes down the drain, we now face governance."