"By Allah, in whose hands our lives are, Mayowa Ahmed, has left us in this world. We pray that Jannat becomes her home. She tried, we tried but God's will prevail."
This was the tweet of Mayowa Ahmed's (@Asiwaju_Foye) cousin on Sunday.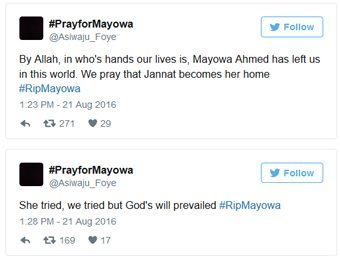 Mayowa had a long battle with cancer (ovarian) and solicited for help on social medium (Twitter) to raise fund (#SaveMayowa) for her treatment abroad after receiving initial treatment at the Lagos University Teaching Hospital (LUTH), Ikeja.
While sending their appreciation note to well wishers on social media, having raised £100,000 for Mayowa's treatment, her family stated that "…In the midst of all these, several people and organisations working with us became sceptical and had to cancel appointments, including health care providers.
"But for some well-meaning individuals who were not deterred, assisted in activating our back up plan. And with the grace of the Almighty Allah, Mayowa finally left the shores of Nigeria to South Africa last Thursday to start her treatment.
"On behalf of Mayowa, we want to say a very big thank you to everybody for your support with donations, prayers and logistics to facilitate the pursuit of giving Mayowa Ahmed a chance to live.
"To our various employers, we are extremely grateful for the trust and faith you had in us amidst of the allegations. Also, the Lagos State police command for their diligent and thorough investigation, which reinforced the integrity that the family stands for and was raised by."
Tributes have flooded the social media in memory of the late Mayowa, with Nigerians taking strength in their spirit of giving irrespective of the outcome.