Reverend Dr. Chris Oyakhilome Invites Former Liberian President Ellen Johnson Sirleaf To Address FALA Audience
In declaring her 'life will be changed' Former President of Liberia Ellen Johnson Sirleaf delivered a poignant speech to the LoveWorld nation and the global audience who watched the Future African Leaders Awards (FALA) of 2019.
Madame Ellen Johnson Sirleaf was edified by the proceedings of the night. She thanked Pastor Chris " for the invitation to join this exceptional event and for the bountiful courtesies." Then she went on to say that this trip to Nigeria meant she was "able to visit her brother and mentor President Olusegun Obasanjo who started the process of democracy as we know it today."
This pertinent moment where this year's special guest honored last year's special guest was uplifting. In acknowledging the contribution of the former President of Nigeria's role in affecting change in Africa a sense of unity of purpose pervaded the atmosphere. On a night where the contribution of future leaders to the sustainable development of Africa is honored and awarded, we recall that The Future African Leaders Foundation (FALF) came into being due to the vision of Pastor Chris Oyakhilome.
As part of the Chris Oyakhilome Foundation International (COFI), FALF gives young people a platform to bring their visions for their communities and countries to fruition. As a leader who has brought about democracy, as well as social and economic change in Liberia Ellen Johnson Sirleaf, knows that this process is not simple.
Madame Ellen Johnson gave succor- "behind every cloud, there's a rainbow"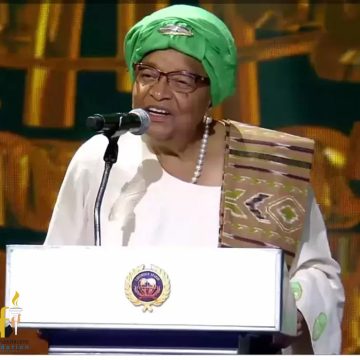 She went on to say "there may have been successes and failures, but God's promises have been real. He did not promise there will always be sunshine." What was promised in that in this timely reminder is the road to healing and nation-building is complex and rewarding.
She cited the example of climate change as an unknown and unpredictable uncertainty in our path. She explained that when we stand with the faith of our forefathers and mothers' we can achieve great things. She further explained that when you make" commitments to our communities we can have what we need in this life. The importance of faith is a truth we can rely on.
Role of mentors
She further acknowledged the life-transforming work done by Pastor Chris said," How does one Man of God become able to change so many lives. It can only be because of the spirit of caring and sharing and that spirit is changing the lives of others. I want to praise you for all you have done."
As a result of the impactful work of FALF Africa has taken charge of its own destiny. She said that these leaders are now the future of Africa. There is confidence in the brightness of the future because these young people have taken on the responsibility and become major players.
In a meeting that was described as a wonderful experience, she was questioned on the path she forged for the debt relief of Liberia. She was asked how to bring equity and participation by women and the youth in Africa. The previous winners she met had a thirst for knowledge so they can keep on effecting positive change and improving the lives of others. Ellen Johnson Sirleaf said her life has been improved by meeting Pastor Chris and the winners of FALA Awards.
Good being put to use to build a better world
Pastor TT Edum was on stage to read out the names and contributions of the ten winners of the FALA awards. Pastor Chris Oyakhilome came to the stage and said that "we built this segment into the topmost meeting we have in the year, so the young people know just how important they are and there is hope for Africa." Many of these winners have been involved in multiple projects reaching out to their countries as well as going beyond borders.
LoveWorld Anthem-building a happier world with love
Reflected on the words of the LoveWorld Anthem these young African leaders are already setting up projects that have had amazing impacts on their communities. They are building a happier and sustainable world and their success is felt by those who have had their lives changed. Echoing the words of Ellen Johnson that the youthful population of Africa is 65% youth these winners are 100% youth and are working for an Africa that we want.
The Winners
Christian Appiah from Togo was recognized for the sustainable solutions he has actualized. He developed an app to connect teachers to students in need. This app has provided 300 jobs for young. He has also spearheaded good health projects recruiting partners to complete his vision.
Daniel Johnson Fernandez is a passionate youth leader from Benin Republic. The app he created allows users to edit and view student information. It allows parents to pay for fees and see grades and attendance. It has improved the education process for 10,000 children in 10 schools. He also raised $5000 for a school reconstruction in his home country and invested in an international solar energy program training 100 youths as solar engineers.
Xavier Tambiavula from Angola who is a humanitarian 'socialprenuer' who founded the 'LIFT' youth forum. This aims to raise goal-driven youth. His team gave 20% of their income to 40 families and orphanages. They contributed to the 'Malaria Combat Program' distributing 3 million mosquito nets to those in need.
Edgar Mwila is from Zambia and helps the needy. He started 'Health is Wealth' where they trained medical students to reduce the incidents of spina bifida through taking folic acid. He raised 35,000 dollars for the training of 13 medical students. He has and trained people in the use of first aid kits.
Vera Kissiedu is an agricultural entrepreneur from Ghana who wants to eradicate hunger. Her 'Feed Africa Fund' through which she delivers food to the hunger. She has 50 acres of farmland where she can train farmers who will start their own farms. Many of them went back to school with the money they earned. Her online platform has reached beyond Ghana.
Hanson Hanson from Nigeria is the founding father of 'Experteens' which is a corporation that aims to mentor entrepreneurial leaders. He transformed the lives of 400,00 youths with skills acquisition and networking. He has seen many go back to school. A phenomenal leader.
Kenedy Wesonga saw an issue in Kenya and found a solution. The bug that is known as jiggers causes a disease called tungiasis. He fumigated homes reducing the isolation felt. He has reached out to 5000 pupils in 20 schools with health clubs. He reached 20,000 children and motivated them to achieve excellence. An amazing 500 youths came to his football tournaments.
Rufaro Mutyamaenza from Zimbabwe is a visionary who has provided safe water sanitation and clean water to communities. She promotes good health and good conditions and over 3,000 people benefited from clean water. She is a first responder for the Red Cross and 60,000 have benefited during Cyclone Idai.
From Uganda, Ibrahim Byakika has demonstrated outstanding community service. With his "World for Life Association," has 300 volunteers to help with his outreaches. They believe in championing excellence in education. His campaigns have provided materials to improve education in his community.
Star Prize Winner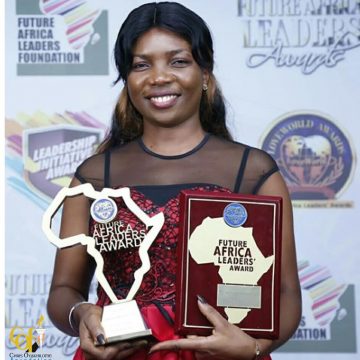 The Future Africa Leaders Awards (FALA) 2019 Star Prize went to Babien Helen Eweni from Cameroon. She has a passion to see young people achieve their potential. In her six-week skills acquisition program, there was everything from hairdressing to carpentry and catering and fashion design.
Her one-week disability empowerment program aimed to give disabled people a chance at a life of self-reliance. 200 physically challenged people learned manicure and pedicure skills and, computer maintenance. She also organized free medical checkups for 420 children. Her medical campaigns have provided care for over 800 internally displaced women living in camps. She visited 35 refugee communities giving out food, medicine, and school material improving the lives of refugees from Cameroon in Nigeria. Her NGO has held conferences that have directly motivated 48,000 young people in Cameroon. Her six-month cleaning campaign saw her clean over 44,000 households. This is just a small snapshot of her far-reaching impact.
As Nobel Prize winning Laureate Ellen Johnson Sirleaf said this is what we want from our African leaders.