Revealed: Why Ibori sneaked into Nigeria •I met him for short debriefing and to welcome him back —Daura, DSS boss •Supporters besiege his home in Oghara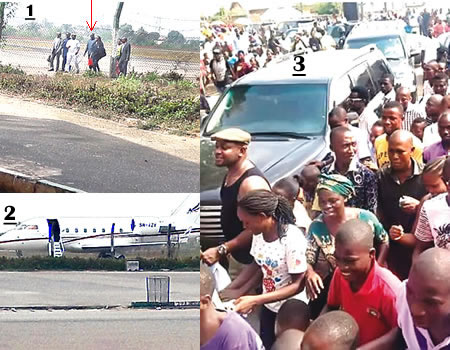 The singular reason, former Delta State governor, Chief  James Ibori, chose to make quiet entry into the country has been revealed.
According to information pieced together from one of his associates by Sunday Tribune,  the decision of the former governor, who just completed a jail term in the United Kingdom last December for money laundering and other related offences was to avoid unnecessary politicisation of his return.
An online news blog, The News Guru, which broke the news of impending return some few days ago, also confirmed the reason gave by  Sunday Tribune source. The intention according to the source "is to avoid a situation where political statements would be made or where some political interest groups will be reading meaning into whatever he says or his supporters might say," the source explained.
Therefore, on Saturday entire landscape of oil-rich Delta State was agog as news filtered in that Ibori had  arrived at the Nnamdi Azikiwe International Airport, Abuja through a British Airways flight British Airways Boeing 777 aircraft with registration number G-VIID at about 5:30a.m.
Reports also, however, added that he was immediately invited by operatives of the Department of State Security (DSS) and whisked to the headquarters of the secret security agency.
But Director-General of DSS, Lawal Daura, in a statement on Saturday confirmed meeting with the ex-governor.
According  to him, '' He meet me for a short debriefing session and way forward.''
Daura stated further that the meeting was ''also  to welcome him back to his fatherland. We are also meeting soon to discuss issues of interest affecting the nation.''
As of the time the former governor was touching down in Abuja, family members, political associates and well-wishers had converged at the Osubi airstrip in Warri to welcome him.
Oghara, Ibori's country home, was also a beehive, as well-wishers awaited the arrival of the ex-governor.
Market stalls and shops at were reportedly shut in his honour.
Besides, prominent politicians in the state, including elected and appointed ones, also anticipated  his arrival.
Secretary to the State Government, Mr Festus Ovie Ages; Chief Andy Osawota; Chief Patrick Five; Chief Dennis Emonemu; Olorogun Paul Abu, as well as chairmen of Udu, Sapele, Okpe and Ethiope West local government areas of the state, Mr Solomon Kpomah, Chief Ejiafe Odebala, Prince Godwin Edjiyere and Solomon Golley were all in attendance, including the Managing Director of the Delta State Oil Producing Area Development Commission (DESOPADEC), Chief William Makinde, Mr Vincent Uduaghan, Chief John Nani and among others.
Ibori, on Friday, appeared before a Southwark Crown Court in London for the hearing on the forfeiture of his assets.
The British Government had accused him of stealing about $250m from the Delta State government, part of which was used in buying six houses and luxury vehicles in the UK, the United States and South Africa.
Oghara agog
Ibori, after leaving the DSS office Saturday afternoon, flew to Benin on a private jet from where he went by road to his country home at about 3:30p.m.
Sunday Tribune gathered that he was ushered straight into his house at Ogharefe without a word, apart from responding to pleasantries with a wave of the hand.
However, frenzied youths from Oghara and other parts of the state, dressed in branded T-shirts bearing Ibori's portrait took over the streets, singing, dancing and rejoicing at the arrival of their hero.
Earlier, relatives and well wishers who had waited for Ibori's arrival at Osubi airstrip, were disappointed when they learnt that the arrangement had been altered.
Undaunted, the gathering swiftly found their way to Oghara to welcome him there.
Speaking on his arrival, one of his aides, Chief Henry Ofa, who was a commissioner in the board of DESOPADEC, described Ibori as a good man, well-loved by his people.
"In fact, everything good about human being, Ibori has the qualities.
"He's a philanthropist; he has the spirit of giving; I don't think he has enemies for he's very good to people who even offend him.
"I appeal to whosoever might have any grudge against him to forgive him. To the best of my knowledge, I don't think he has any grudge against anybody.
He wants to work with everybody. He sees everybody as a friend, he's a good man," Ofa stated.
The former commissioner, who represented Okpe, Sapele and Ethiope East Local Government areas on the board of the interventionist agency, disclosed that there might be a political realignment with the return of Ibori.
Another aide to Governor Ifeanyi Okowa, Mr Ben Ibakpa, while relishing the return of Ibori appealed to all Deltans to rally support for the returnee politician.
"Ibori has received massive support since his period of travails and I want to appeal that now that he's back, that same support should be given to him.
"He's someone who left without blemish; and I think we should be praying for him," he pleaded.
On whether Ibori would be able to fill the vacuum he left behind, Ibakpa said the vacuum was still much intact.
"The vacuum he left behind is intact. His place is still there in history, nobody has actually taken his place. He's still alive; he's still young, vibrant and able and I believe it's natural that he steps into his position," Ibakpa averred.
Meanwhile, Sunday Tribune had reliably gathered that the much-awaited thanksgiving service for his return would be held next Sunday.