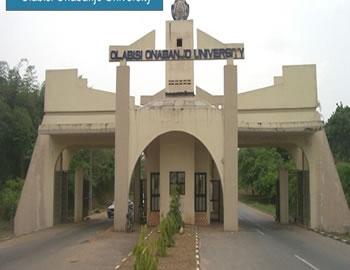 IKENNE indigenes, under the umbrella of Ikenne People's Forum and Ikenne Development Association (IDA), have appealed to the Ogun State Governor, Senator Ibikunle Amosun and the authorities of the Olabisi Onabanjo University (OOU), to return the Obafemi Awolowo College of Health Sciences back to the town.
The groups made the plea on Monday at a press conference held at the Obafemi Awolowo Square, Ikenne-Remo, which was attended by eminent sons and daughters, that the relocation of the College to Olabisi Onabanjo University Teaching Hospital (OOUTH), Sagamu, had affected the socio-economic development of the town.
Addressing newsmen, Chief Adeleke Adesina, on behalf of the community, described the relocation of the College as "socio-political and economic conspiracy against the person of Obafemi Awolowo and the people of Ikenne-Remo".
They explained that the move by the Amosun-led administration and OOU authorities was a "conspiracy" to ridicule the memory of the Sage and his people without consideration to their effort.
They wondered what would become of the huge investment in terms of facilities donated individually and collectively for the smooth operations of the College.
The community said further that no response had been received from the State Government and the OOU management, despite several letters demanding explanation on the development.
They demanded that the College be statutorily returned back to Ikenne or legal action will be instituted against the state government within the next 28 days of the news conference.
"About this time in 2016, the rumour got to us that efforts were being made once again to stab us in the back, by moving the campus away the second time. We quickly wrote the Governor, Senator Ibikunle Amosun and the Vice Chancellor, demanding an explanation. As if to affirm our fear, no response from the two personalities mentioned received.
"We also made efforts on our part to find out the reason(s) for this inconsiderate action. The only significant reason we were able to establish is lack of enough facilities. This came to us as a rude shock, as nobody had deemed it necessary to approach us for possible assistance as a reliable benefactor of the University in the past and a major stakeholder.
"Those that took the action ignored the philosophy behind the establishment of the university; the Peoples' University. We were therefore shocked to discover in March this year,2017, that all the departments at the Ikenne Campus have moved to Sagamu, except for Anatomy which peculiar circumstance cannot allow them to move for now," they added.